Peat and Diesel – three musicians from the Isle of Lewis – have taken the world by storm with their catchy folk songs and quirky take on island life.
It's a formula that shouldn't really work outwith the north of Scotland – but these unique 'popstars' regularly sell out shows, are mobbed by fans wherever they go and are currently working on their highly anticipated third album.
I joined Calum 'Boydie' MacLeod, Innes Scott and Uilly Macleod on the first day of rehearsals ahead of recording their latest album at Wee Studio Records – a stunning studio with a sea view set amongst the wilds of South Dell on Lewis – to find out just how the local heroes have become firm folk favourites.
The truth is, they're not really sure how it all happened either.
Innes said: "A couple of years before lockdown, we just started gigging in the house and a couple of weeks later we were playing gigs.
"We started recording the album a week later and that was it."
Drummer Uilly added: "Basically it was a video on Facebook that Boydie had put up from his living room and it went absolutely viral. [Then] Innes got a call to play Eilean Dorcha Festival.
"We didn't have any material – we only had that one song. So we built up a set list of covers and it was a bit of a stramash. The tent was rammed full and it was a good experience but we were all so nervous that first time."
And despite now playing to packed venues, tents and festival fields wherever they go, the group still haven't got used to the adoration from fans yet.
Boydie, singer and guitarist of the trio, said: "The first few songs are always a bit nerve wracking. We walk on and they're all shouting at you! We don't know what to do!"
"Myself and Boydie start coughing before we go on stage – we're terrified," Innes added. "It's like we're going to be sick."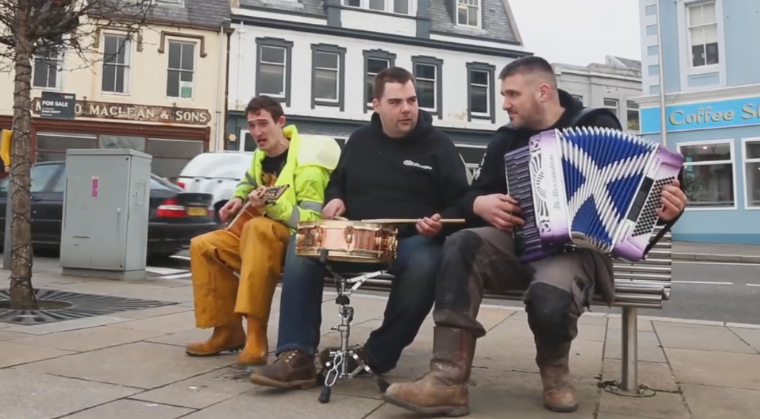 The lads have had to learn to overcome this though, as their roster of gigs has continued to grow.
They've just completed an Irish tour, with English dates this summer, slots at Belladrum and Heb Celt festivals, as well as a return to the Barrowland stage on June 3 in a show to raise funds for the Western Isles Island Games Association.
"The reaction in England has been the most surprising," Innes said.
"You go down to the south of England and they know all the words."
One of the band's most popular songs is Western Isles, with a chorus that once heard, is never forgotten.
Uilly laughed: "We are playing 'Western Isles' at English shows and they sing back 'That's the way we do it in the western aiiiiiiiiisles'. It's so cool. Totally different."
Whilst their shows are in-demand, fans are also desperate for new music and the group are currently working on perfecting new tracks.
"The pressure is on. People are looking for an album and we want to do it as soon as we can," Innes said.
Uilly was quick to point out: "You can't rush these things. People don't realise the work it takes but we do have a wee place we can practice so it's looking promising now."
The whole trad/Celtic music scene is also looking promising at the moment, with an increasing number of artists emerging and more festivals than ever putting on these kind of acts.
Uilly said: "There are some great great artists coming out and we will be willing them on the whole way."
Innes agreed: "When I used to walk to school with my accordion I was the odd one out as I was the only person with an instrument, but now it's the opposite – you're the odd one out if you don't play an instrument."
A great thing to hear – and if young musicians need a local success story for inspiration, they need look no further than 'Country Boys', Peat and Diesel.
Watch the full interview with the band on What's on Scotland.