Sir Billy Connolly has unveiled his latest sculptures, inspired by travel and his love of music.
Based on his previous sold-out hand-signed giclee prints, Direction and Two for the Road have been reimagined in polished stainless steel in the new works.
It comes following the publication of a new volume of Sir Billy's autobiography entitled Rambling Man: My Life on the Road, which recalls his travels over the years, from being a musician on the road to international trips to make TV series.
The Direction sculpture, priced at £6,250, and Two for the Road, priced at £5,500 – are being sold by Castle Fine Art, which has galleries around the country.
A limited edition of his Two for the Road – Rambling Man Edition giclee print is also on sale for £1,750, with a striking green colour added to his trademark black-and-white drawings.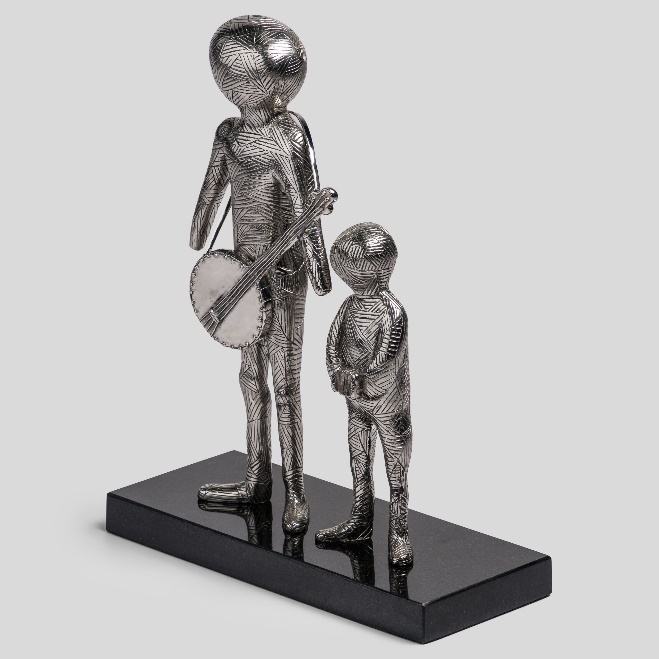 The comedian, affectionately known as The Big Yin, said: "Two for the Road looks like every band I was ever in.
"I was never in a popular band, except The Humblebums, the band I was in with Gerry Rafferty.
"It reminds me of the recent book I've done about being on the road and travelling, and I know how much that has been part of my life.
"The wee one in the picture is a melodeon player; melodeon players are weird, they know obscure things that nobody cares about.
"Melodeon players will go up to other melodeon players and say: 'Is that a B18?' and have incredibly dull conversations about melodeons with each other. They're boring, but I find them incredibly interesting.
"I love people like that; I love people who go into music shops, not to buy anything, but they just love looking at banjos and fiddles and autoharps, and all things musical that they find interesting, and he's one of them."
The sculptures were first made in clay and were then cast in stainless steel, referencing the time Sir Billy spent working as a welder in Glasgow's shipyards in his youth.
Commenting on Direction, Sir Billy said he does not know what the figures are doing or where they are going, but that they are being led by someone.
He said: "I don't know if it's a woman or a man – I think it's a woman because it looks like they're in a dress. Following your mother through a shop when you hate shopping comes to mind.
"But that's not the way I work; I just draw them and they could be anything. It could be a kilt or something stuffed up it, so it's up to the viewer to decide.
"I hope if you get one of these pieces, you live with it. I find living with them dead easy and the number of people who own my art now, it's breathtaking and it's made me very happy."
Sir Billy took up drawing while in Canada in 2007 and has since become a keen artist.
STV News is now on WhatsApp
Get all the latest news from around the country
Follow STV News
Follow STV News on WhatsApp
Scan the QR code on your mobile device for all the latest news from around the country