Actor Jeremy Renner has thanked fans as he continues to recover in hospital after being run over by his own six-tonne snow plough.
The Marvel star shared an update on his condition on social media two days after the accident, which occurred near his home.
Renner, 51, was airlifted to hospital on Sunday after suffering "blunt chest trauma and orthopaedic injuries" in the incident.
Posting a picture of himself in a hospital bed with a bruised face on his official Instagram page, he told fans he was "too messed up" to send a longer message.
"Thank you all for your kind words. I'm too messed up now to type. But I send love to you all," he wrote.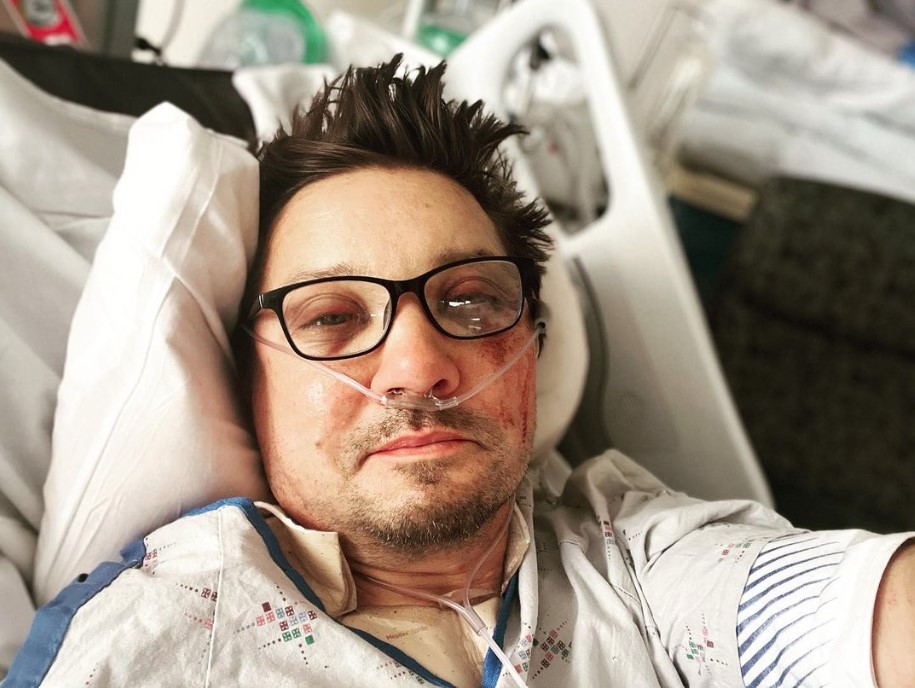 At a press conference on Tuesday, Washoe County Sheriff Darin Balaam said Renner was helping a family member, who had become stuck in heavy snow when the incident occurred.
Sheriff Balaam said his office received a call at 8.55am following reports of a crash involving a SnowCat ploughing machine and a civilian.
"Based on our investigation, Mr Renner's personal vehicle, which was being driven by a family member, had become stuck in the snow near his home," Sheriff Balaam told the news conference.
"Mr Renner went to retrieve his… SnowCat, an extremely large piece of snow removal equipment, weighing at least 14,330 pounds (6.4 tonnes), in an effort to get his vehicle moving."
Sheriff Balaam said that after successfully freeing his vehicle, Renner had got out to speak with the family member when the SnowCat had begun to roll.
Renner had attempted to get back into the machine, at which point he was run over, he said.
Sheriff Balaam added that there were no signs of "any foul play" and that the incident had been a "tragic accident".
Renner, a two-time Oscar nominee, is well-known for playing Hawkeye in the Marvel Cinematic Universe.
He has also featured in films including The Hurt Locker, American Hustle, and Mission Impossible – Ghost Protocol.
His Marvel co-stars Chris Hemsworth, Chris Evans, Chris Pratt and Paul Bettany, were among those sending love and well wishes.
Hemsworth, who plays Thor in the MCU, wrote: "Speedy recovery buddy. Sending love your way!", while Evans, star of Captain America added: "Tough as nails. Love you buddy."
Pratt, who plays Peter Quill in the Guardians of the Galaxy franchise, said: "Continued prayers your way brutha."
British star Bettany, who portrayed Vision in the MCU, wrote: "Love you mate. Sending you love and healing."
Marvel directors Taika Waititi and the Russo brothers also wished Renner well, with the latter writing: "Sending all of our love, brother, and hopes for a speedy recovery.
"My brother, I love you," added Waititi.
Other famous faces send positive messages included US talk show host Jimmy Fallon, actresses Vanessa Hudgens and Penelope Cruz, Orlando Bloom and Heidi Klum.