I'll be honest – I didn't know what to expect from Concert for Ukraine.
It's a strange one: a night of people coming together to enjoy music, but in response to real horror.
Do you sing along? Do you cry? Is it ok to be overcome with emotion as you sit from the comfort of an arena seat, witnessing performances from some of the biggest stars in the world, then seeing videos of what those in and fleeing Ukraine are going through?
It's a juxtaposition, but having been there, Concert for Ukraine seemed to get the tone just right and clearly many people agree, as the event has so far raised an incredible £13.4m. Not bad for a show put together in less than three weeks.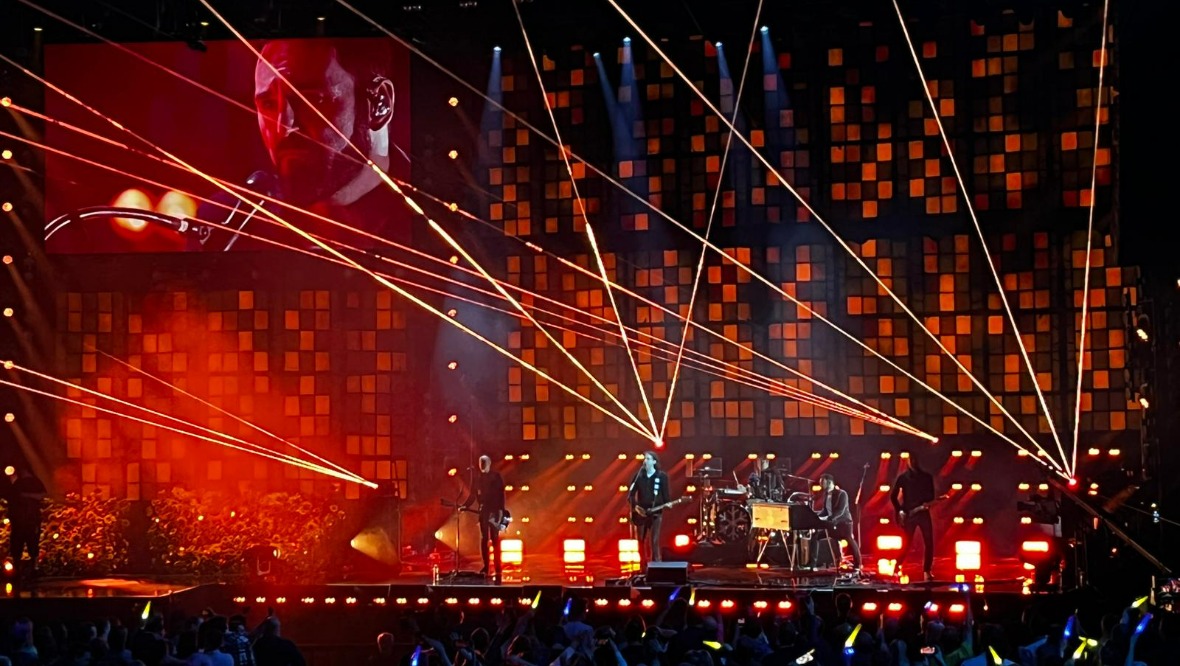 I was backstage at Birmingham's Resorts World Arena all day and, while there was a real buzz about what lay ahead, there was clearly a determination from everyone involved to ensure that Ukraine was at the heart of everything they did.
When I first saw the stage adorned in sunflowers with the backdrop of giant images from the war zone, I was struck by how powerful it was. The sunny yellow and bright blue of the Ukrainian flag, against the stark black and white photographs of people from there was really paralleled throughout the entire show.
There were uplifting performances from the likes of Emeli Sande, who had lost her voice earlier in the day, but her rendition of Brighter Days conveyed a message of hope. I see people saying she mimed – well, if she did, I don't blame her! She could barely speak when I interviewed her for STV News, but she still chatted to us – twice – and when I heard her rehearse earlier in the day, she sounded incredible. Sore throats happen. Give the gal a break!
Becky Hill's powerful version of You Got the Love had everyone on their feet, while Ed Sheeran and Camilla Cabello's duet of new single Bam Bam brought joy. Did you see on TV the strange bum-drum move the dancers performed? Perhaps not one to try at home…
It was pretty special to look around the packed arena and see so many people waving yellow and blue flashing light sticks, Ukrainian flags and sporting Ukraine charity T-shirts. The sense of solidarity with the country was quite something to behold.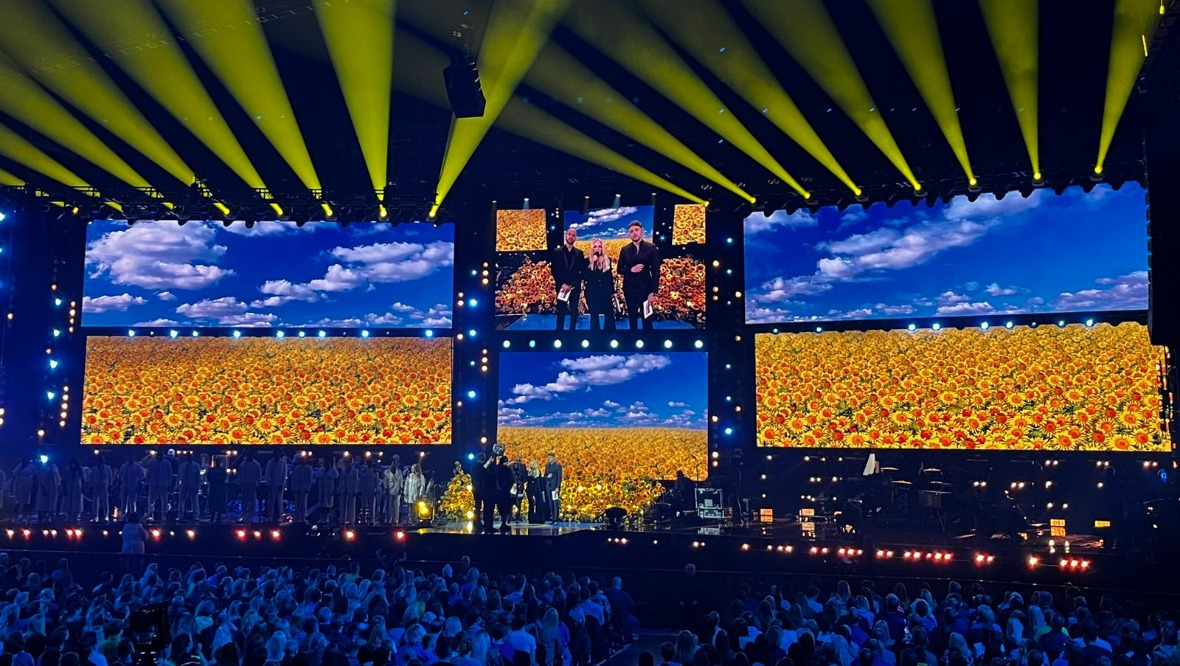 Then there were the poignant performances. Manic Street Preachers hit If You Tolerate This, Your Children Will be Next, with those lyrics emblazoned on a backdrop, particularly struck a chord.
I watched Anne Marie in rehearsal and was in awe of her effortlessly beautiful voice and I thought her rendition, aptly, of Beautiful was a stand out.
Another great moment was when Ukrainian singer Jamala, who won the 2016 Eurovision song contest, performed 1944, adorned in her national flag. The cheer nearly raised the roof.
Videos and testimonies from those directly affected by the war, or who had visited the country, were a stark reminder of why we were all witnessing this show, but I don't think any moment was quite as heartbreakingly striking as when Nicola Benedetti took to the stage.
As a surprise addition to the line-up, with her appearance only announced yesterday, the Scottish violinist played a Ukrainian folk song live to the backdrop of videos of violinists from around the world.
One of those was young virtuoso Illia Bondarebko, who had gone viral with a performance of the song he recorded while sheltering in a Ukrainian basement, recording takes between the sounds of bombs going off.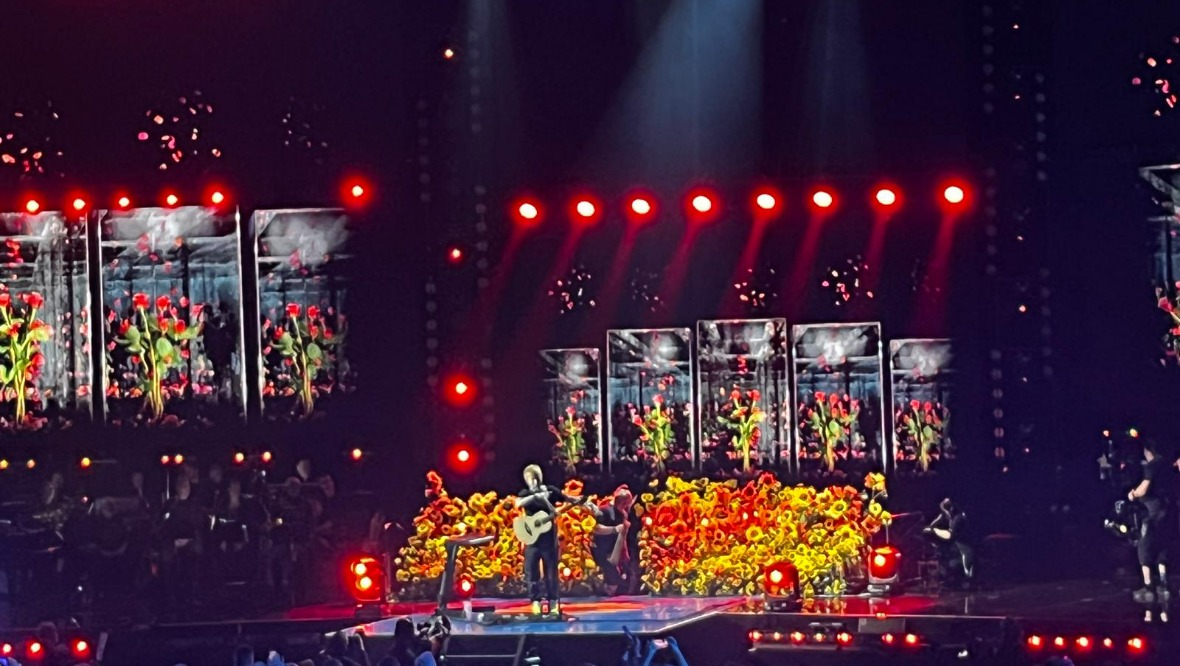 On top of that, actors Tamsin Greig and Eddie Marsan read out real-life testimony from Ukrainians Artem and Natalya, who were forced to flee their homes due to the conflict.
Not a dry eye in the house may be a horrendous cliché, but in this case, it was true. I've certainly never experienced as moving a moment at a gig, and as I looked left to cameraman Tim, who I had been working with all day, I'm guessing the tears in his eyes meant he hadn't either.
To me, that moment summed up Concert for Ukraine. The magic of music combined with real-life tales may seem simple, but it brought many of the stories home for people watching and resulted in the millions being raised for the DEC Ukraine Humanitarian Appeal.
Regardless of what you thought of the show, or the sentiment behind it, that can only be a positive thing.
If you missed it, you can watch Concert for Ukraine now on the STV Player.