A former Dances With Wolves actor appeared in court in Nevada charged with sexually abusing and trafficking native American girls.
The judge postponed Nathan Chasing Horse's application for bail.
The delay until Wednesday to allow Chasing Horse, 46, to change lawyers was announced in a North Las Vegas courtroom full of his friends and relatives who had hoped to see him bailed.
Meanwhile, on the opposite side of the courtroom, some of Chasing Horse's alleged victims and their supporters held placards.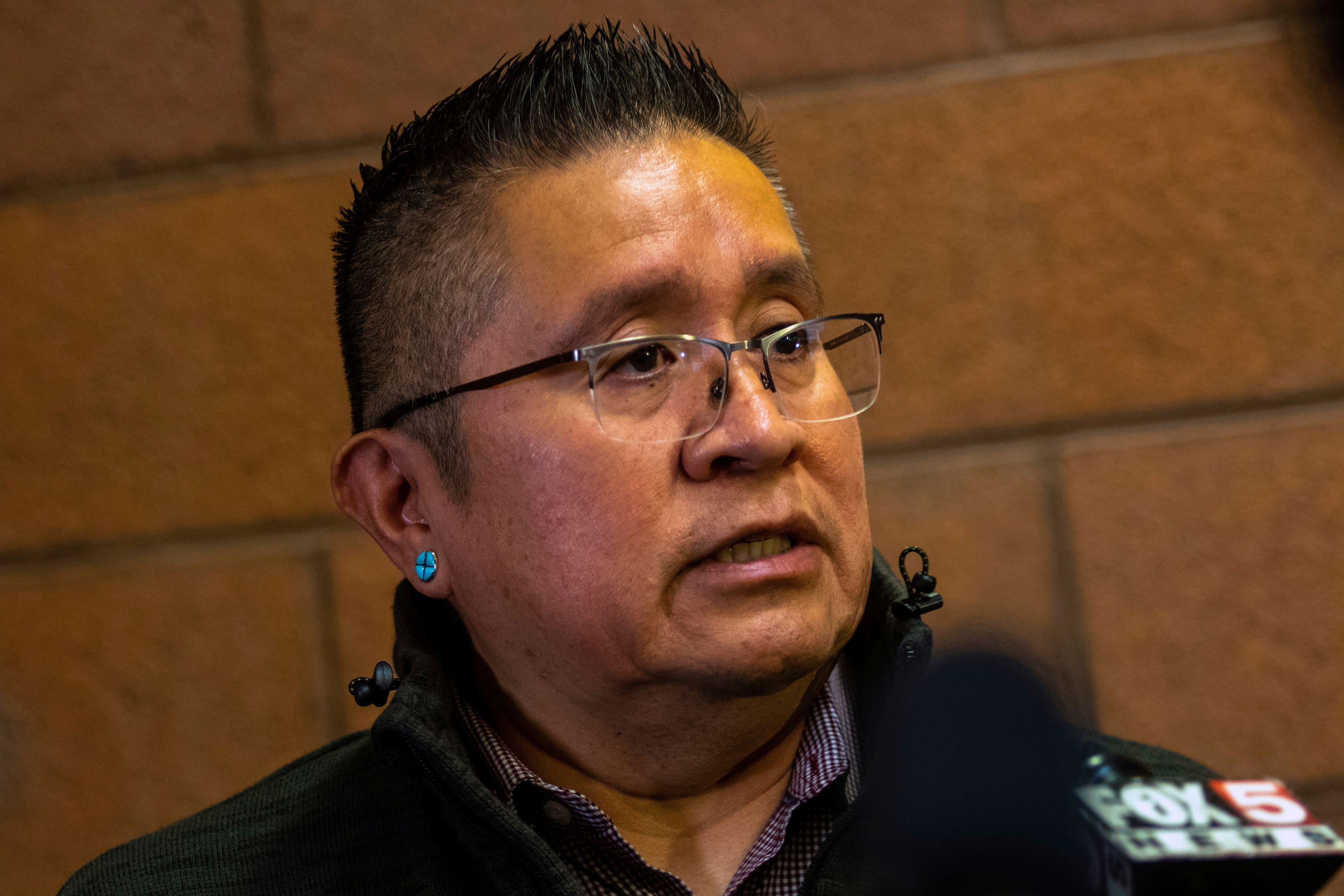 Rulon Pete, executive director of the Las Vegas Indian Centre, said after the hearing that the victims had been prepared "to help out with making sure justice has been served".
"Unfortunately, there's a lot of anxiety they're experiencing," he said after speaking with the victims and prosecutors. "When this got pushed back, it was like adding more weight to the situation."
Chasing Horse has been held without bail since his January 31 arrest near the North Las Vegas home he shares with several wives.
He is charged with sex trafficking, sexual assault and child abuse.
He has not entered a plea.
Clark County chief deputy district attorney Jessica Walsh told the judge that she expected evidence from Las Vegas police detectives, FBI special agents and victims. A North Las Vegas justice of the peace could also hear from Chasing Horse's relatives.
Chasing Horse played the role of Sioux tribe member Smiles a Lot in Kevin Costner's 1990 Oscar-winning film.
Since then, he has built a reputation among tribes across the United States and in Canada as a "medicine man". Detectives described him in a search warrant as the leader of a cult known as The Circle, whose followers believed he could communicate with higher powers.
Mr Pete described the role of the medicine man as a highly respected leadership post. "They're like priests, if you will," he said.
Las Vegas police said Chasing Horse abused his position, physically and sexually assaulted Indigenous girls, and took under-age wives over two decades.
He also was banished from the Fort Peck Reservation in Poplar, Montana, in 2015 following similar allegations.
The crimes, police said, span multiple states including South Dakota, Montana and Nevada, where he has lived for about a decade.
According to the search warrant, Chasing Horse trained his wives to use firearms and instructed them to "shoot it out" with any authorities who tried to "break their family apart".
If that failed, or if he was ever arrested or died unexpectedly, he told his wives to take "suicide pills", the document said.
Detectives searched the family's home.
They found guns, 41lb of marijuana and psilocybin mushrooms, and a memory card with multiple videos of sexual assaults, according to an arrest report that said additional charges could be filed related to the videos.
Police said at least six victims had been identified, including one who was 13 when she said she was abused, and another who said she was offered to Chasing Horse as a "gift" when she was 15.
STV News is now on WhatsApp
Get all the latest news from around the country
Follow STV News
Follow STV News on WhatsApp
Scan the QR code on your mobile device for all the latest news from around the country