A taxi driver is offering cabaret tours of Edinburgh in her black cab.
Sylvia Dow, 46, launched 'Cab-arette' in May this year, offering musical tours of the capital after putting her dream on hold due to the pandemic.
She dreamed up the idea in 2019 but found her income halved due to lockdown.
However she bought a decomissioned black cab and jazzed it up with a discoball – and is now hoping the unusual entertainment will be a hit with people looking for a bit of entertainment while things reopen.
The tours are led by her alter-ego, Lola, and cost £20 per person for a 90 minute drive.
Four other characters are also part of the performance and Sylvia gets dressed up throughout the journey putting on silly accents which she has always loved doing.
She gets changed behind a curtain in the cab and also performs in the street.
Sylvia has worked as a cab driver for ten years in the Scottish capital and described it as the "best job" she's ever had.
Now she has set up 'Cab-arette' in the hope of 'lifting everyone's spirits'.
Lola's stage will take the form of a black taxi cab, decked out with pink paint, disco balls, and glitter, introducing four other characters at different stops.
The ride will take its passengers to historic places such as Flodden Wall for a dance with Lola before being driven down the Royal Mile by characters including semi-retired nun Geraldine, before being picked up by Russian fugitive Alexa fleeing the mob.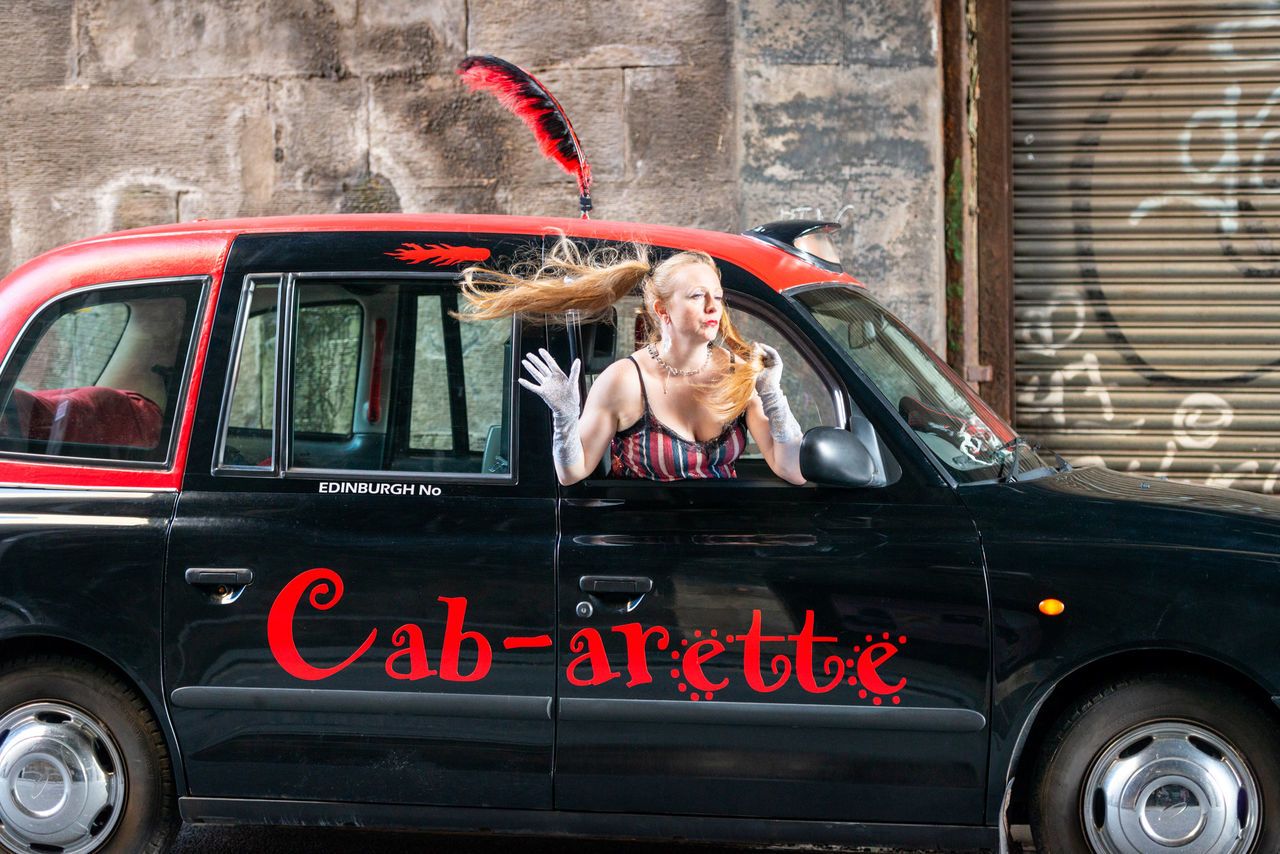 Sylvia said: "Because of everything we have all gone through I just want to give everyone a laugh and lift their spirits.
"Someone bizarrely dressed and singing as they pass you in the street can't help but make people smile.
"I've not been trained or gone to theatre school but I have always enjoyed putting on an accent and being silly, that's where this show comes from.
"I had the idea in my head for a while, and I originally wanted to launch at the end of 2019.
"When lockdown opened up with the restrictions, I didn't want to promote something that could be seen as unsanitary so I held off.
"It was an absolutely desperate time for taxis. I was earning less than half of what I would normally earn.
"My life started disappearing.
"When I started doing this again, I realised I can't do this show and work, so I focused on the show.
"We go from the Grassmarket and do a wee loop, stopping at the Fodden Wall, Carlton Hill, and the Royal Mile.
"I sing in the cab and perform in the street at certain stops.
"It's all about having a bit of a giggle and a light bit of fun.
"It's not a serious historical tour but we are in a beautiful historic city.
"The reactions have been great."
Sylvia hopes that the attraction will appeal to those who feel uncertain doing activities in large public groups, and for those who enjoy small groups of company.
She added: "You are in a taxi, you're in with a small group of your friends.
"You're not sharing with strangers.
"I know I personally don't feel happy about going into a cinema in a room that may not have good air-con and no windows.
"With this, you are out and about in a small group, the only stranger is me."
Sylvia now has plans for future shows including literary and murder-mystery tours, and even taking the show to Glasgow.
"I would love to take it up to Glasgow, as I think people would love it up there, but I need to familiarise myself with the city," she said.
"I know it's not everyone, but it's about having a good time and a laugh in a tough year."
STV News is now on WhatsApp
Get all the latest news from around the country
Follow STV News
Follow STV News on WhatsApp
Scan the QR code on your mobile device for all the latest news from around the country