A never before seen treasure trove of Freddie Mercury's handwritten drafts for Queen's immortal hits are set to be unveiled on Thursday.
The pages reveal the process of creating the legendary band's songs, which continue to resonate throughout contemporary culture almost fifty years on.
Notes in the collection include Don't Stop Me Now, Somebody to Love, We Are the Champions, and Bohemian Rhapsody.
In scope and quality, the collection provides a glimpse into the creative mind of one of the 20th century's most influential songwriters.
Written in ballpoint pen and pencil, the early draft of Bohemian Rhapsody encompasses all sections of this most ambitious of Queen hits.
As with most of the lyrics within this collection, the draft text is written across 15 pages of stationery from the now-defunct British Midland Airways.
One page reveals that Mercury originally planned to call the song Mongolian Rhapsody' before crossing out Mongolian and replacing it with Bohemian – rhythmically similar, but with a different resonance.
On another page, Mercury jotted down an alternative to the famous second verse, "Mama, just killed a man," with a completely different wartime narrative: "Mama, There's a war began, I've got to leave tonight."
A third page, focusing on the operatic section of the piece, is completely covered in a burst of words and phrases.
"Galileo," "Fandango," "Scaramouche" and "Thunderbolts and lightning" are all on there, but so are other words that were never used, such as "Matador" and "Belladonna."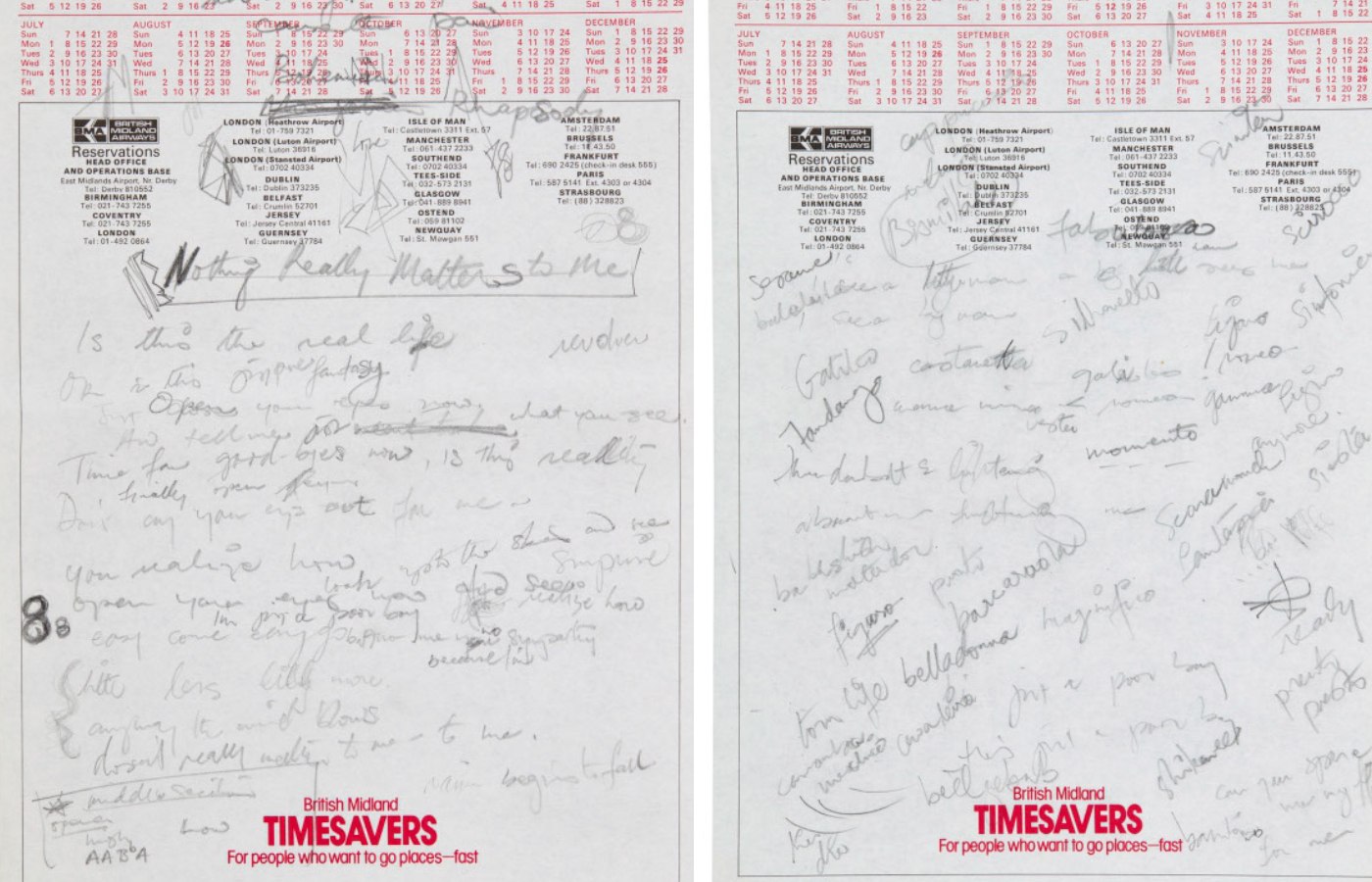 The extensive 15-page draft for the crown jewel in Queen's repertoire is expected to fetch anywhere between £800,000 and £1.2m at auction in September.
Drafts to the band's other major hits, like Killer Queen, We Are The Champions and Don't Stop Me Now are also expected to sell for hundreds of thousands.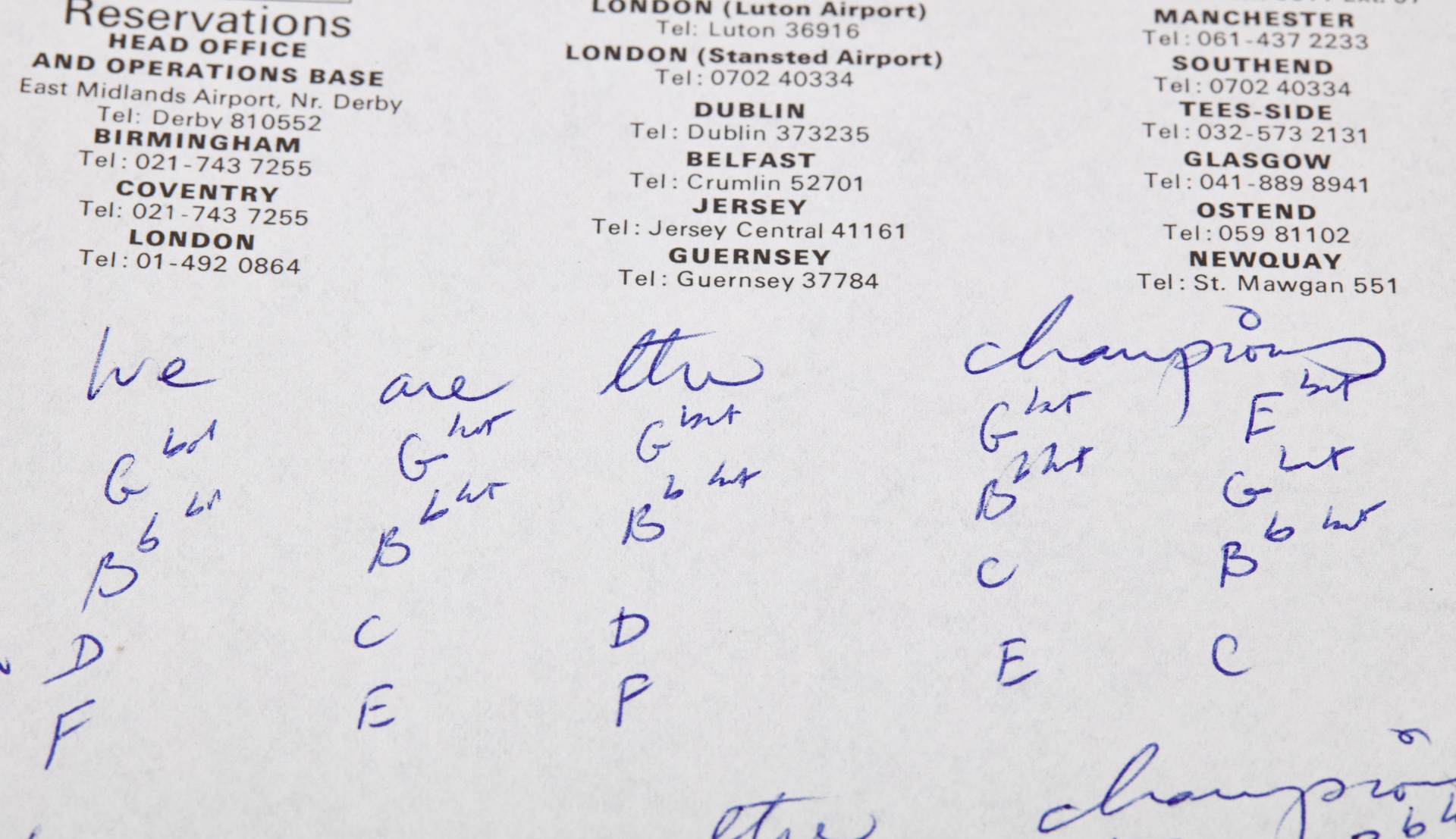 The precious drafts will be shown at Sotheby's New York on Thursday, before being sent to Los Angeles and Hong Kong for exhibition.
They will then travel to London as part of a month-long exhibition in August, before going under the hammer in September as part of the Freddie Mercury: A World of His Own auction.
The month-long exhibition and auction series, by Sotheby's London, will feature Mercury's stage costumes, handwritten draft lyrics, fine and decorative pieces, Japanese art, and his personal belongings.
Dr Gabriel Heaton, Sotheby's books and manuscripts specialist, said: "Early drafts such as these are easily lost or discarded, so the rare survival of these manuscripts provides us with fascinating insights into how his songs were developed and put together, as well as reminding us of their musical complexity and sophistication."
He added: "The pages bear witness to the many hours he put into perfecting his craft, as he experiments and plays with language, and hones and shapes the lyrics and harmonies for these songs which, for many of us, have simply always been there in our lives.
"While the working lyrics of several great rock and pop songs of the 20th century have come to auction before, to see so many hits presented together and all coming directly from the collection of the artist themselves, marks a truly special, and unequivocally rare, moment."