A Shetland artist took to the great outdoors to showcase her latest work.
Vivian Ross-Smith, 31, looked at ways in which to exhibit her artwork outside of a gallery environment due to the coronavirus restrictions put in place amid the pandemic.
As lockdown started to ease across the country, Ross-Smith created art to wear and took it on the road for three site-specific performances in Shetland during April.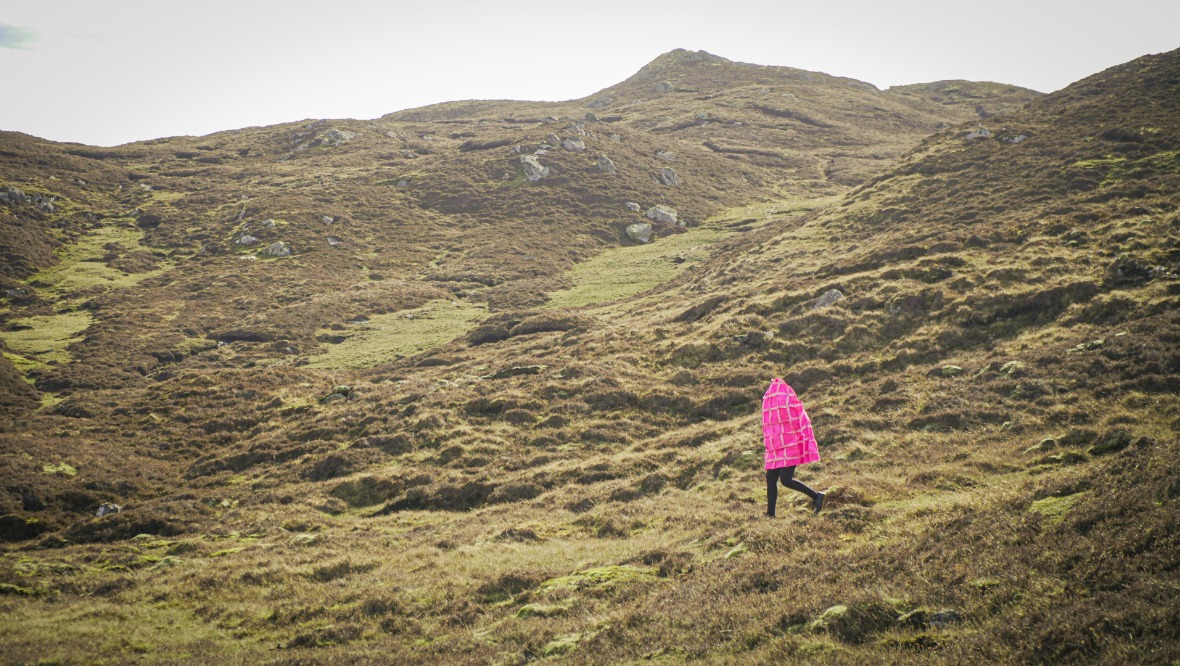 Speaking to STV News about the exhibition, titled The Island is The Gallery, she said: "I invited islanders to find a painting in the landscape to explore new ways to engage with art.
"Coronavirus created a time where the walls in which we exhibit work were out of bounds.
"In response, I removed the need for a gallery and began creating artwork to wear on my body.
"Escaping the expectation of artwork being restricted to urban space and inside galleries, I toured my wall-less interpretation of a white cube around the landscapes of my island home.
"I could be found wearing a painting made in response to that location and either staying within the boundary of my 'gallery' or walking in the surrounding area."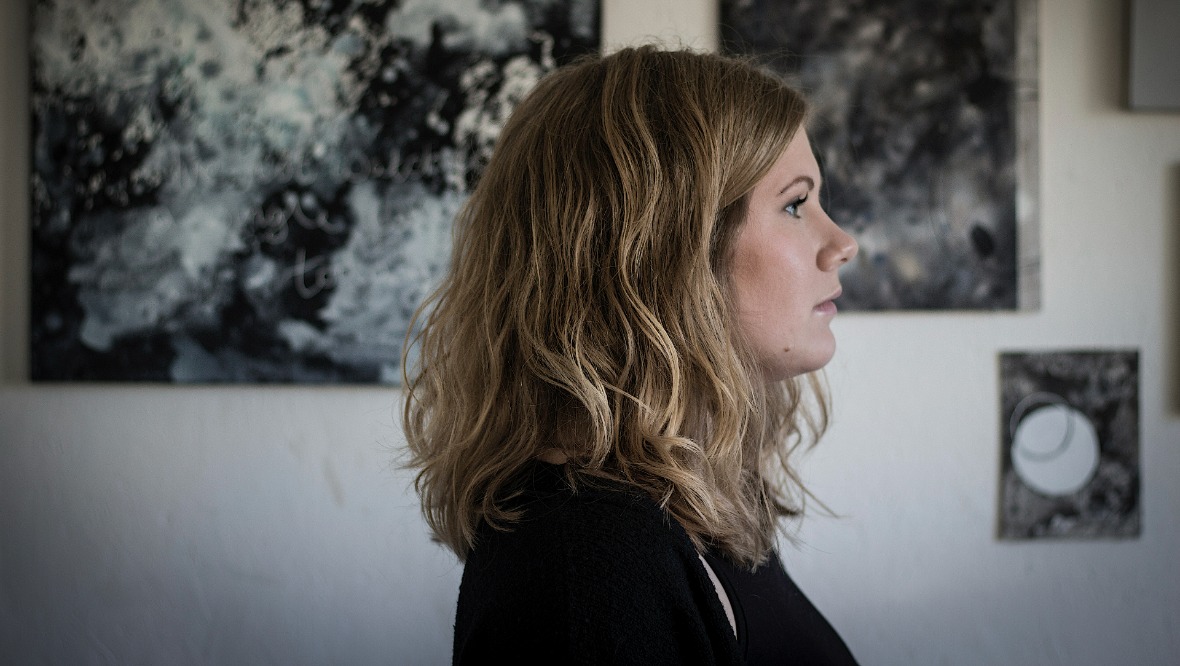 Ross-Smith added: "Each performance questioned where we expect to engage with art and who we expect an art audience to be.
"By situating my wearable paintings in public space, I testify that contemporary art practice belongs outside of the white cube.
"Playing with ideas of accessibility of the artworld, this work provides a platform to reassess where art belongs.
"In a time when touch seemed impossible, I used physical gestures to connect with audiences.
"With each interaction, I attempted to engage the audience in a conversation by problem-solving non-verbal modes of communication."
Ross-Smith, who grew up on Fair Isle but currently lives in Lerwick, has now released a series of short films that document her latest work.
The former Gray's School of Art and Glasgow School of Art student said: "The work itself has spanned the whole of the coronavirus pandemic.
"My use of wearable paintings began with the project Broadcast, a durational performance piece disseminated over the Shetland Webcams network in July 2020.
"This work used digital communication and interference to explore perceptions of place, accessibility of the artworld and my identity as an islander.
"For each performance I selected a wearable painting, travelled to a webcam site and hijacked the video stream."
Ross-Smith then continued the theme with Ways of Seeing, which was part of a temporary outdoor exhibition in association with Shetland Arts.
She said: "[It] featured footage from Broadcast, and me periodically dressed in wearable paintings to occupy the glasshouse space, which acted as a window in as well as a barrier and screen, to contemplate the tensions between absence, presence, and physical and digital forms of connection."
The project ends with The Island is The Gallery, which was supported by Shetland Arts and Creative Scotland as part of Refresh Now.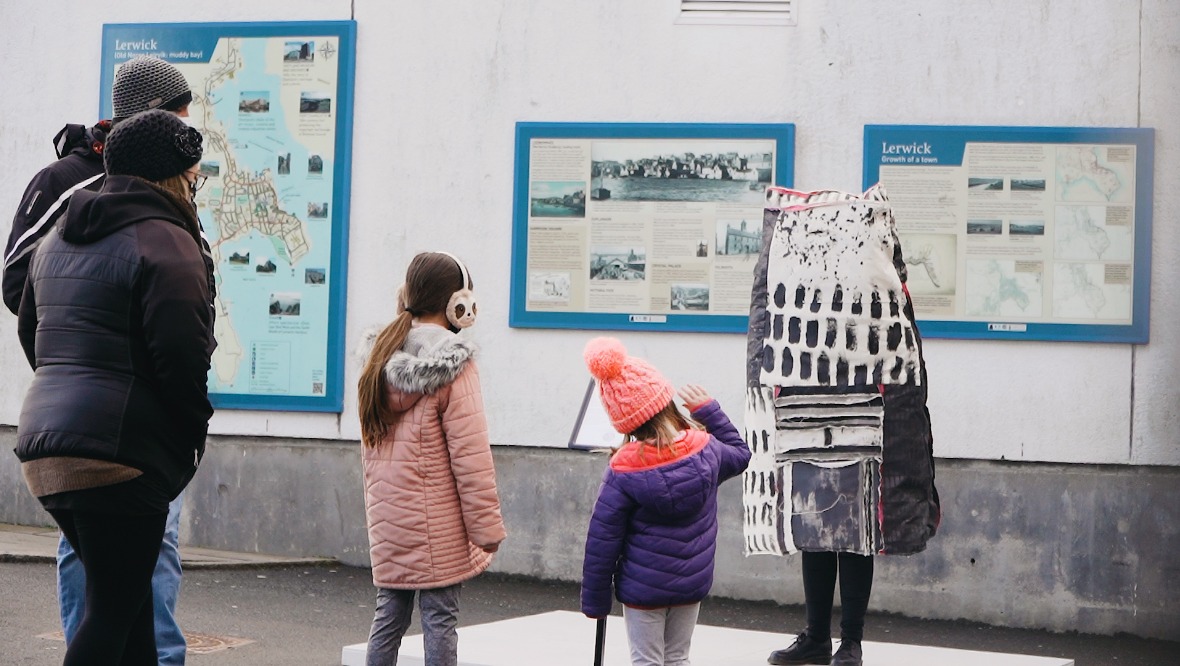 Ross-Smith, who uses physical and digital space to make paintings, textiles, and performance art, said: "The responses from the public toward the performances were exceptionally interesting and I'm fascinated in presenting artwork in non-gallery places which allow for people to respond in non-gallery ways.
"People watched, talked, frowned, laughed, got annoyed, sunbathed, listened to the birds, gave a little scream, played music, invited me to walk, danced, stared, walked right on past, waved, and gave their time so generously to engage with The Island is The Gallery.
"This project was for the islanders I share this home with, but all the folk in internet-land and beyond have played such a vital role in this work too, and for them I am so excited to share these films.
"Each performance acted as a personal manifesto for the post-Covid artworld – asking it to be much less city-centric, hold accessibility at the forefront and revalue hierarchies of space.
"I hope this work makes space for the artworld to consider this."
Keep up to date with Ross-Smith's work