An artist whose big exhibition plans were scuppered by the coronavirus pandemic last year is "absolutely buzzing" as she gets ready to welcome the public into her phenomenal paper cave.
Laura McGlinchey was unable to showcase her impressive artwork in 2020 due to the Covid restrictions put in place, but has now recreated the installation for public display.
McGlinchey, from South Ayrshire, told STV news: "I am absolutely buzzing for paper cave round two.
"I feel incredibly lucky to have, once again, been given the space, time and encouragement to make this large installation. Especially during this global pandemic where the whole world has had to just stop."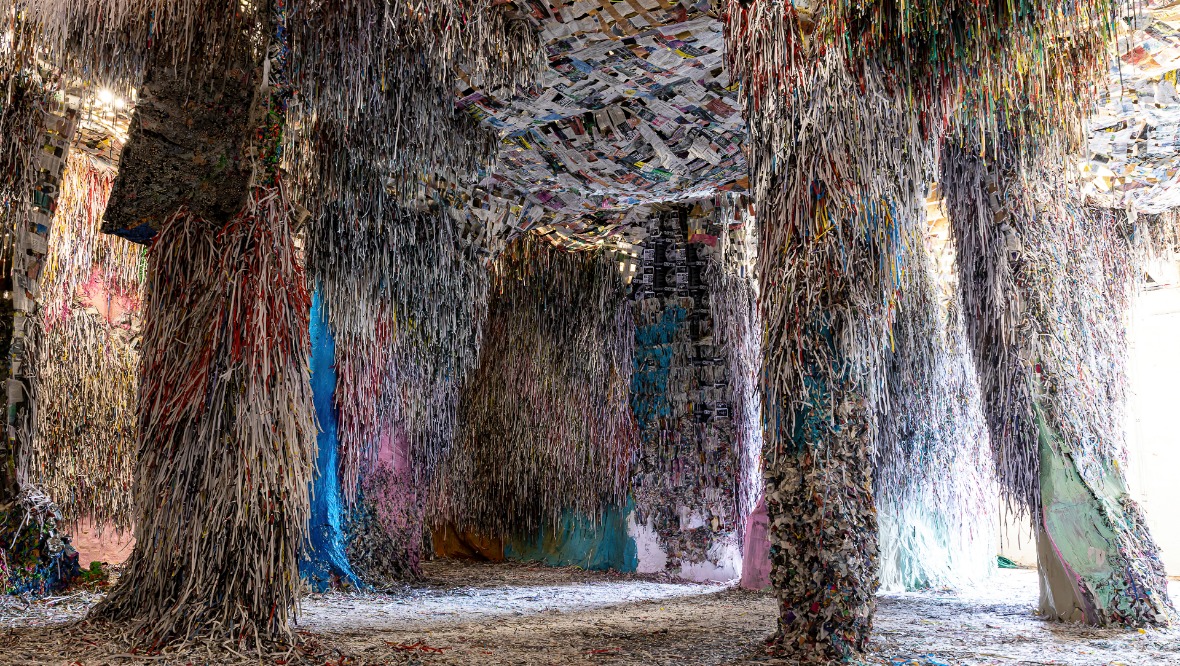 As reported by STV News previously, the project was initially commissioned by Look Again, a creative unit based at Gray's School of Art in Aberdeen.
The installation was originally set to take place in Aberdeen last May, but was moved online.
McGlinchey, who has a compulsion to blur creative boundaries, stormed on and built the paper cave within The Pipe Factory in Glasgow last autumn.
She then invited 13 different acts – from musicians and comedians to poets and performance artists – to perform over two days. The shows were recorded and released online.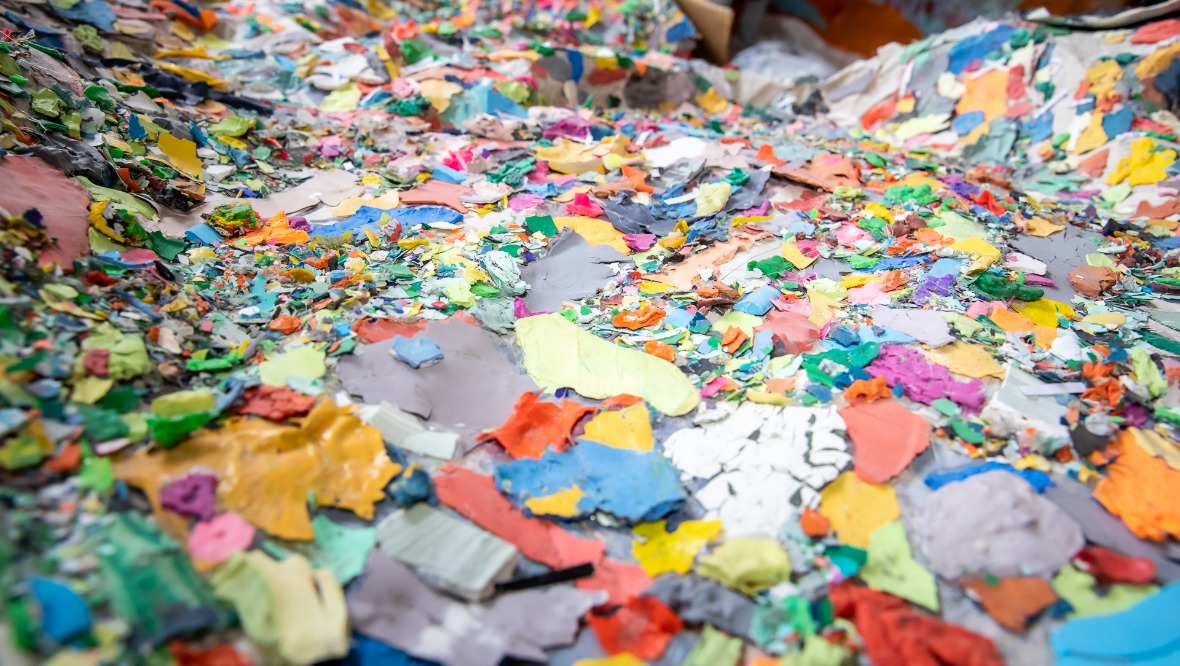 This time round McGlinchey has recreated the installation at Dough, a newly developing gallery space run by arts initiative Narture in Ayr's Sandgate.
McGlinchey said: "I was brought up in Loans and went to school in Troon but Ayr is where I used to go as a young teen.
"I've got lots of pals from Ayr and lots of fond memories of hanging out, going shopping or to the cinema.
"There used to be a lot of gigs in Ayr too, all-dayers, and a lot of wild nights out. I think the first gig I ever went to was in Ayr, at The Gaiety Theatre to see The Beat.
"I've been in contact with Robert and Saskia, father and daughter, who set up and run Narture for about seven years now and have done a couple of exhibitions with them in Ayr through the years.
"They are very encouraging and supportive of artists being able to support themselves while making their work.
"I made a proposal to them for a residency/exhibition and they agreed to commission it. We have been working together to realise the project to its fullest potential.
"I will be there for six weeks in total. I've had a great time so far. We eat together daily, discuss our days and plan for the future. A truly nurturing experience."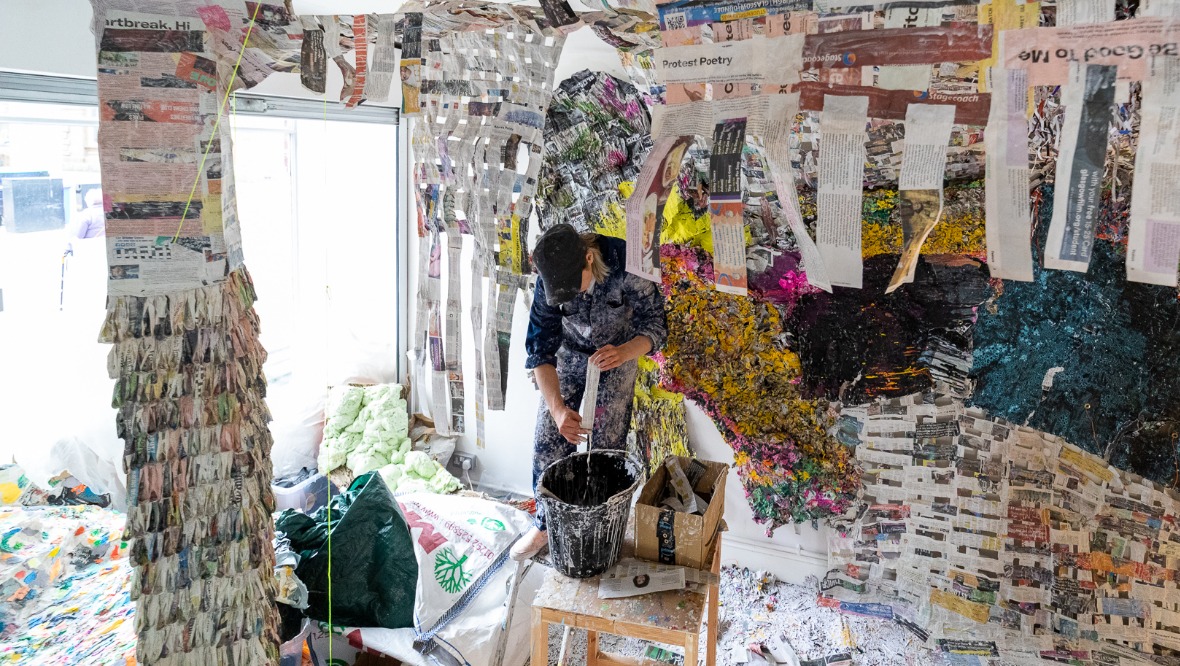 McGlinchey's main objective with the paper cave installation is to encourage community engagement.
She said: "The large windows of the venue are key to this as it allows the public in, making for a more 'access all areas' insight of the work, and importantly, the process that you typically don't get in a traditional white cube gallery.
"The idea is that the local community can build up a relationship to the work, seeing it on their daily commute and to the wider public following the progress online."
McGlinchey uses everyday materials – including string, paper, plastic waste and flour and water – to highlight that art is accessible to all.
She added: "We can use what is around us to get to where we need.
"Being resourceful is key and you don't need to spend lots of money on materials to produce work that can identify as contemporary fine art. A largely wasteful, consumer-driven society means that there is an abundance of free materials and information available."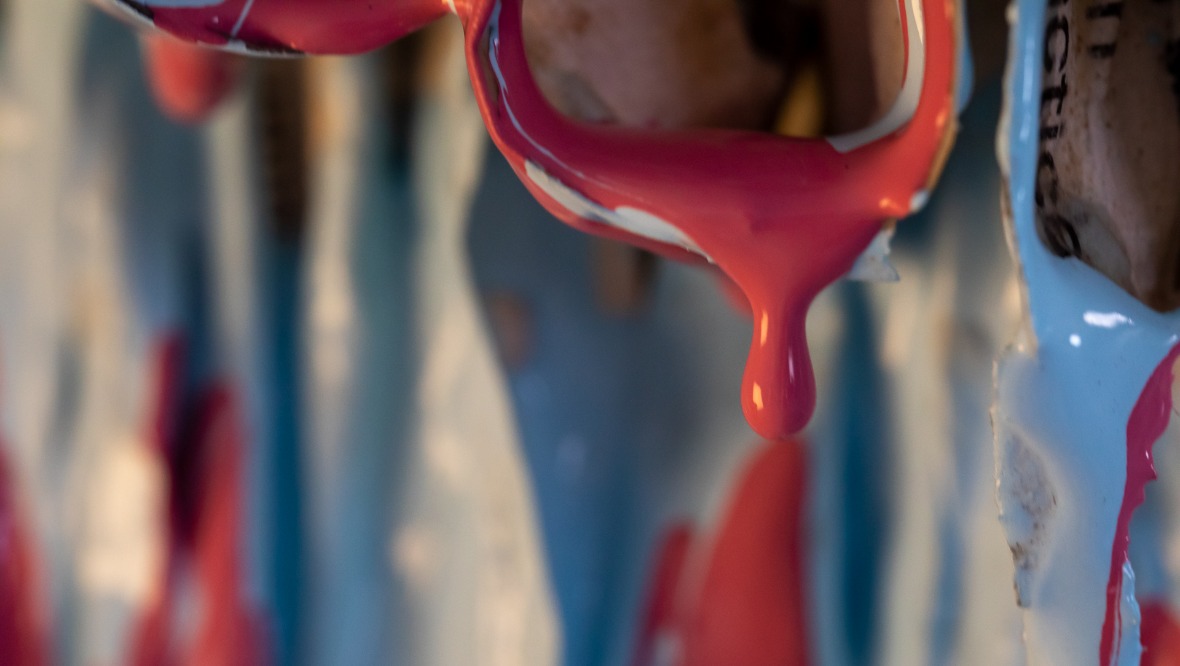 Although painting is at the core of McGlinchey's practice, she has a compulsion to blur the boundaries between painting, performance, sculpture, installation and craft.
When creating the first paper cave, she shredded and painted gig posters that were printed for the year ahead but due to Covid-19 no longer had any use.
Speaking about the new installation, she said: "I am using a lot of parts from the previous cave and pieces of much older works I've had in storage, along with materials gathered from the local area and some even given by the community.
"Working in this way means that I can get the installation built up quite quickly so that I will have time left to engage the public and local community as much as possible.
"This exhibition will take on the form of an installation made from materials found and collected from the local area – paper, cardboard, plastic. The installation will cover the walls and ceiling of the whole space, creating a cave-like environment."
McGlinchey will also host another series of performances within the cave.
Quiche, Grayling, Jenny Clifford, Shredd, Adult Fun, Scarlett Randle and Craig John Davidson make up the bill this time round.
Again, there will be no audience, but the sets will be uploaded online.
McGlinchey said: "Unfortunately the sessions will be shown digitally and have no live audience.
"However, with restrictions slightly eased since last August bands have been able to practice together again.
"When booking the acts for the last cave, it dawned on me that it would be very difficult to get a full band that was able to have practiced together at all for months and months.
"So, this time around I was keen to get a few bands together as well as some solo and duet performances.
"We are getting closer to live performances with an audience and I just can't wait.
"I would really relish the chance to host gigs in the cave with an actual audience."
McGlinchey's paper cave exhibition will take place between May 28 and June 14 at Dough, 22 Sandgate, Ayr.
Covid restrictions will be in place and strictly followed.
For more information, click here or follow McGlinchey on Instagram.