Sofiia Keilin and Viktoriia Palahniuk are haunted by memories of the first days of Russia's attack on Ukraine.
Speaking during a trip to Edinburgh, they remember all too well the agony of having to pack their belongings and flee their homes when shelling began in February.
Sofiia and her family moved from their village near the capital Kyiv to the west of the country, but have since returned.
Viktoriia had to leave Ukraine and the area she calls home is now under Russian occupation.
Over the past fortnight, the women have been in Edinburgh as part of the Una Europa summer school project.
They were offered funded places after Edinburgh University started a new partnership with the Taras Shevchenko National University of Kyiv.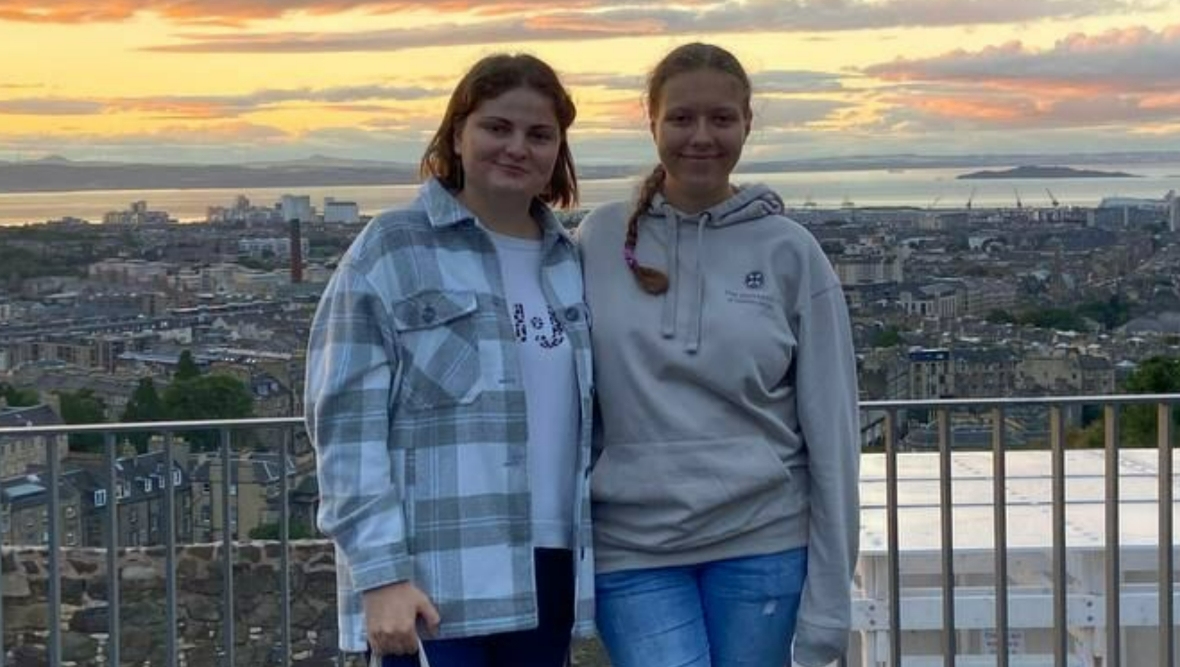 The experience has brought comfort to the women, who have been touched by the solidarity shown by other students and teaching staff.
But the contrast between the troubled situation at home, and the stability they have found in Scotland, has been hard to process.
"People are happy, and people are carefree – I don't feel angry at them or anything, but I really feel envious," 22-year-old Sofiia told STV News.
"I feel like deep down we all are human beings with the same feelings and values and thoughts. Everybody was very nice to us, very considerate towards the situation we're going through."
In between sessions at the university, students have also had the chance to explore the capital – with hikes up Arthur's Seat, visits to museums, and even a ceilidh.
Viktoriia, 21, said: "It's always been my dream to visit the UK, to visit Scotland – and Edinburgh is a breathtaking city.
"My soul and I are still in Ukraine, but I want to use this opportunity to tell people more about [my country]."
Una Europa's One Health summer school programme focused on global health issues, including food insecurity caused by the crisis in Ukraine.
Professor Lisa Boden said: "It's not an understatement to say that it's been one of the most meaningful teaching experiences of my life.
"[The students] all came from different backgrounds – so we have journalists and lawyers, people who are studying philosophy, as well as veterinarians, as well as medics."
James Smith is on the board of directors of Una Europa, an alliance of 11 European universities which aims to encourage international co-operation, expand research and offer exchange opportunities for staff and students.
He said: "Our ability to connect across Europe, across the world, is fundamental. It relates to a post-Brexit world, a post-pandemic world, and also a world in which war is an issue at the moment.
"Connecting to Taras Shevchenko University is a really fundamental part of what we're trying to do."
Sofiia and Viktoriia say the experience has made them feel "part of a big European family".