A trio of fluffy baby owls have been named after storms which battered the UK in February. 
The horned owl chicks, named Storm, Ciara and Dennis, hatched two weeks ago, between March 21 and 23.
They were born at the Scottish Owl Centre in Whitburn, West Lothian, and were incubated indoors to lower the risk of their mother abandoning them during bad weather.
Great horned owls are known as "tigers of the air", as they can inflict nasty injuries and even try to eat animals much larger than themselves. 
Ornithologist Rod Angus said: "We took the eggs in because it was quite stormy and sometimes during bad weather they can abandon eggs.
"We put them in an incubator and when they hatched we named them Storm, Ciara and Dennis."
Despite only being a fortnight old, the birds are expected to fly in five weeks and by ten weeks they'll be fully grown.
After the birds take flight blood will be taken from them and be sent away for testing to see what sex they are.
The centre recently had to furlough three full-time staff members due to the coronavirus lockdown, with the births of the horned owl chicks bringing some welcome joy.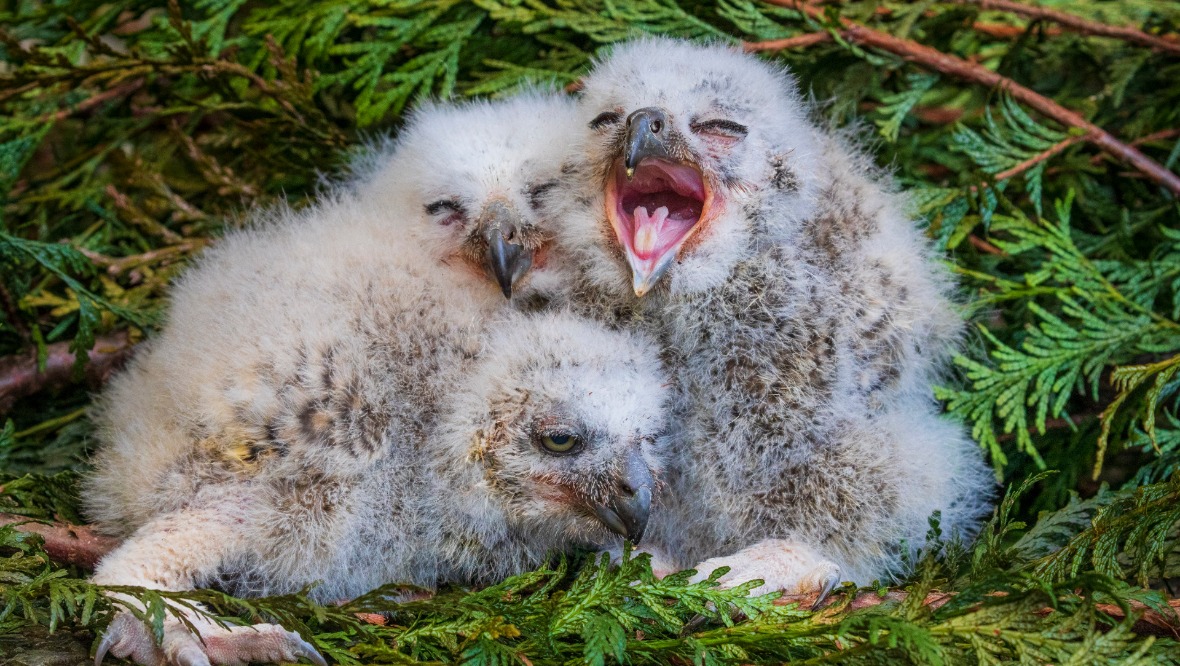 Rod, who owns the centre, said: "We were very pleased.
"But it can be quite difficult to find homes for the great horned owls.
"They're known as tigers in the air, they will eat pretty much anything that moves – even sometimes things bigger than themselves.
"You need to be careful going into their cages, they can inflict quite nasty injuries.
"But the trained owl we have is a very tame bird."
Great horned owls, also known as tiger owls, originate from the Americas and are considered one of the most aggressive birds of prey in the world.
The birds, which have been known to live up to 28 years old, hunt a wide variety of prey in the wild – including animals bigger than themselves, such as skunk and even geese.
Rod said: "They're not very popular in parts of America with poultry farmers.
"They'll hunt during the day as well as night.
"But they have a great deal of dignity with their fearlessness and channeled aggression.
"The babies will grow into top end predators."