Protesters who blocked entrance to a controversial film screening at the University of Edinburgh said they were aiming to "challenge hate speech" and vowed to show up "every single time" the event is rescheduled.
Groups supporting the LGBTQ+ community staged a series of protests including blasting loud music and holding banners and flags in front of a lecture hall in Edinburgh's George Square on Wednesday.
The demonstration was in protest against the screening of Adult Human Female, a documentary which claims to explore the "manufactured confusion around sex and gender".
The event marked the second time the university has tried to screen the film.
Opponents have branded the film transphobic and say it "has no academic merit" to be screened on campus.
But, organisers of the screening say "troublemakers" blocked the entrance to the hall and demonstrated "old fashioned sexism and misogyny" by forcing the event to be cancelled.
One woman, who arrived with her daughter for the screening, tried to get through the doors to the lecture hall and said the actions of demonstrators were infringing on her "human and civil rights".
The protest, organised by groups including the university's Staff Pride Network, argued the film should not be screened due to the "bias" in its narrative.
A committee member of the group, named Jonathan, told STV News: "I just want to support and lift up voices and show solidarity with our trans and non-binary staff and students and the wider community.
"They are such a marginalised group and need people to support them.
"The film is so one sided, it's not based on any research, it is all propaganda."
He added: "None of it is based on fact, it's all fear. Fear is valid and people should have their own concerns but that must be challenged with fact."
Cabaret Against The Hate Speech, who played music from musicals in George Square as part of the demonstration, said they were protesting through "queer joy".
A spokesperson for the group said: "The film has no academic merit to be allowed on campus as part of the curriculum.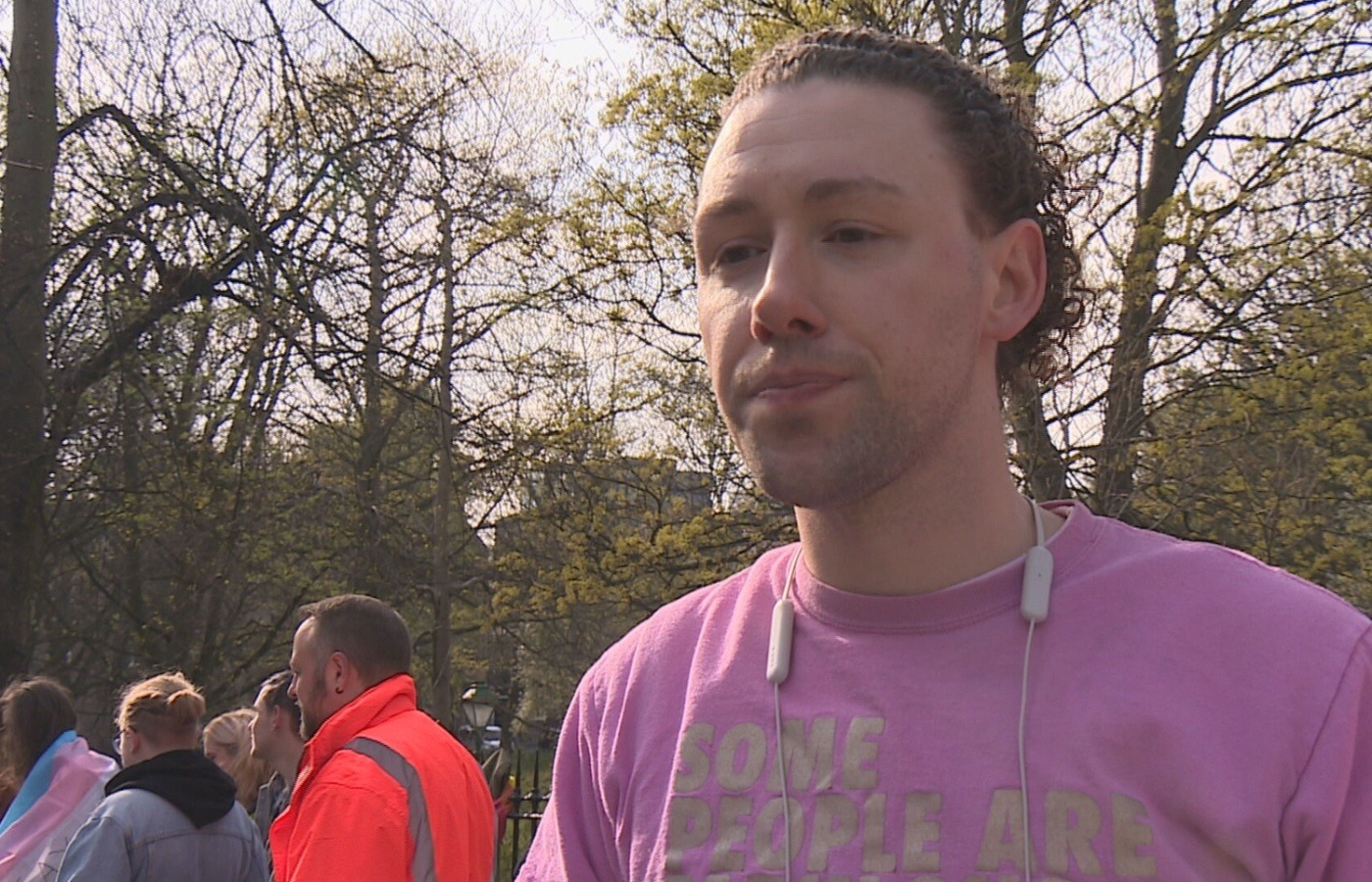 "It is bias in its research and it paints a narrative that the trans community is a danger to society which it is not.
"This film is not suitable to be shown on campus. It is transphobic propaganda to spread a message that trans people, especially trans women, are a danger to society."
They added: "We are here today to sing together, to celebrate our community and to challenge hate speech.
"We're here to do activism through queer joy and celebration and to show that we will always exist no matter whether transphobic or bigoted people want us to or not."
The group also confirmed they intent to protest "every single time" the university tries to screen the film.
Members of student society Gender Liberation were also in attendance.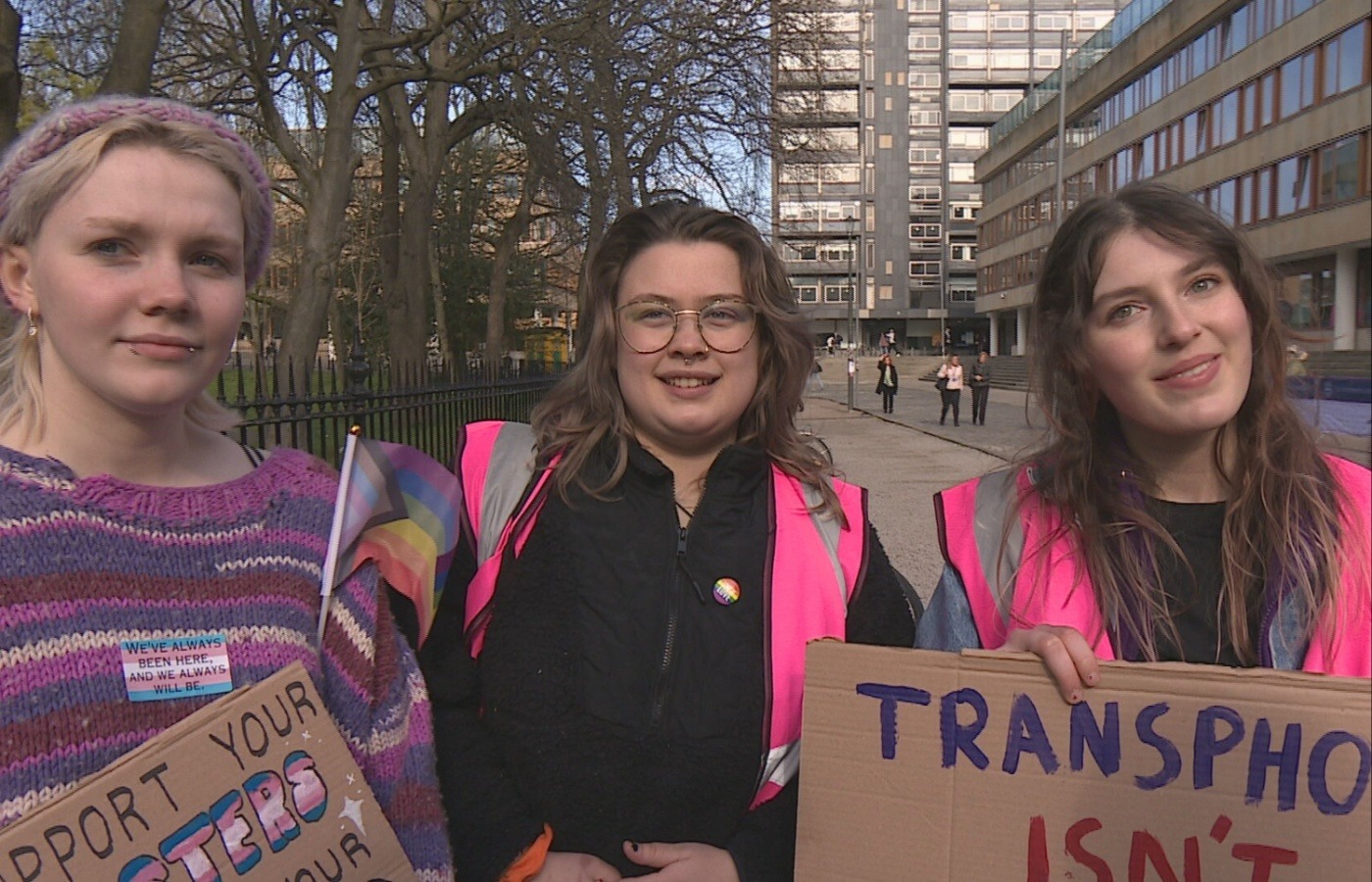 One member told STV News: "Ultimately it makes me really angry because they think this is just a discussion but this will actually have direct consequences on the safety of trans people.
"This leads to hate and leads to violence and I think it's disgusting that the university have let this happen in the first place."
Susan Smith, co-director of For Women Scotland, who helped organise the screening, said: "We were trying to screen a film, it's just a conversation about women's rights, how women's rights are being impacted by changes to the law at the moment, what is a woman and all these philosophical questions.
"It's a very benign film. Sadly, a group of students who seem unable to debate rationally or intelligently and worse, a group of staff have invited some external troublemakers on to campus."
Ms Smith denied the film was transphobic and said of the protest: "Actually this is a really handy cover for good old fashioned sexism and misogyny which I think has really driven this today."
The issue was also raised by Conservative MSP Tess White during First Minister's Questions on Thursday.
When asked about the issue of freedom of speech following the event on Wednesday, First Minister Humza Yousaf said universities should be a "safe space for debate and discussion".
He added that he had not seen the film Adult Human Female and would not look to intervene on the matter as it was for the University of Edinburgh to decide what to do.
He said: "I have made it perfectly clear in relation to my stance on freedom of speech particularly within universities and I see that as no conflict to the other stance that I'm very proud of which is supporting trans rights, that is one thing that I am unequivocal about."
A spokesperson for the University of Edinburgh said: "At the university we are fully committed to upholding freedom of expression and academic freedom, and facilitating an environment where students and staff can discuss and debate challenging topics. We are disappointed that again this event has not been able to go ahead.
"In line with our commitment to fostering an inclusive, supportive and safe environment for our whole community, we worked with the organisers and put measures in place to mitigate risks associated with the event.
"However, with protesters restricting access to the venue, safety concerns were raised should the event proceed. It was therefore decided that the screening should not continue."