The iconic Scottish Highlands painting, The Monarch of the Glen, has been moved to a new location ahead of the opening of the Scottish galleries at the National in Edinburgh.
The celebrated picture, by Sir Edwin Landseer, is one of more than 130 artworks taking up residence in the new spaces, which are set to open to the public on September 30.
The new galleries, which has cost £38.62m, aim to showcase some of the most historic Scottish art like never before spanning across 150 year and bringing the country's "artistic legacy to life".
The new Scottish galleries at the National, which offers large window views of Princes Street Gardens, will be home to work spanning across Scotland including the West, Highlands, Islands, Scottish Borders, Glasgow and Edinburgh.
Artists including William McTaggart, Anne Redpath, Phoebe Anna Traquair, Charles Rennie Mackintosh and the Glasgow Boys are all included in the collection.
Painted in 1851, Landseer's work of art famously depicts a proud stag imperiously surveying a majestic Highland landscape.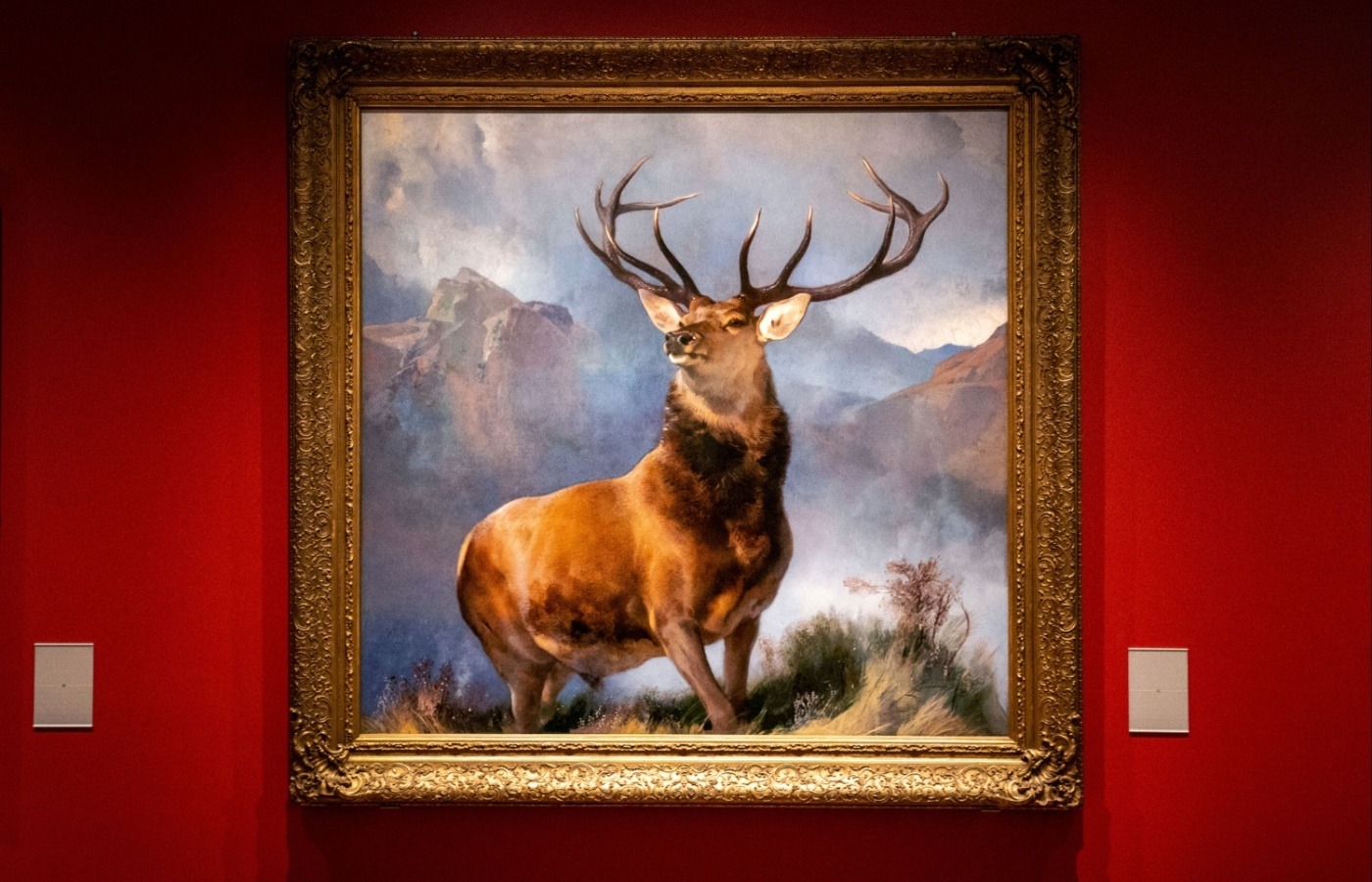 Closely associated with Scotland, The Monarch of the Glen painting has gained modern recognition through commercial advertising and popular culture.
Landseer (1802-73), was said to be "intoxicated" by the Scottish Highlands after first visiting the country in 1824.
He was inspired by the experience of the landscape and its people and returned frequently on sketching expeditions in late summer and the autumn.
He also developed an affinity with the novelist Sir Walter Scott and his work.
The Monarch of the Glen is his most famous large-scale work amongst the landscape studies and is said to have played a key role in formulating the romantic image of the Highlands, which still resonates today.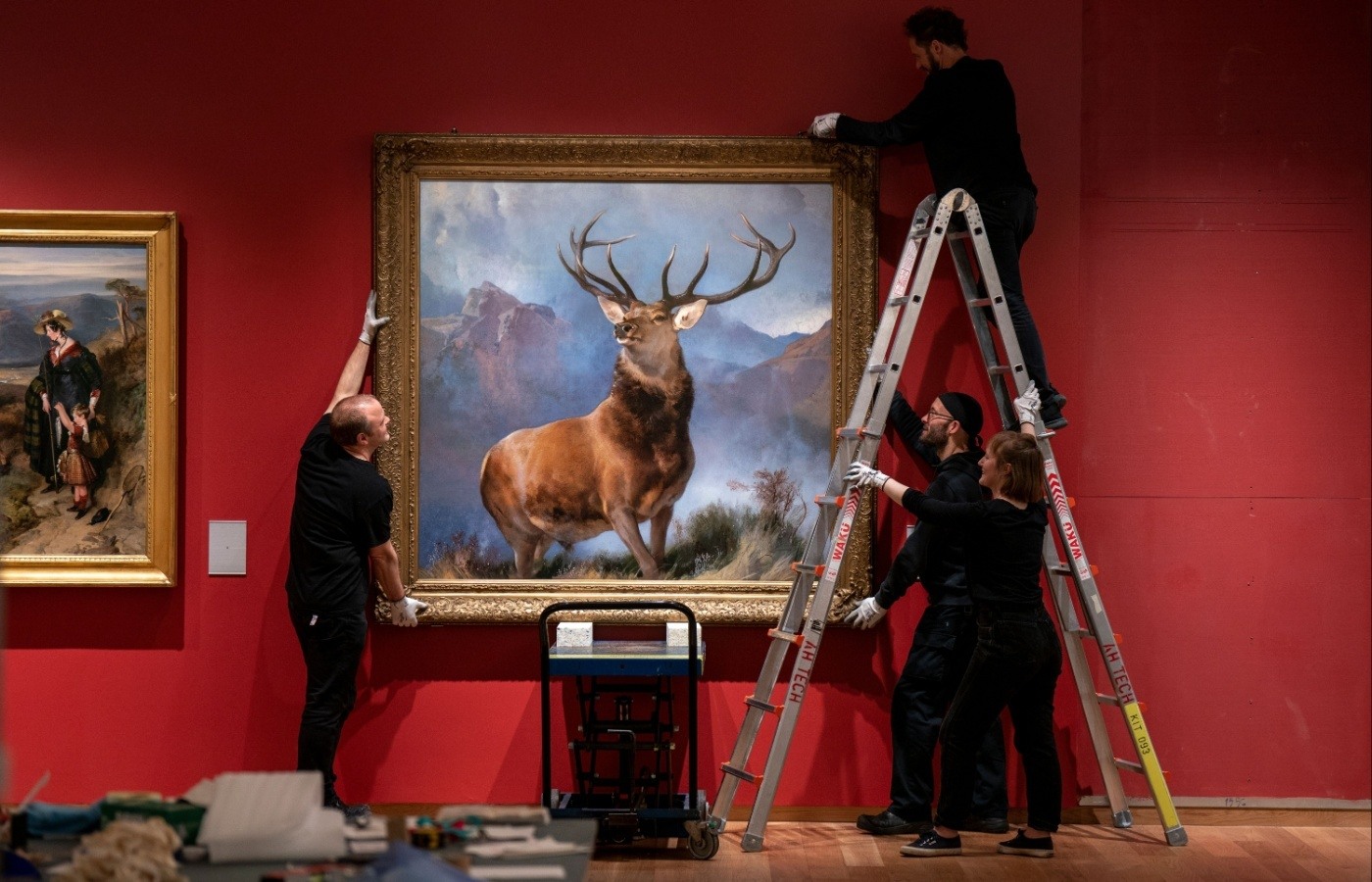 Originally intended as part of a series of three works to be displayed in the House of Lords, the scheme was never realised, and the painting was sold to a private collector soon after its completion.
It was first exhibited in 1851 at the Royal Academy in London where it proved immensely popular.
It was purchased by Sir Thomas Dewar in 1916 and has since been used as a regular marketing image by brands including Pears Soap, then by John Dewar & Sons Distillery and Glenfiddich, and later by Nestlé and Baxter's soup.
Following a four-month fundraising campaign, the painting was acquired by the National Galleries of Scotland in March 2017.
The bid was achieved with overwhelming support from the public, The National Lottery Heritage Fund, Art Fund, private trusts and foundations, Scottish Government acquisition grant funding and by a part gift by previous owners Diageo Scotland Ltd.
Director-general of the National Galleries of Scotland, Sir John Leighton, said: "Landseer's The Monarch of the Glen is one of the most potent and familiar images associated with Scotland. The proud stag is recognisable across the world from his long career in marketing, adorning just about every kind of product imaginable, from soap and whisky to countless shortbread tins.
"Today, it remains a compelling and contested image, viewed by some as the ultimate evocation of the romance of the Highlands, by others as a gloss on the harsh realities of life in the Scottish countryside in the 19th century. Love it or hate it, no one can deny that it is an extraordinary, powerful painting. You are warmly invited to see this incredible work of art in its new setting at the National."