WARNING: Graphic images in video and below
The family of a teenager who suffered horrific burns in a freak firebowl explosion is urging people to take care.
Grace Owen's dad had been refilling the table top decoration with lighter fluid when it blew up, setting his 18-year-old daughter on fire.
As Grace now makes a remarkable recovery, the family are eager to tell the story as a warning to others about the dangers of these products.
The student, from Eskbank, Midlothian, had been enjoying an evening at home with relatives before tragedy struck on October 23.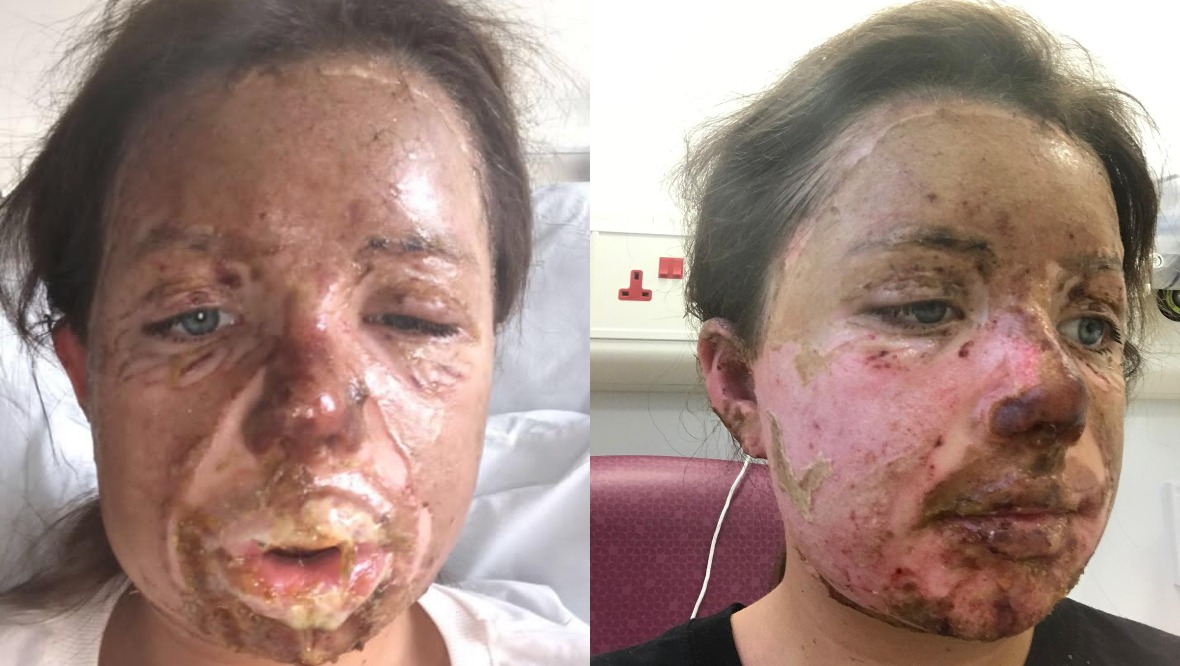 Grace's dad, John Owen, had been trying to relight the family's firebowl table decoration.
However, the flame was still partially alive and the minute the liquid fuel was poured, it exploded in his daughter's face.
Grace's mum, Marie Owen told STV News: "It was like a flame thrower.
'It was like a flame thrower.'

Marie Owen, Grace's mum
"It's known as 'flamejetting' – we now know.
"She was sitting right opposite me."
Grace had fell victim to a rare scenario known as 'flamejetting', which occurs when a fuel bottle has just the right amount of liquid and oxygen in it to result in combustion when exposed to a flame.
After urgent treatment at St John's hospital in Livingston, Grace is now recovering well.
Three weeks on from the accident – she wants her family to share her story to raise awareness of the risks.
Marie said: "I certainly didn't understand the volatility of something I was buying, you know buy it now on Amazon, to bring into my own home.
"Yes, there are guidelines on how to use it and of course we read those and used this very carefully, but there's just a unique combination of things that can happen to cause such devastating results.
"It could have been even worse, you know our house could have been completely destroyed, there were other people there.
"Grace's injuries could be far worse than they are today."
Stephen Mackenzie, a fire safety expert, said: "You see a growing number of these ethanol, biofuel fires, it's actually boiling and vaporising the liquid to a small vapour release explosion.
"The impetus for consumers to be caught unaware with quite literally a ticking time bomb on their kitchen table or on their garden patio is phenomenal.
"We just need to get a grip of it."