A widowed mum says she has been living with sewage coming into her bath and sinks and bugs crawling from the walls of her council flat for two years.
Sarah-Jane Thomson's Midlothian property is in such a state of disrepair that her neighbour's landlord has put up a sign shaming the local authority.
And she says when council officers visited the ground floor property they blamed the mites on her pets.
Sarah-Jane, a former nurse whose husband died over a decade ago, says she had her daughter Holly moved into the flat in Pathhead after living in temporary accommodation and were told this would be their 'permanent home'.
But she said conditions are so bad Holly, now 18, refuses to live in the two bedroom flat, staying with relatives elsewhere.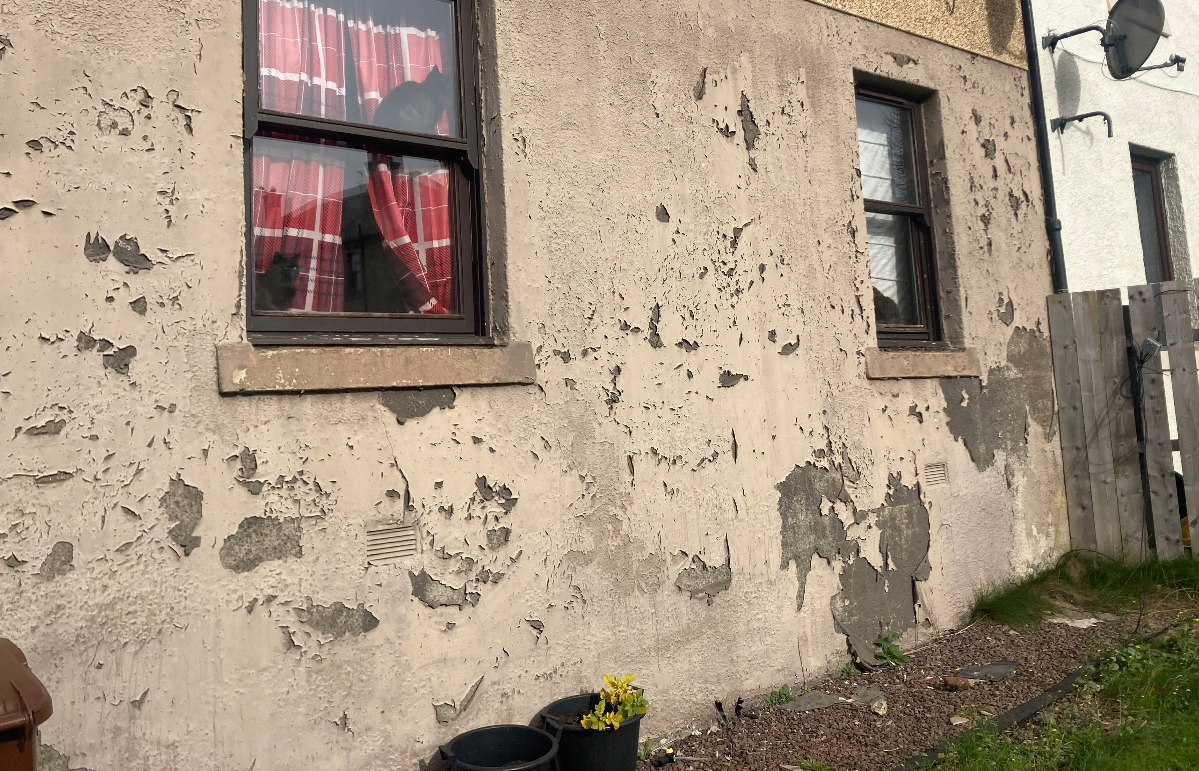 The inside of the property has exposed walls and concrete floor areas as well as pipes which appear unsealed.
Sarah-Jane, 37, said: "When I run a bath or the taps sewage and black bugs come through the pipes, I am obsessively cleaning and can't sleep.
"I even ended up in hospital and need an inhaler it was so bad. But council officers blamed my dog and cats, even though the vet confirmed iot has nothing to do with them.
"I can't even put carpets down in the flat because of the infestations of bugs. It is in a shocking state and making me ill."
Outside the flat the paint is peeling and there are cracks in the walls with one pipe outside the kitchen covered in rust and corroding.
The outside condition has become such a problem the unidentified owner of at least one of the neighbouring flats in the block of four, which have been maintained has pinned a large sign on their fence which reads "Midlothian Council is responsible for this property – Landlord of the Year HaHa"
The sign is the first thing people see driving into Patthead as the flats are on the corner of Crighton Avenue, off the main street.
Sarah-Jane said: "I am grateful to the landlord for getting involved but it seems Midlothian Council are shameless. I don't know how they expect anyone to live in these condition."
A Midlothian Council spokesman said: "Housing officers and maintenance teams have attempted to work closely with the tenant on numerous occasions to remedy these issues with the property, including organising regular visits and scheduled appointments with little success.
"A housing officer was on site Thursday and has arranged for some items to be uplifted from the garden.
"We will continue to work closely with our tenant to find a solution to these matters. We take all matters regarding repairs and issues with properties seriously."
STV News is now on WhatsApp
Get all the latest news from around the country
Follow STV News
Follow STV News on WhatsApp
Scan the QR code on your mobile device for all the latest news from around the country