Volunteers around the world are sewing pouches for the billions of animals affected by Australian bushfires – and Scotland is playing its part.
The crisis, which has so far burned over 25m acres of land and taken the lives of 27 people, has also had a devastating impact on wildlife and their habitats.
An estimated one billion animals have been consumed by the flames, leaving even more orphaned.
Harrowing footage of animals struggling in the blaze circulated worldwide and caught the eye of Scots.
"When I saw the images I was particularly moved. Some of the things were really graphic and I felt quite traumatised by it," explains Michaela Kerr from Livingston, who runs her own craft workshop, Just Sew Simple.
Michaela saw a call-out on Facebook group Animal Rescue Craft Guild, asking for handmade donations of protective joey pouches, wallaby slings and other materials to help Australia's wildlife.
'When I saw the images I was particularly moved. Some of the things were really graphic and I felt quite traumatised by it.'

Michaela Kerr, Just Sew Simple
"Seeing that I knew I had a quiet week in the shop this week, so I scheduled a lot of free classes and invited people via my page to come along and take part, whether or not they could sew."
The Animal Rescue Craft Guide Facebook page had 1000 members before the bushfires. It now has nearly 200,000 followers, and donations are flooding in from across the globe. On the page you can find sewing templates and size guides for the items they most desperately need.
Michaela says sewing clubs have come together all over the country with even more working from home.
"What I've found by having the classes is by bringing like-minded people together to talk about it, it's almost like provided our own counselling to help us cope with what we're seeing," she says.
Now Michaela has a smooth production line in order.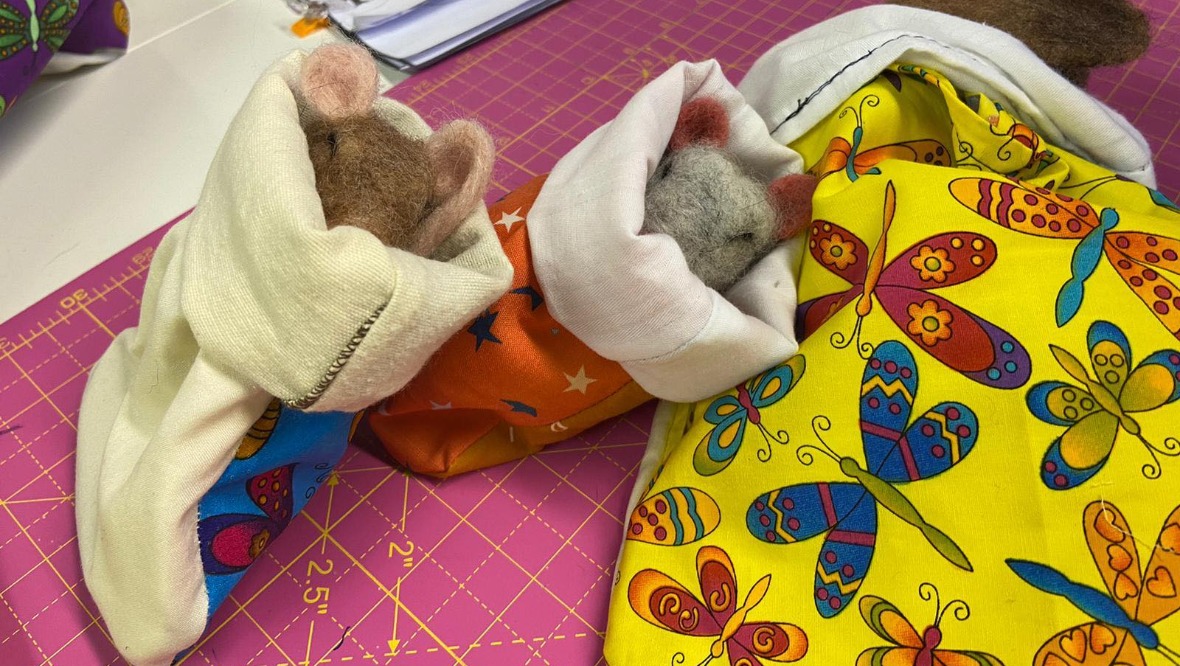 "Every class we've had at least five people here, we're organised, we have a set up now. We have a cutter, someone working the overlocker and we have the machines. We can certainly maintain that," she says.
"For every pouch you make you for an animal need to make an additional three pouches to go in that. For an experienced sewer it can take two hours a piece."
She adds:"I don't need fabric donations, I need bodies in the room to do the work, and you don't need any experience – I'll teach you how to sew."
As they sit poised to make their target of sending 100 pieces down under Michaela says while a cash donation works for many, sewing these pouches "feels like we've done something actually constructive, in the long term they'll still be getting donations from us.
"This is a wee bit more personal, you can put your heart and soul and a wee bit of your personality into it."
Michaela said the next step is getting the items to Australia in the next few weeks, and is hoping for more volunteers to help with this.