A semi-professional rugby player from Edinburgh is competing to be named the UK's best barista.
Kyle McGhie did not even drink coffee before the lockdown started in 2020.
Yet, despite kicking off his coffee career less that two years ago, the Stirling Wolves scrum-half is now ranked among the country's ten best baristas.
Kyle faced disappointment in his rugby career after his professional contract in Romania was cancelled due to Brexit complications in 2021.
It was then that he decided to pursue his coffee passion and moved to London where he trained at Origin Coffee Roasters.
He returned in June last year to his hometown where he works at Cairngorm Coffee.
The 23-year-old, who has previously represented Scotland U20s at rugby, said: "I want to be the best barista in the world.
"I found coffee at the right time in my life. I was feeling low being back in lockdown after seeing a professional rugby contract slip through my fingers for political reasons.
"I became obsessed with coffee and threw myself into it; it was the story of the beans and the process that captivated me. I began to explore the flavour profiles and it changed the way I thought about coffee.
"I moved to London to immerse myself in that world, but it's since being back with Cairngorm that things have gone to another level."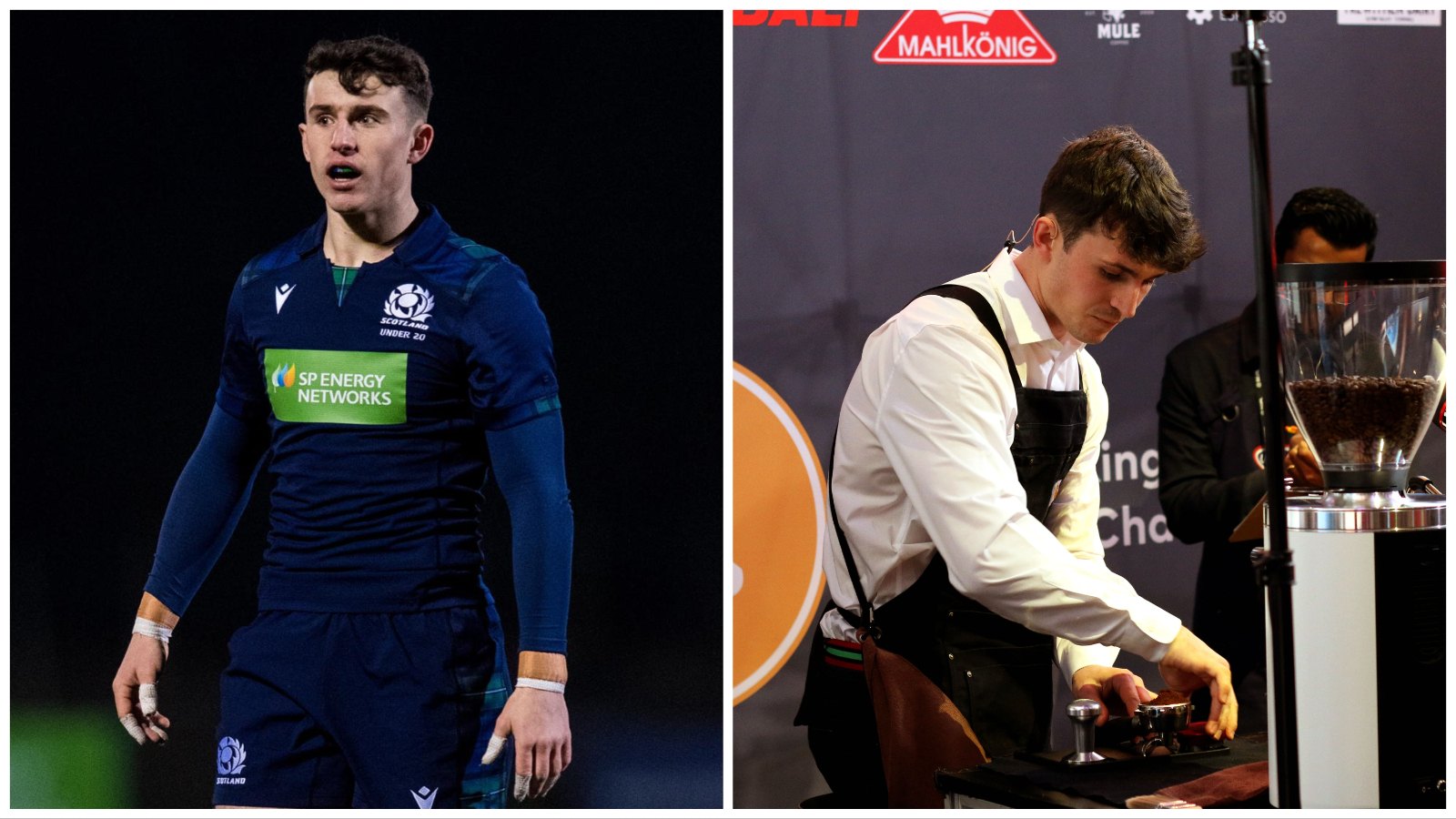 Cairngorm Coffee, which operates three sites in Edinburgh, recently surveyed Gen Z coffee drinkers about their preferences.
They found that lockdown had impacted the importance of coffee in their lives with 33% saying they would now "never drink instant coffee again".
Kyle said he had only ever tried instant coffee before the lockdown hit.
He said: "Now I start every day at work by tasting up to 10 different espressos to dial them in to make sure they taste as good as possible for our customers. I only drink black coffee, as that's what we're judged on. I can sometimes feel a bit jittery by the time I get to training at night.
"Working at their Frederick Street store, I have access to the best beans, not just from Cairngorm but from the best roasters around. I feel like Charlie in the Chocolate factory.
"It has been a learning curve for me to have the freedom to dial in so many amazing coffees from around the world, which is different to anywhere else I've worked. We have freedom to bring in amazing coffees and brew them how we want.
"When I'm not working or playing rugby, I spend my time visiting Edinburgh's coffee shops – the city has such an amazing collaborative scene and all the baristas learn from each other and support each other."
For Kyle, who has been playing rugby his whole life, a career in the sport is still on the cards – and also runs in his family.
His sister Francesca made her debut for Scotland during the TikTok Women's Six Nations on Saturday.
Kyle added: "I'm so proud of her, but we're very competitive and it's made me even more hungry. Even as a professional, there is a lot of free time in rugby. I still harbour ambitions to make it as a professional rugby player, but I think I can do that alongside my work to be the best barista I can possibly be."
He added: "If I finish within the top six on Friday, I get through to the finals on Saturday to compete for a place to represent Britain in the World Coffee Championships, the most prestigious barista championships in the world. If I don't, I'll drive back up to Scotland to play the Southern Knights in a pre-season game."
On Friday, Kyle will present the judges with espressos, milk-based drinks and a signature drink – an espresso based mocktail inspired by a negroni comprising espresso, grapefruit zest and juniper berry syrup. It is charged with nitrogen to create a bubbly texture.
"It tastes just like a Terry's Chocolate Orange", said Kyle.
Founder of Cairngorm Coffee Robi said: "The financial burden can be a big barrier for entry to these competitions, and we're all about making coffee as accessible as possible, so we've been pleased to be able to support Kyle throughout his journey – we think he's set for big things.
"At Cairngorm, our mission is to make coffee as interesting as possible for as many people as possible. Kyle shares that passion.
"Specialty coffee's quite confusing with a lot of scientific names and species, but Kyle's proven that it's accessible. His biggest skill is being able to make people truly understand what they're drinking within the two minutes it takes to make it for one of our customers. His passion is infectious. We're very proud of what he's achieved, and I think Scotland should be proud too. He has exceptional flair – he can be the Finn Russell of the coffee world."