The Scottish Government has signed an extradition order for US rape suspect Nicholas Rossi.
Nicholas Rossi is wanted in the United States in connection with alleged offences including rape and contested moves by authorities in America to have him flown over to face legal proceedings.
Scottish ministers had the final decision over whether to extradite him.
They made their decision and signed the order on September 28 – a response to a freedom of information request revealed.
The Scottish Government said it would not be commenting further on the matter.
The 35-year-old claims to be an Irish orphan called Arthur Knight, a victim of mistaken identity.
His lawyer Mungo Bovey KC attempted to delay proceedings and asked for Rossi to be excused in August.
Sheriff Norman McFadyen suggested Rossi attended court by videolink "voluntarily", but in an angry outburst Rossi claimed he had been brought before the camera by "physical force" and he called the sheriff "a disgrace to justice".
Rossi was arrested in the UK more than two years ago in connection with the alleged offences in the US.
He was being treated for Covid-19 at the Queen Elizabeth University Hospital in Glasgow when he was detained in December 2021.
The extraordinary story of US fugitive found in Glasgow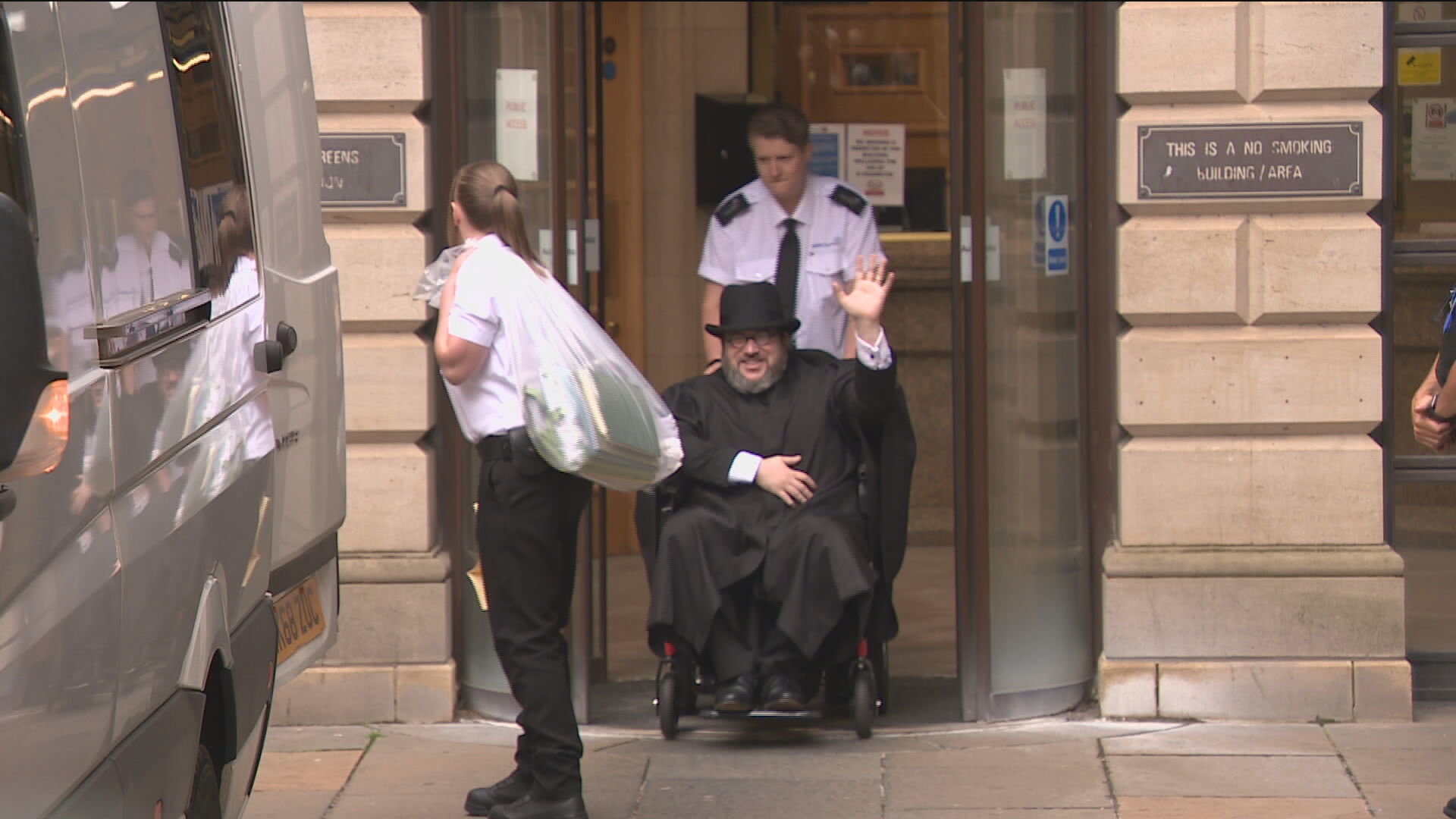 Reporting by Sharon Frew and Scott Duffield
The story came to Scotland in Christmas 2021 when a man was arrested at the Queen Elizabeth University Hospital in Glasgow.
He said he was Arthur Knight, but the American authorities were certain he was Nicholas Rossi, wanted for raping a 21-year-old woman in Utah in 2008, and other sex attacks.
But last year, a judge in Edinburgh rejected his claims of mistaken identity, ruling that he is Rossi, and extradition proceedings would follow.
Over in Rhode Island though, to those who know the man, he has at least one other name – Nicholas Alahverdian.
Who is Nicholas Alahverdian?
By all accounts, Alahverdian suffered a turbulent childhood. He lived with his family until he was a teenager, before being moved around by the Department for Children, Youth and Families (DCFY).
Despite his troubled upbringing, he became a campaigner as an adult, fighting for child welfare reform, and claimed to have been abused while under the care of DCYF.
He became well known in Rhode Island – but people there didn't know he was a convicted sex offender who was facing rape charges.
Alahverdian's story seemed to end in 2020 when his death was announced, and tributes were led in Rhode Island's state house.
But plans for a memorial service were cancelled when police told a priest they believed Alahverdian may have faked his death.
'He's the devil's spawn'
Alahverdian was eight years old growing up in Cranston, Rhode Island, when he was adopted by his mum's new husband, Engelbert Humperdink impersonator David Rossi.
The young Nicholas then began using 'Rossi' as his surname.
Speaking to Scotland Tonight at his home, David does not speak highly of his adopted son, describing him as "the devil's spawn".
"He was trouble – he hit his mother, hit his grandmother, stole. He was trouble at school. He wanted everything his own way.
"He's a smart guy, but overly smart and manipulative, very manipulative."
When Alahverdian's 'death' was announced, David remained unmoved. "I knew it was bull, he wasn't dead."
Does he have a message for his adopted son? "Smarten up. You're still young. Do the right thing."
'Change the world'
Representative Ray Hull was the politician who supported Alahverdian's campaign for child welfare reforms.
He speaks fondly of the boy he knew and said was "disappointed" by the lies he was told.
"He was a young individual with some tenacity that wanted to change the world," Rep Hull recalls.
"You could really latch on to him. That's his way. When people ask how you get so fooled, it's because there are people out there that you want to gravitate to, that actually want to change the world."
Alahverdian phoned Rep Hull to tell him he was dying, before he later got a call from 'his wife' – "I didn't know he was married" – to say he was "not doing well".
Was he capable of faking his death? "Anybody's capable of doing anything. In my profession, nothing fazes me because I've seen some people at their worst, I've seen some people at their best. But it's on him now."
'He couldn't resist'
At the same time Alahverdian was openly advocating against abuse, he sexually assaulted a young woman in Ohio in 2008.
The woman, known only as Mary, said they first met over a "nice lunch" in a canteen at Sinclair Community College in Dayton, Ohio.
"He then said 'can I walk you to your class?', and when me and him were walking into the basement, he started attacking me," Mary says.
"He told me he was sorry and couldn't resist, said I was so pretty. I went to my maths class and then I reported what happened to the police."
The attack happened in January 2008 and he was sentenced five months later. He received a suspended jail sentence and was ordered to carry out community service.
"He made a false blog to try to get a retrial, but an investigator threw it out immediately," says Mary.
'Cockroaches don't die'
Brian Coogan is a former state representative who nearly adopted Nicholas.
"He was very attentive, an overachiever, very pleasant polite – an all-American little boy," recalls Coogan.
"He kept asking me to adopt him because he was didn't have any family. And he was in a group [children's care] home."
Alahverdian would claim he was abused in care, but Coogan doesn't buy it.
"His cuts and bruises were all self-inflicted," he says. "I couldn't adopt him."
Coogan recalls Nick being "shipped to Florida" and not heard of until he was 18.
"He comes right back to Rhode Island, starts suing the state in federal court, filing motions, doing all sorts of crazy stuff."
The last time they spoke, Alahverdian called to say he had just two weeks to live.
"He said 'I have lymphoma, I have cancer'. I said, 'Really? Cockroaches don't die'.
"I said, 'You're not dying, you're a sexual predator and you're trying to escape'.
"When I heard he'd been found, I said 'no s***'. I had goosebumps, I was so excited and calling all the people I could think of.
"He's a con artist. I call him a jellyfish – because you can't pick him up, there's no spine to it. But it's got long tentacles and can sting you."
STV News is now on WhatsApp
Get all the latest news from around the country
Follow STV News
Follow STV News on WhatsApp
Scan the QR code on your mobile device for all the latest news from around the country