A former swimmer for Team Scotland at the Commonwealth Games has been condemned for sending threatening and abusive messages to a woman online.
Sean Campsie, 29, appears to have sent the messages via an Instagram account for his personal training business, Coaching by Campsie.
Posted to social media on Tuesday afternoon, screenshots of the messages show Campsie asking for the woman's address, saying: "I'll come bash your f****** skull in".
He then continues on to say, "it's all good", and that he had "identified" her.
In another screenshot, showing messages Campsie sent the woman's friend via WhatsApp, the athlete called her a "low level obese" person and said she "f***** the wrong person over".
Scottish Swimming and Team Scotland have condemned the messages, and Team GB declined to comment as they said he was never affiliated with them.
Online, the personal trainer based in Dubai claims to be a "British medalist [sic]" and a "Scottish Champion".
He last competed for Team Scotland in the 2018 Commonwealth Games in Australia, finishing last in the 100m butterfly.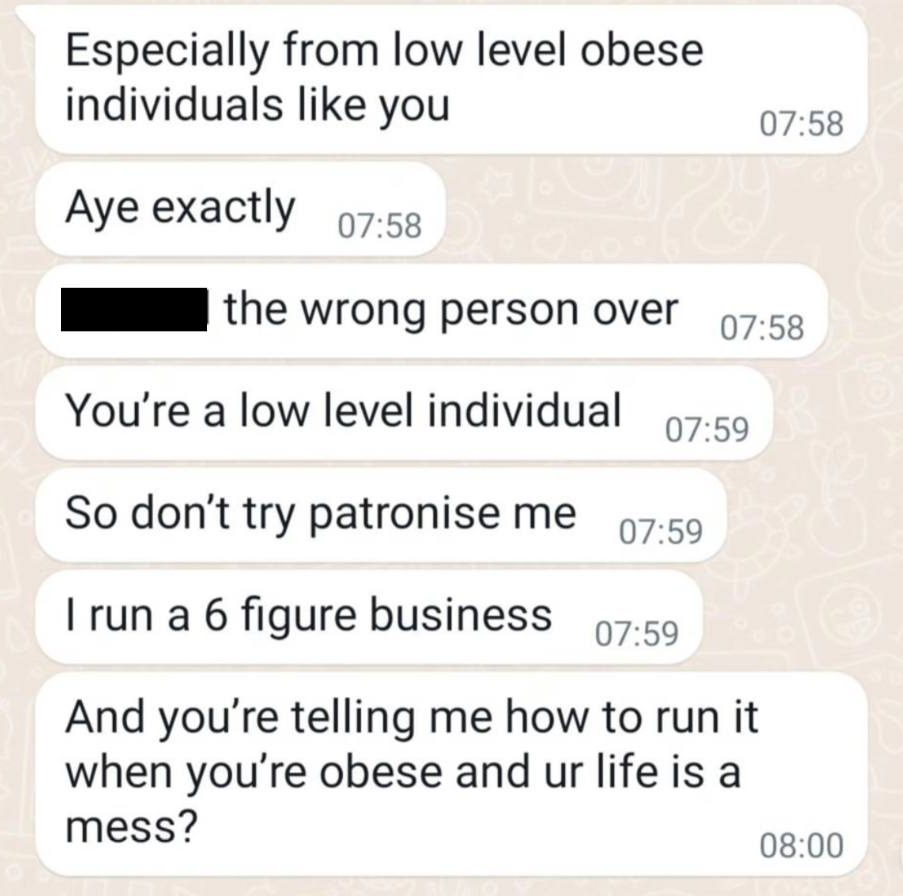 Campsie, from Livingston, later took to Instagram and apologised to his family and friends, but doubled down on the messages.
He claimed the woman was a former client, who breached their contract and told him how to do his job.
In the foul-mouthed rant, Campsie said: "A psychotic ex client turned everyone against me for some reason. It's like something you do in high school. It's so f****** tragic, it's unbelievable."
He added: "It's a client that breached the contract, was telling me how to do my job and how to run my own business and I put her in her f****** place and tell her she's a f****** mess.
"It's a business so you'll always get people who are not happy – in this case psychotic."
Campsie also claimed that the allegations will have no effect on his business, and said he rakes in just under £10,000 a month.
He said: "I run an online business, so I market through Instagram. There's one billion people on Instagram.
"Just 50 clients is £10,000 a month and you honestly think that what you say is going to affect my f****** business.
"They don't understand that what they are doing is completely irrelevant, it makes no sense whatsoever."
A spokesperson for Team Scotland said: "Sean last competed for Team Scotland five years ago, at the Commonwealth Games in 2018, and was only under the remit of Commonwealth Games Scotland during that Games period.
"We strongly condemn any inappropriate behaviour."
A spokesperson for Scottish Swimming said: "Sean Campsie retired from competitive swimming after the Gold Coast Commonwealth Games in 2018.
"We do not condone the comments and condemn such behaviour."
Sean Campsie has been approached for comment.