Two former Royal Marines have told how they were shot by pirates while tackling a mighty, world first mission down the Amazon River.
John Bathgate and Ian "Yan" Roberts were completing a world-first expedition from the Amazon Summit to the sea when they were approached by two men on a local 'peke-peke' engine boat.
The encounter led to a confrontation in which they suffered multiple gun shot wounds but managed to overthrow the men and return to the safety of their boat.
The pair were attempting a world-first expedition, which started in April, from the Volcán Chimborazo glacier summit through 5000km of wilderness to the Atlantic Ocean when the incident occurred.
Despite the experience, they are fundraising to return and complete the rest of the mission and say the "wonderful people of Peru" helped them during their most challenging moments.
John, from Midlothian, told STV News how the attack occurred around 8.30am on July 30 this year.
He and Ian, from Devon, had finally reached the river which they were sailing by canoe.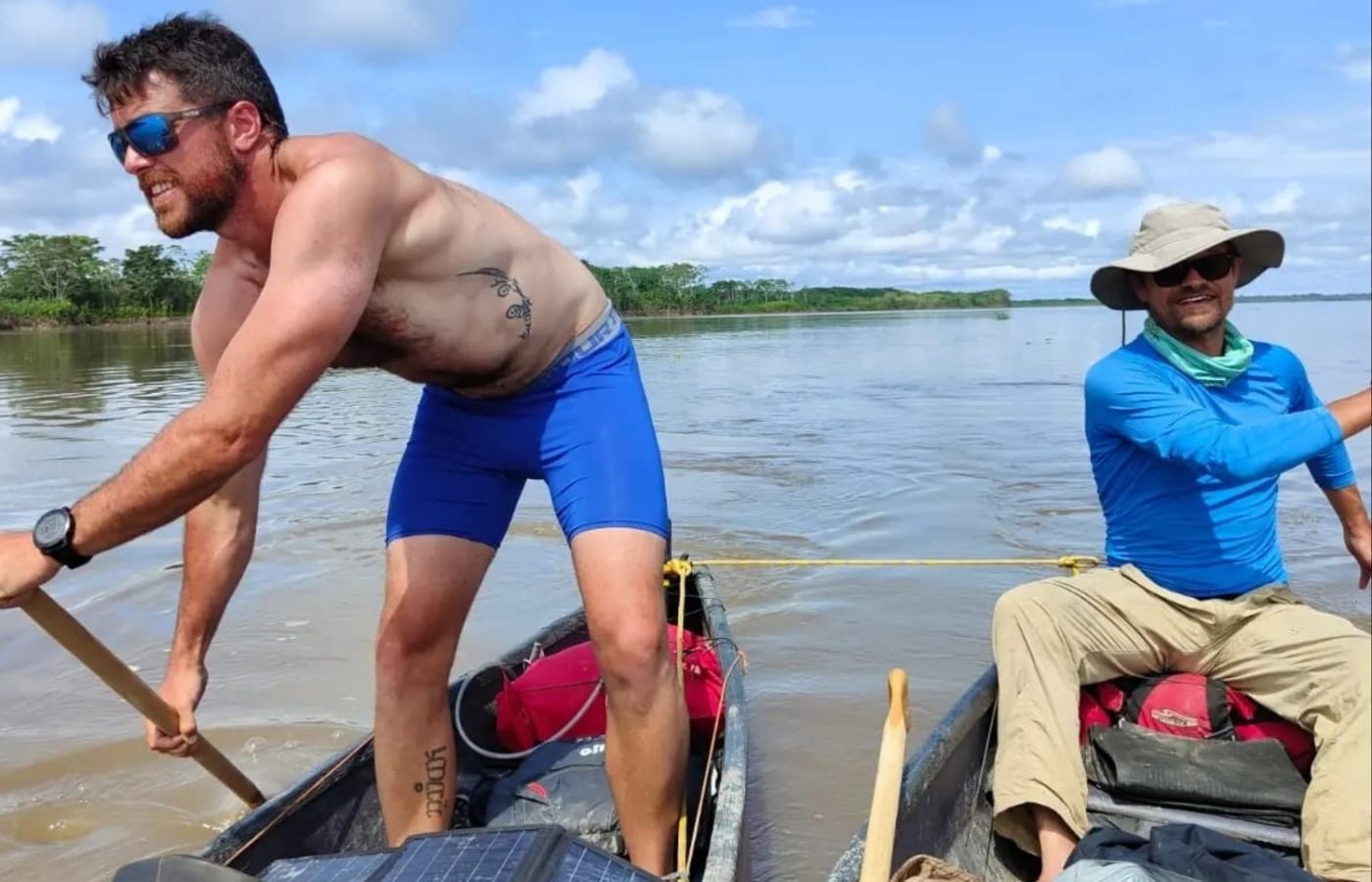 They had just passed a village where people were still celebrating with parties from Peruvian Independence Day when they heard an engine from a local boat behind them and, despite the river being over a kilometre wide, it was clear they were deliberately getting as close as possible.
John said: "We stopped and asked if they were ok and they pulled us aside. One guy had definitely been drinking but the other by the engine didn't really get as involved.
"After around ten minutes of conversation the guy pulled out a pistol."
Ian quickly reacted and thrust his paddle towards the man, a move John believes may have saved both their lives.
"It was a pretty automatic reaction and as soon as I saw Ian move I moved to advance on the guy."
They grappled with each other before the first shot was fired and a second shot hit John in the shoulder.
"I just felt this jolt through my body, it was a very lucky shot that didn't hit anything major."
John fell in the water before the pirate's boat capsized and they all fell into the murky river. It was then that another shot went through John's leg before he managed to tackle the pirate to gain a hold of the weapon.
"I came up from the water, and the guy surfaced about two metres away from me. We then swam like hell to our boat – about 15 metres away," John said.
Luckily the pair were able to make it to a nearby village called Triunfo were the locals supported them and treated their injuries before the Peruvian Navy arrived and they were taken to safety in the city of Iquitos.
They had sent SOS signals via their GPS device which alerted others – including family in the UK – to their situation.
John said: "Family and friends didn't have a clue what was going on. Thankfully they didn't panic but they are all on a WhatsApp group and when we finally got WiFi we had to read through all their messages."
Local police in Pebas later arrested the attackers who were found floating by their boat in the river with one suffering a gunshot wound.
Despite the ordeal, John said they have not been deterred from completing the rest of the expedition and are currently fundraising to pick up where they left off.
He said: "The quick actions of friends in Iquitos, family in the UK, and Garmin emergency response meant that we received the highest of care, and the ordeal didn't develop into a life-threatening situation.
"This was an isolated incident and the majority of people in Peru are beautiful and wonderful."
They are also donating 40% of their funds to three different charities, Rainforest Concern, Royal Marines Charity and RV1UK, and are also supporting The Peru Mission which helps to provide educational facilities to children in remote communities.
John's father David first envisioned the idea of the mission in 1968 during a separate expedition to climb the southwest face of Huandoy, a mountain in the Cordillera Blanca region of the Peruvian Andes.
David, now 82, completed a range of incredible adventures including attempting to climb the southwest face of Everest in 1972.
The Amazon summit to sea challenge remained unfulfilled.
John stated: "In his 80th year, coinciding with my last year as a Royal Marine Commando, he passed the idea to me.
"He has planted a seed and cultivated it in the form of old maps, dusty books, scribbled expedition diaries telling mysterious stories.
"This seed has matured into a giant Dinizea excelsa, casting shade over all other thoughts in my head. There is so much to discover on this journey, I'm compelled to finish what my father started."
The expedition has also been "to show that there is a direct link between human mental wellbeing and the natural environment".
Many of the charities they have supported aim to offer mental health support for outdoor experiences, rainforest conservation and life long support to Royal Marines and their families,
To support the team's fundraiser click here. Find out more about the expedition here.