An adventurer from Edinburgh has helped set two world records by kayaking the Arctic Ocean's treacherous Northwest Passage.
Mark Agnew was part of a team which became the first to kayak the entire 1,600 miles of the icy route.
They were also the first people to complete the journey using only their own power – rather than sails or engines.
It took them three months to complete the expedition, during which Mr Agnew had to deal with waves as big as 15ft high, becoming perilously trapped in ice and coming face to face with a polar bear.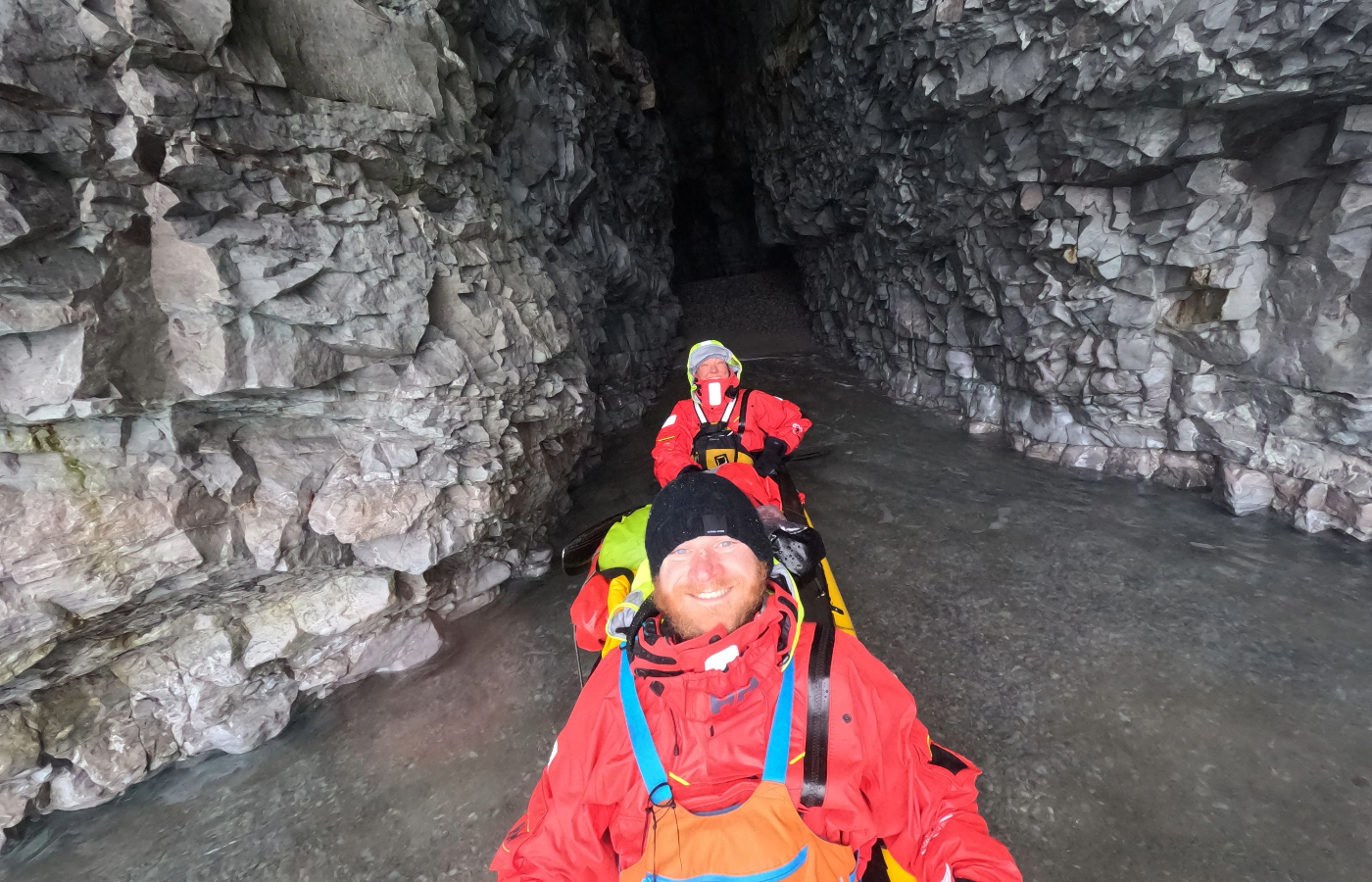 The team followed the same route taken by Sir John Franklin, whose 1845 expedition through the passage ended in disaster with the loss of two ships and the death of all 129 men who took part.
Mr Agnew's voyage through the same waters was only made possible because so much of the ice has melted since then.
His team set out on their travels from Baffin Bay, Canada, on July 2 and reached the Beaufort Sea on October 8.
"I cannot believe we've done it," he said. "Every single day was hard.
"When the weather was bad, it was tough. When the weather was good, we had to push our bodies to the max to take advantage of the conditions, covering ultra marathon distances day after day.
"And when the weather was so bad that we couldn't paddle, they were the toughest times as we counted the days to winter.
"When we crossed into the Beaufort Sea and completed the Northwest Passage, I burst into tears and cried and cried.
"The weather deteriorated at the end. Winter was coming and we were running out of time. We had to crack our frozen clothes in the morning to put them on."
Mr Agnew went on to recall one occasion when he and his team got trapped in ice along the way, an experience he described as "terrifying".
"Crossing the 45-mile wide Prince Regent inlet, we were trapped by ice," he said. "We were so close to shore but just couldn't escape its clutches. We were stuck.
"Suddenly, two massive chunks of ice, 10 metres across, changed direction – they were on a collision course with us in between and I was going to be crushed to death.
"Miraculously, instead, the pressure lifted us up. Suspended above the water, we heaved ourselves forward and dropped back into the water.
"I leapt out of the boat, hauled it up onto a flat ice flow and stood on the shifting ice, frozen, waiting for a gap to dash to shore. Eventually we made it."
Mr Agnew also encountered a polar bear one morning after he and his team had set up a camp on shore to get some much-needed rest.
"One morning as we lay in our sleeping bags, we were wrenched from our sleepy daze by a low, guttural grunt," he said.
"A polar bear was pressed against our tent, its head perfectly silhouetted against the tent; it looked like the Jurassic Park logo.
"I grabbed the flare gun and fired it out the door but the bear didn't move. I sprinted out of the tent bare foot in my pjs and shouted at the bear and threw stones as the others came to the tent.
"But all our attempts to scare the bear didn't work – it just stood there. We were running out of ideas.
"It was an amazing but terrifying encounter. Finally, the bear just turned and sauntered off.
"We had already seen dozens of bears but none had behaved like this as all others avoided us. So, we kept an eye out, got ready and paddled on."
Previously, Mr Agnew had tried but failed to row across the Atlantic on two occasions, which had a serious impact on his mental health.
He explained: "After failing to row the Atlantic twice, I felt utterly worthless. I was overcome with feelings of humiliation and failure. It began to seep into every aspect of my life, and I became lethargic.
"Eventually, I decided I needed to drag myself out of my hole by going on adventures again. I realised I had to focus on the experience and not the outcome.
"I began to focus on camaraderie, (the) discovery of beautiful landscapes and being at one with nature and not just on the aspect of winning or of gaining the world record.
"Though we achieved two world firsts on the Northwest Passage, what was really special was sharing unique experiences with my teammates."
Mr Agnew, who is from Edinburgh but lives in London, was joined on his travels by three Americans: expedition leader West Hansen, Jeff Wueste and Eileen Visser.
The expedition raised £7,000 for Wilderness Foundation UK, a charity offering education and therapy programmes for young people and adults to help them reconnect to society through outdoor adventures, therapy and mentoring.
STV News is now on WhatsApp
Get all the latest news from around the country
Follow STV News
Follow STV News on WhatsApp
Scan the QR code on your mobile device for all the latest news from around the country