A Santa's Grotto has been created to raise funds for a little girl battling life-threatening cancer.
Three-year-old Flora Gentleman has been diagnosed with stage-four neuroblastoma and her family wants to send her to America for treatment.
After building 'Granny's Grotto' for Flora, her grandmother Margaret Kent has now decided to open it up to other children in East Lothian between 3-8pm every day.
"I thought 'I'll make a little place for Flora to come when she's here'," said Margaret. "Because she's not really able to go out and mix with other children.
"Then I thought 'why not make it bigger, expand it and open it up to the children of the various villages?'."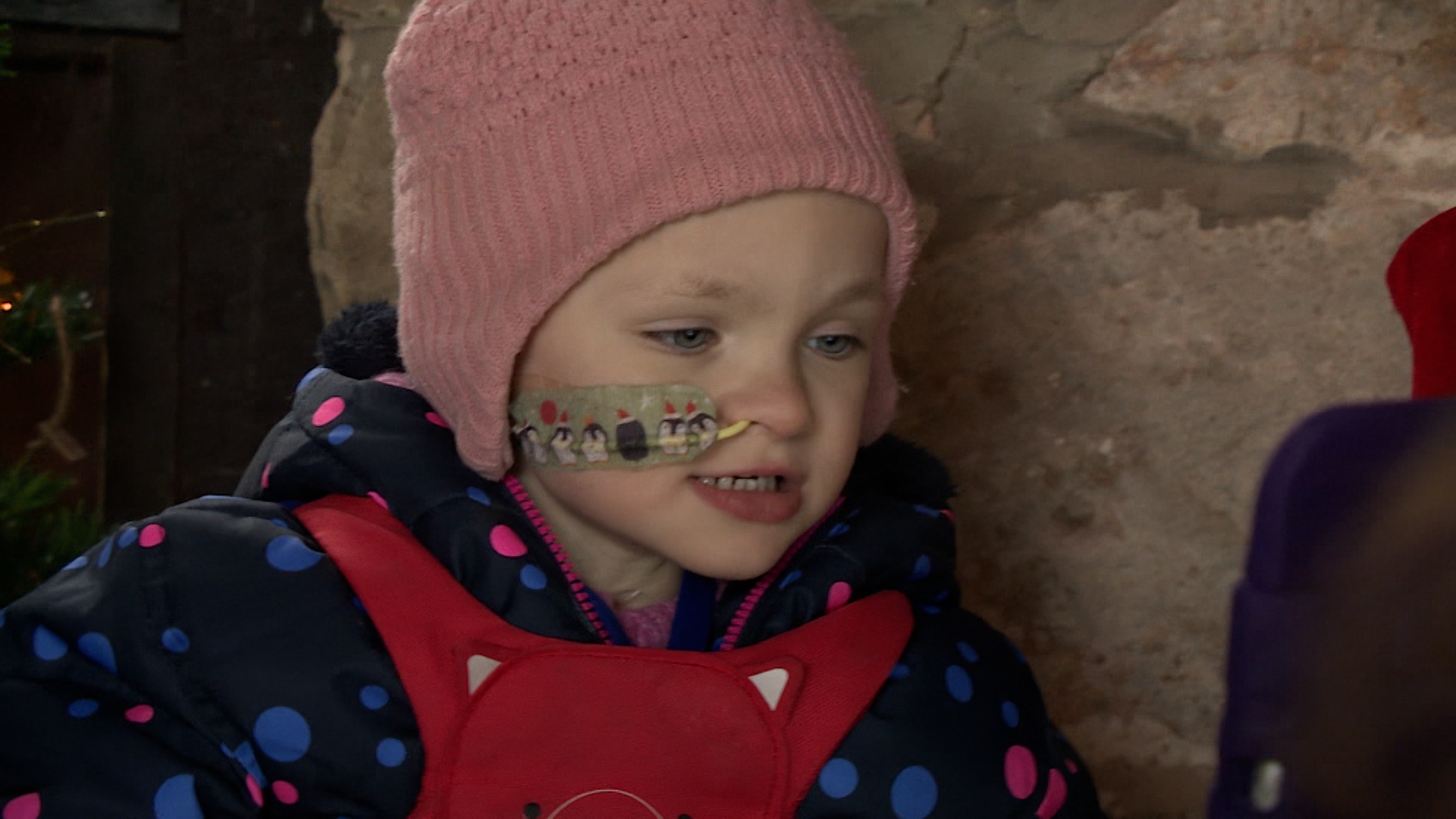 Flora has six months of intensive NHS treatment ahead of her, meaning she will spend much of the festive season in hospital, but her family are hopeful she will get to enjoy Christmas at home.
Margaret said: "Some days Flora's doing great, some days she can be really, really tired. It's an extremely emotional rollercoaster, every day is different.
"Hopefully she stays at home through Christmas because that would be wonderful to have her around the table, the best Christmas present ever."
Flora's Campaign has so far raised more than £86,000 for pioneering treatment overseas, including funds from a sale of football memorabilia earlier this year.
"Neuroblastoma has a really high relapse rate," said mum Stephanie Kent. "And if you relapse, your chances of survival are much slimmer, it's a lot harder to treat.
"Our goal is to get Flora into remission and keep her in remission, so there are trials in America that we are fundraising for."
What is neuroblastoma?
A rare type of cancer, neuroblastoma mostly affects babies and young children, developing from certain nerve cells left behind from the womb.
Most commonly, it begins in an adrenal gland above the kidney or in the nerve tissue that runs alongside the spinal cord in the neck, chest, tummy or pelvis, but can spread to other organs.
Around 100 children in the UK are affected every year and the cause is unknown.
The chances of relapse after treatment are around 50%, with a survival rate of just one in ten.
What are the symptoms?
A swollen, painful tummy, sometimes with constipation and difficulty peeing
Breathlessness and difficulty swallowing
A lump in the neck
Blueish lumps in the skin and bruising, particularly around the eyes
Weakness in the legs and an unsteady walk, with numbness in the lower body, constipation and difficulty peeing
Fatigue, loss of energy, pale skin, loss of appetite and weight loss
Bone pain, a limp and general irritability
Rarely, jerky eye and muscle movements
Source: NHS
STV News is now on WhatsApp
Get all the latest news from around the country
Follow STV News
Follow STV News on WhatsApp
Scan the QR code on your mobile device for all the latest news from around the country