A number of arrests have been made after climate activists "concreted" themselves to a road outside the INEOS oil refinery in Grangemouth.
Members of the group This Is Rigged said they used glue and concrete to stick themselves to the road near the plant to prevent tankers from leaving and entering the site.
Tweeting a video of the demonstration, This Is Rigged said: "Six people are currently concreted and glued to the single access road to INEOS Grangemouth oil terminal.
"No fuel can enter or exit the Grangemouth oil terminal, which supplies 70% of Scotland's fuel, while they remain on the road."
The group quoted Jamie, a 25-year-old student who took part in the protest, as saying: "We can no longer stand by while we head into a climate disaster.
"We must put an end to the growth of oil and gas to secure a safe future for everyone and not just line the pockets of the rich."
Another protester, known as Xander, said: "Every moment this road to INEOS is open propels us further and further into climate collapse.
"It serves only the profits of Jim Ratcliffe, the UK's second richest man, at the expense of ordinary people.
"We can't allow it to go on any longer. We need a fair transition for workers to renewable energy."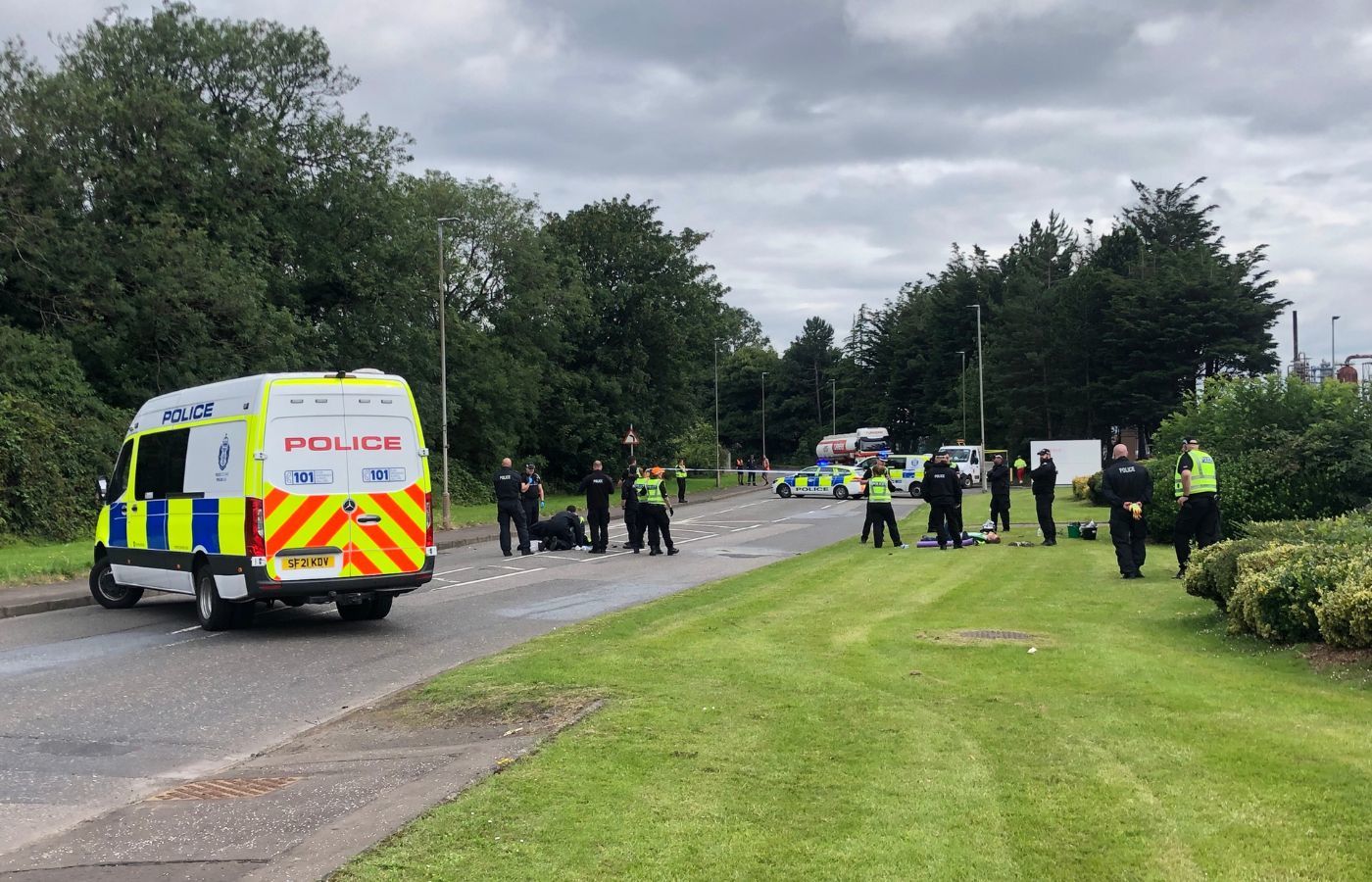 It follows similar action last week when 20 activists were arrested after several members of This Is Rigged scaled an oil tanker.
Other protesters were seen blocking the gates of the plant, near Falkirk.
Days later four people were arrested at another protest at the petrochemical plant after chaining themselves to an old washing machine.
The group wants to see an end to fossil fuel production in the UK and an immediate move towards a "just transition" to renewables.
A spokeswoman for Police Scotland said: "We are aware of protesters at the INEOS site in Grangemouth.
"A number of arrests have been made and officers remain in attendance."
INEOS was approached for comment.