A teenage piper's fundraising efforts paid for Strathcarron Hospice's services on New Year's Day.
Max Rae, 15, has been piping throughout the coronavirus pandemic and has already raised more than £14,600 with a few more celebrations to go.
Strathcarron Hospice requires £12,900 to operate for just one day.
The Dollar Academy pupil, who plays for the school's world championship-winning juvenile pipe band, first set out on March 24 last year to play for 100 consecutive nights.
The teen – who performed during the weekly clap for carers campaign – then offered his services to Bridge of Allan Cares to pipe for locals celebrating a birthday or anniversary in their gardens.
He also busked in the Stirling town at weekends throughout December.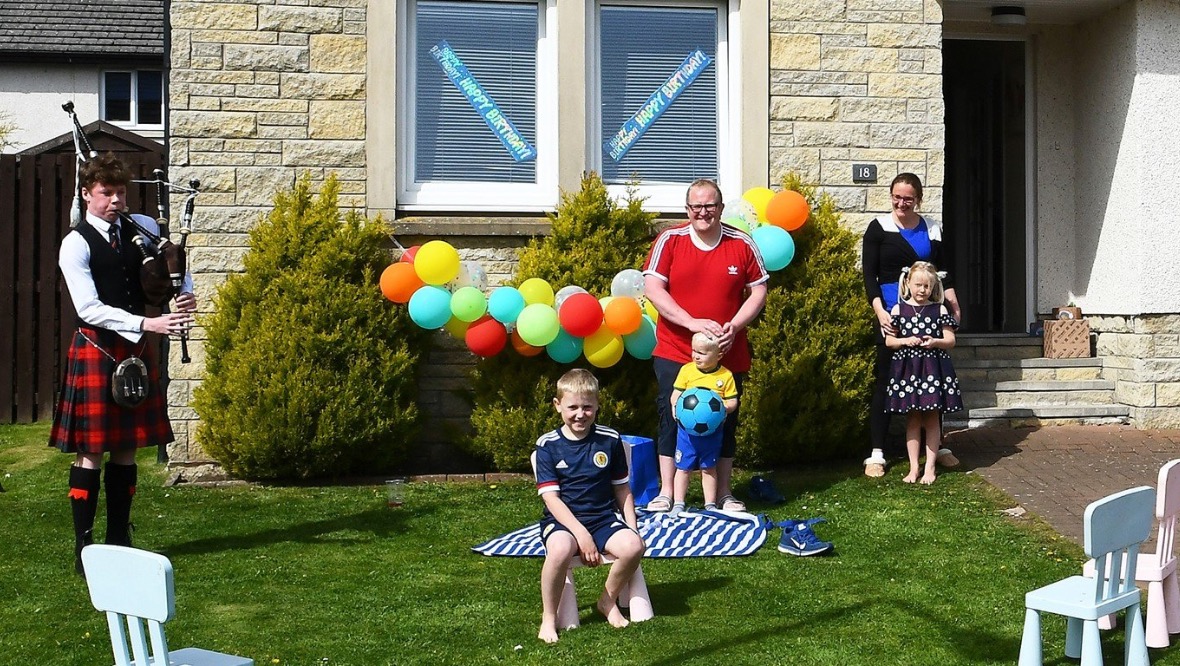 Max told STV News: "People have been incredibly generous in their donations to the hospice, just amazing actually.
"When we started, my dad thought we might raise around £5000 and never at any time did I think we would reach where we are now.
"I find it hard to believe that I have managed to pay for New Year's Day at the hospice and I will remember that for the rest of my life.
"I appreciate that my piping has brightened up people's lives a bit during Covid which is lovely, but most importantly it has given people an opportunity to help Strathcarron."
The teen's fundraising efforts briefly came to a stop after he broke his collarbone during a mountain biking accident last July.
He said: "I broke it a week after completing my 100 nights.
"It meant I couldn't play my pipes or do any of my sports during the summer holidays.
"It is absolutely fine now and I am thankfully back playing rugby and piping."
The teen, who took up bagpiping when he was nine, has always enjoyed watching and listening to pipe bands.
He said: "There is a great camaraderie in the band and in piping in general.
"Playing in competitions is amazing as you compete at a very high level.
"I play for Dollar Academy juvenile pipe band, who are currently world champions. I really enjoy it and I am looking forward to the competitions hopefully starting up soon."
Max thanked all those who have shown him support, including Stirling & Bridge of Allan Round Table, his neighbours, school and piping tutors.
He added: "Lastly to my dad for getting me organised and driving me everywhere."
Our young supporter, Max the Piper, of the @Dollar_Academy Juvenile Pipe Band, is leading us into 2021 as he pays for New Year's Day at Strathcarron Hospice. You can support his amazing efforts: https://t.co/auYwV1IV8G Thank you, Max. 10,9,8,7… 🥳 Happy new year! pic.twitter.com/BHivM6UncW

— Strathcarron Hospice (@strathcarron1) December 31, 2020
Jackie Johnston, fundraising manager for Strathcarron Hospice, paid tribute to "hospice hero" Max.
She said: "During the pandemic people such as Max have been a true inspiration, both to the hospice and also in his own local community.
"In the early days of lockdown Max took it upon himself to entertain local communities by piping beautiful music.
"He soon became a hit and people started sponsoring him for his efforts, in aid of Strathcarron Hospice.
"It became apparent that Max would be able to pay for a whole day of hospice services if he kept up his good work.
"As a result, hospice hero Max paid for the complete day on January 1st.
"The hospice relies on voluntary income of £12,900 every day to provide specialist palliative care. People like Max are critical to us, especially as all traditional fundraising methods came to an abrupt stop in March 2020.
"Max, all patients and staff at the hospice are incredibly proud of you for your achievements."