A pensioner penned a sweet thank you letter to a group of school children – after they formed a 'human climbing frame' to rescue him when he got stuck walking in the hills.
Pupils from Gracemount Primary School, Edinburgh, were hiking in the Pentland Hills last Wednesday when they came across Hamish, 84, struggling to get over a padlocked gate.
The alternative route for Hamish would have been back over the hills to his start point, and he was already exhausted.
However, the heroic kids quickly rushed to his aid and formed a 'human climbing frame' to help Hamish and his dogs safely get to the other side.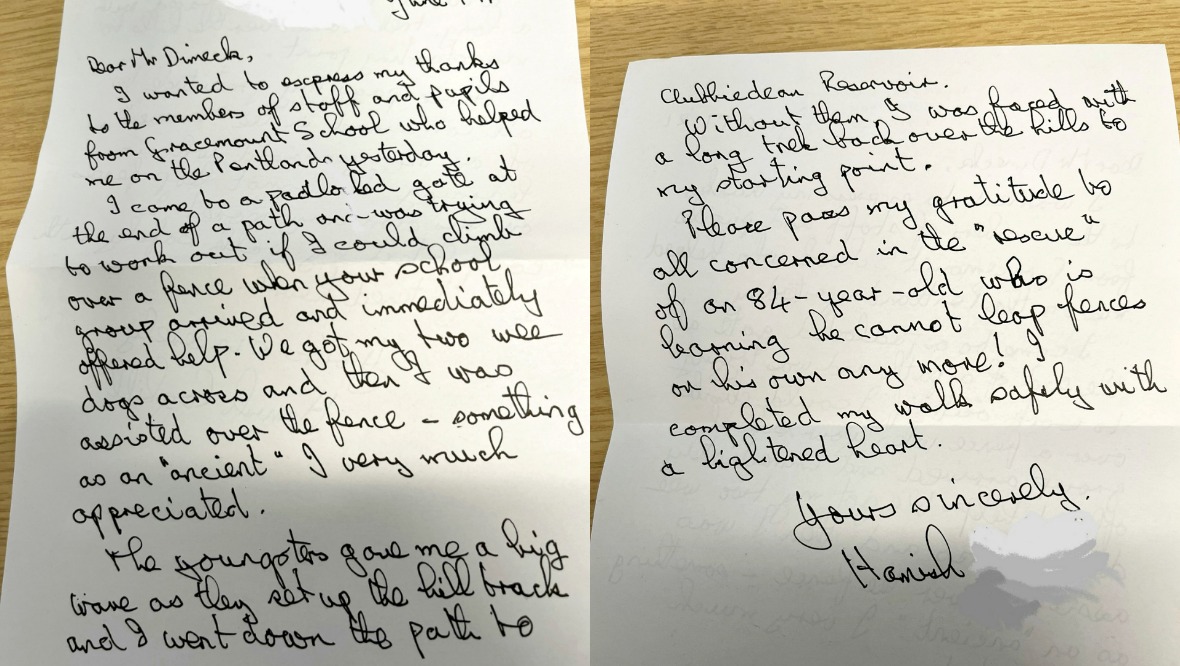 The next day the headteacher, Greg Dimeck, received a handwritten letter from Hamish thanking the class for their "immediate help".
It said: "I want to express my thanks to the members of staff and pupils at Gracemount Primary School who helped me on the Pentland Hills yesterday.
"I came to a padlocked gate at the end of a path and was trying to work out if I could climb over when your school group arrived and immediately offered help.
"We got my two wee dogs across and then I was assisted over the fence – something as an 'ancient' I very much appreciated.
"The youngsters gave me a big wave as they set up the hill tracks and I went down the path.
"Without them I was faced with the long trek back over the hills to my starting point.
"Please pass my gratitude to all concerned in the rescue of an 84-year-old who is learning he cannot leap fences on his own anymore.
"Completed my walk safely with a lightened heart."
Mr Dimeck said the children loved the letter.
He said: "P7s normally go to camp but they couldn't this year so we held an adventure week instead, and one of the days involved walking in the Pentlands.
"The kids were out on their hike when they came across Hamish and his two dogs who were stuck.
"It wasn't his usual route, and he was really struggling to get the dogs and himself over the gate which was about 4ft.
"The children sprang into action and came up with a plan to help him over.
"They passed his two Scottie dogs over first and then around ten or 12 of the kids formed a climbing frame to get Hamish over the fence.
"It was a really simple thing for the kids to do but they loved helping.
"The next day we got a thank you note from Hamish, which was lovely he had taken the time to do that.
"It's always nice when people in the community give the kids praise.
"We didn't get back until around 9.30pm that night and it had been a long day for the kids with their own hike, so we decided to let them start the next day at 11am.
"They were very excited to get a long lie, which I think they deserved after their rescue efforts.
"They were really surprised by Hamish's thank you letter but very pleased with it."
STV News is now on WhatsApp
Get all the latest news from around the country
Follow STV News
Follow STV News on WhatsApp
Scan the QR code on your mobile device for all the latest news from around the country