One of Scotland's oldest racing drivers got behind the wheel of a Jaguar E-Type at the age of 91.
Great-gran Kathleen Clark tore up the tarmac at the Knockhill Racing Circuit in Dunfermline, Fife on October 22.
The daredevil pensioner was given the treat as a belated 90th birthday present from her family – who are already planning another hair-raising adventure for her 92nd in January.
Ms Clark, a retired BP staff driver, from Stonehaven, Aberdeenshire, who taught most of her family to drive, was too busy looking at the track to notice what speed she was doing.
The great-gran-of four, who also has four grandchildren, and four children, rode alongside retired rally racing champion Bob Watson, 82, in his own vintage red Jag.
Ms Clark said: 'It was just a fantastic day.
"I wish I had been 20 years ago.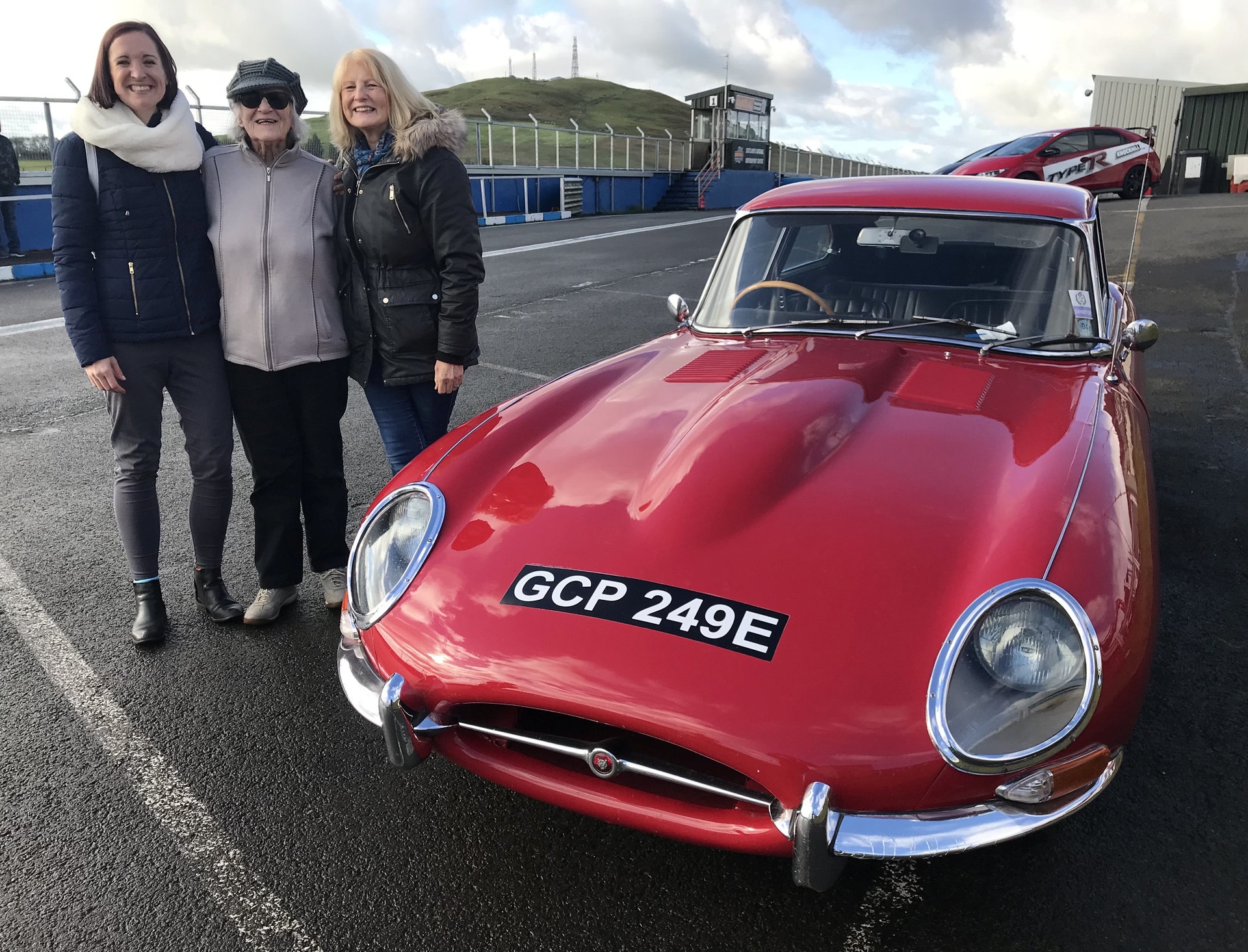 "It was such great fun especially after so much time in lockdown.
"I didn't want it all to end.
"The whole team at Knockhill were so wonderful.
"I had a very experienced ex-racing driver with me, who was great.
"A big thanks must go to Bob Watson for lending me his car.
"I'd love to show him the roads of Deeside which I know so well, we could really get some speed up then."
She was watched by proud daughter Janice Reavell, 68, granddaughter Ellen Birt, 36, as she whizzed around in the swish car dating from 1961 and 1975.
Ms Birt said: "She definitely got a pace up on the straights.
"My gran has an absolute zest for life and always made our birthdays really special, with mad activities.
"When she turned 90, she's not the type to take out for afternoon tea, so I thought about what we could do that she's never done before and she would absolutely love.
"She's a really good driver and has taught her own children and friends to drive over the years, but she's never been in a race car.
"So for her 90th birthday, my gran, of all people, would be the person that wants to hit the race track.
"The opportunity to go in a classic E-Type Jaguar just seemed like a complete meeting of minds.
"When she opened the envelope with the details, she said "I can't wait'.
"She was up for it from the word go."
The family are now planning for Ms Clark's next birthday and more hair-raising stunts will be on the way.
Ms Birt said: "My gran and I are now concocting what she'll do when she turns 92.
"She has always been someone is always up for a party and trying new things.
"She's been in hot air balloons, she's been in gliders – she just has a massive zest for life.
"We both threatened my mum we'll go skydiving.
"My gran said immediately 'I've always wanted to do a sky dive'.
"We were looking at a Ferrari going round the track and reckoned she could do that next year."
Ms Clark was forced to shield during the Covid pandemic and is living it up now she is allowed out.
Ms Birt said: "My gran is such a social person so it was really, really difficult for her to isolate for that amount of time.
"And like so many older people it felt like stolen time.
"She was shut down for 18 months.
"But there never a doubt that Knockhill were going to honour our booking and get her around the track.
"So it was a great thing to have on the horizon through crazy times."
STV News is now on WhatsApp
Get all the latest news from around the country
Follow STV News
Follow STV News on WhatsApp
Scan the QR code on your mobile device for all the latest news from around the country