A dedicated hospital worker who gave vital support to a couple following the loss of their child was among those honoured as NHS Forth Valley recognised the efforts of staff who had gone beyond the call of duty throughout 2023.
NHS Forth Valley local Staff Awards were unveiled at an awards ceremony which highlighted the outstanding contribution made by heroes among the healthcare staff across the organisation.
Six winners were selected from more than 800 nominations put forward by local staff, patients and their families along with the Chair's Award.
An NHS Forth Valley midwife who supported and comforted a young couple after the loss of their baby received the Outstanding Care Award.
Chloe Jackson was praised for the care and compassion she showed when Penelope Hooper was delivered stillborn at 38 weeks.
Ryan Hooper, who along with his wife Melissa, nominated Chloe for the award, said: "Chloe did not allow the situation to affect her professionalism.
"She treated Penelope like any other baby who had just been delivered. She spoke to her, and commented on her beautiful looks and how she had a head full of black hair. I asked Chloe if she had ever dealt with a stillbirth before and she told us this was her first experience.
"Melissa and I were shocked as she acted and behaved far beyond her years and with such emotional awareness. She is a true credit to herself, her family, Forth Valley Royal Hospital and the Women and Children's unit. "
Chloe's care and support motivated the couple to raise money to buy an additional cuddle cot for the maternity unit at Forth Valley Royal Hospital to help support other parents who experience the death of a baby.
Dr Edward Shaw, a consultant psychiatrist with the Mental Health Acute Assessment and Treatment Service at Forth Valley Royal Hospital, received the Inspiration Award which aims to recognise the work of individuals who are an inspiration to others, act with integrity and professionalism at all times and are approachable and supportive to everyone they meet.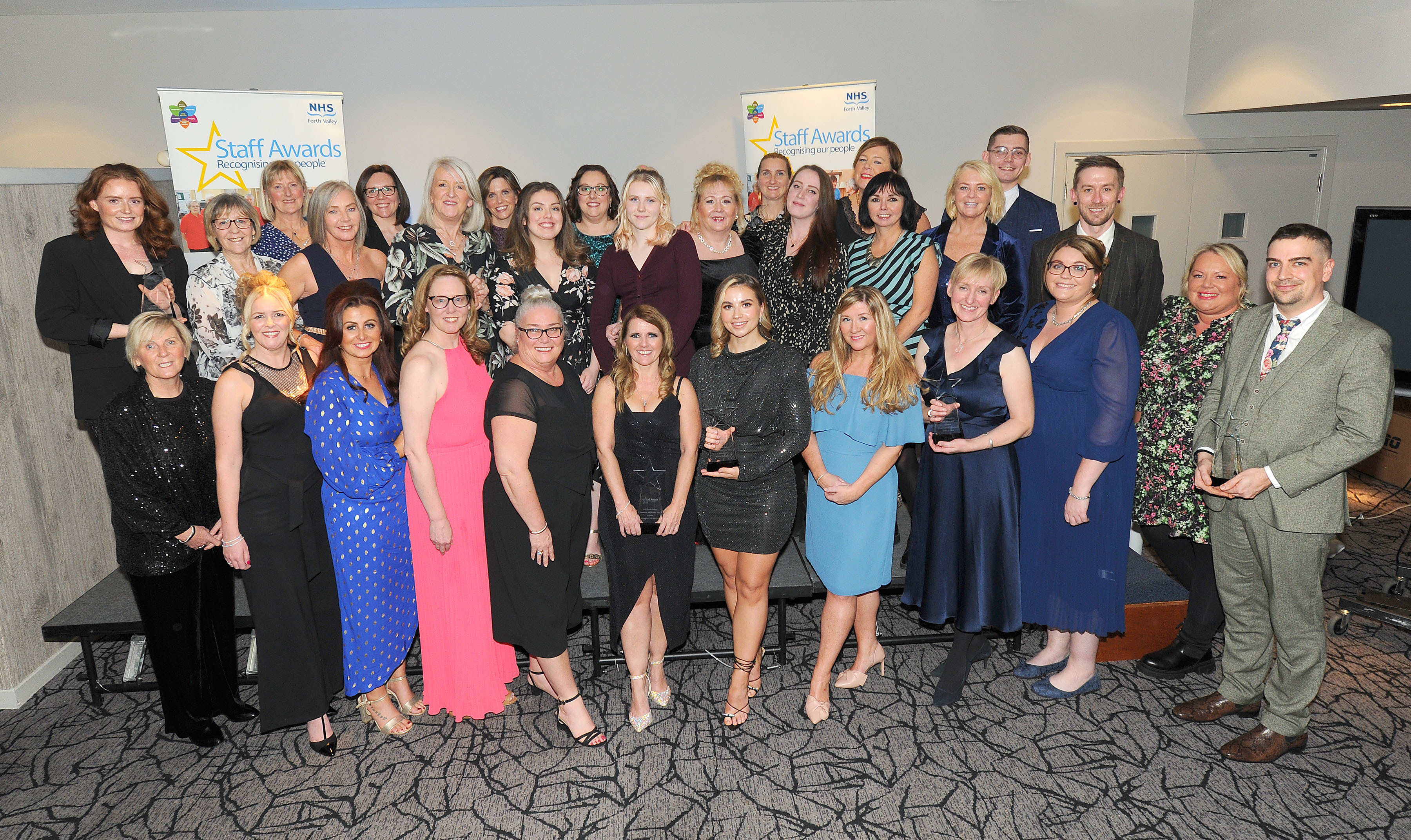 He was put forward for the accolade by colleagues for going above and beyond what anyone would expect to support local patients and staff.
Ed was described as a reliable, trustworthy and very supportive individual who has a lovely manner with patients and always makes time for relatives and carers. 
The Top Team Award, which aims to recognise the work of teams which deliver an excellent service and work together to drive forward positive changes and improvements, was presented to the Integrated Mental Health Service Team based at Woodlands Resource Centre at Falkirk Community Hospital. 
The multidisciplinary team support local people across Falkirk who are living with or experiencing severe and enduring mental health issues. They were praised for their loyalty, dedication and hard work to deliver the best outcomes for local patients.
The Service Improvement Award was awarded to the NHS Forth Valley Pain Management Team, a multidisciplinary team which helps patients experiencing complex, persistent pain. In order to address increasing demand and reduce waiting times, the service created a new first contact physiotherapy practitioner role to increase capacity and free up consultant time to focus on patients with more complex healthcare needs. 
Alongside this new role, Active Clinical Triage Referral vetting procedures were implemented to reduce the risk of patients sitting on an inappropriate waiting list or highlighting when patients may require assessment or treatment for other conditions, such as cancer or inflammatory conditions.
Other improvements have included the introduction of patient-focused booking which allows patients to arrange appointments at a time which suits them (this had reduced rates of non-attendance rates from 17% to 7% for new patients) and the development of a new Peer Support Group which provides patients ongoing support from other people experiencing chronic pain.
The Substance Use Service Team based at Falkirk Community Hospital were the proud winners of the Health and Wellbeing Award which aims to recognise the work of individuals or teams who have helped improve the health and wellbeing of local patients, communities or staff within the workplace.
The Better Workplace Award, which aims to recognise individuals who make work a better place, are always there to listen or lend a hand and make everyone feel better no matter what challenges they face, was awarded to Eilidh Gibson, a learning disability staff nurse with the Additional Support Team, based at The Bungalows in Larbert. 
Eilidh was described by colleagues as having exceptional qualities and an unwavering commitment to create a better work environment for all.
Susan McRobbie, a district nurse in Callander, was the recipient of one of two special awards presented this year to mark the NHS 75th Anniversary for her kindness and compassion. Susan was caring for a patient who lived his life outdoors in a makeshift home and wanted to live his last days there. 
Despite the difficulties providing nursing care in an environment with no mod cons such as electricity and running water, Susan went above and beyond to ensure he was able to die in the place he wanted to be with the dignity he deserved. She made sure he was pain-free and comfortable, and that his home was watertight.
The other NHS 75th Anniversary Award went to Ward A31, which received multiple nominations from local patients and their families. Staff were praised, not only for their outstanding care, but also for copious amounts of tea, cuddles and comfort they provided to support local families and help keep their spirits up at a difficult time.
The Chair's Award was presented to Serco porter James McCartney, for the great care and sensitivity he showed following the death of a child at Forth Valley Royal Hospital. James was courteous, respectful and attentive to ensure that the utmost dignity was shown to the young patient. 
NHS Forth Valley's interim chief executive, Amanda Croft, said:  "I'm incredibly proud of the fantastic work being taken forward by staff across the organisation and would like to offer my personal congratulations to all of the winners and finalists for this year's awards."
STV News is now on WhatsApp
Get all the latest news from around the country
Follow STV News
Follow STV News on WhatsApp
Scan the QR code on your mobile device for all the latest news from around the country