A movie fanatic from Midlothian has transformed an old Beetle into a replica of iconic Disney car Herbie the Love Bug.
Ross Nicholson, from Gorebridge, bought a 1972 Beetle for £2000 from London before spending six months tracking down authentic accessories to make it resemble the cult race car from the famous 1963 film.
The post worker doesn't only have an interest in famous cars, as he has also created his own replica movie props from some of his favourite films – from Ghostbuster Proton Packs to Marty McFly hoverboards.
Ross told STV News that fellow drivers' wave and flash their lights when they see the iconic car out on the road.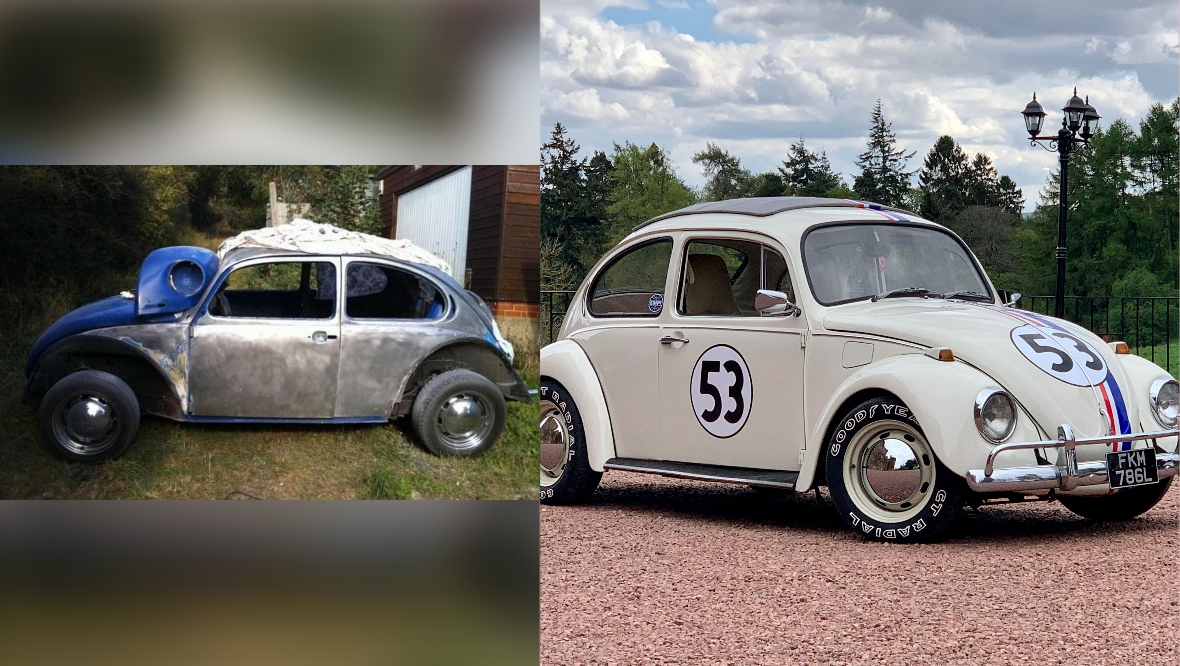 He said: "I done it because I have always been really into movies, and particularly movie cars.
"I've made replica props for years now, from small things to a six-and-a-half-foot Terminator- so earlier this year I decided it was Time to tackle a movie car, and Herbie is one of my absolute favourites.
"I started it at the start of the year, but really got to work at the start of April.
"It's had a lot of engine work done to get it running sweet, it was running like a bag of spanners when I got it.
"The interior had no carpets or door cards. I took the wheels off and repainted them the correct colour and got new tyres with accurate "Goodyear GT Radial" decals- like Herbie had in the films.
"You can't buy those tyres now, so you have to buy a rubber kit to recreate them, you basically glue the letters on individually with a special rubber glue- which took ages.
"We then added the Herbie livery. The red, white and blue stripes, and gumballs- which are the round 53 stickers.
"I also made and attached a fake "ragtop" roof- which is basically a sunroof, as that's what Herbie had too.
"From the outside you can't tell any different. You just can't open it on a hot day."