A historic pub's signage has finally been changed for having "racist connotations" despite months of campaigning against the move from locals.
Residents in Linlithgow protested the name change of The Black Bitch saying their history and heritage were under threat.
People of West Lothian have historically referred to themselves as "Black Bitches" in reference to an ancient tale involving a loyal dog swimming across Linlithgow Loch to bring food to its starving owner.
Alistair Old, spokesperson for the campaign set up to oppose the name change, said people were "furious".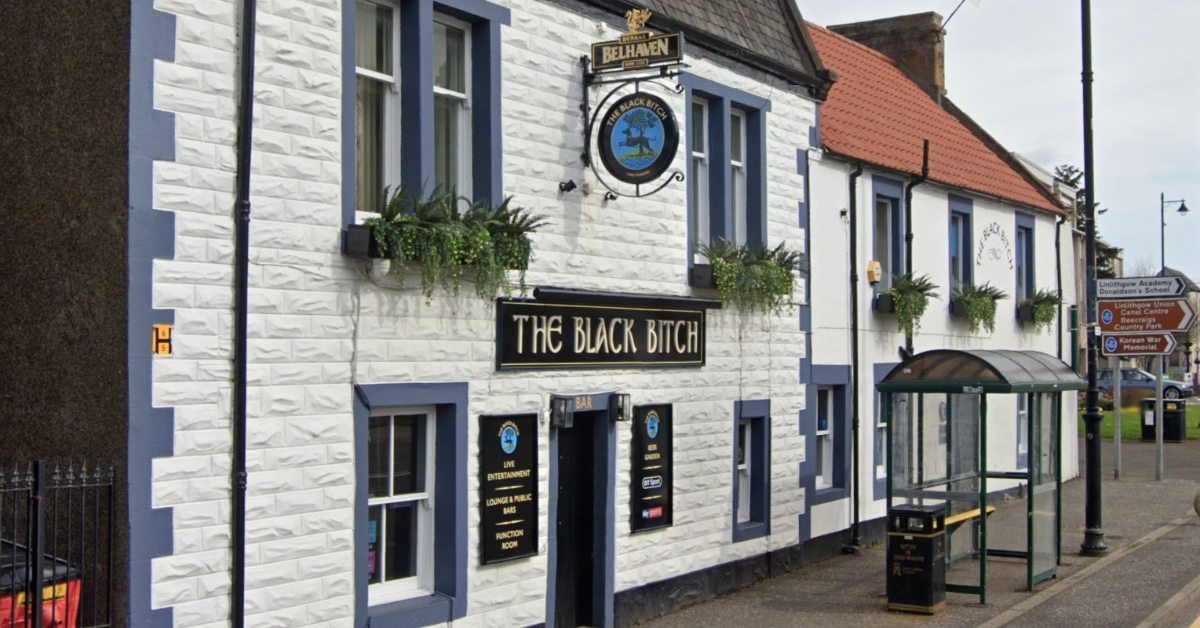 "They have done this against the people of the town and against the whole town ethos that the black bitch is simply a black dog."
Residents said they would boycott the pub should the name change go ahead.
"They have poisoned their reputation with this diabolical disregard for the local community," Mr Old said.
"They will rue the day, the customer is always right."
The pub on the town's High Street was among number of markers of the legend including a statue of the pooch further down the road and the official coat of arms.
Owner Greene King wanted to change the name of the Black Bitch Pub to the Willow Tree over fear the current title had racist connotations.
Hundreds of locals had signed a petition demanding the pub keep its original name.
Greene King said it came to the decision after consulting with members of the wider community and refused to alter its course but did present various alternative names.
On Thursday, new signnage bearing the name The Willow Tree replaced the old.
On Tuesday, Greene King apologised and paid out thousands of pounds in compensation after it admitted 12 people were removed from a pub for being Irish Travellers earlier this year, The Guardian reported.
"That they have the cheek to tell us that a black dog is offensive is just unbelievable and Scottish history is damaged because of this," Mr Old said.
A Greene King spokesperson said: "We have huge respect for the proud heritage of Linlithgow and it has never been our intention to denigrate the town or its community.
"The pub has also been known in the past as The Western Tavern and Robert Braes Wine & Spirits and took the name of the Black Bitch in the 20th century, so our new name of The Willow Tree highlights another piece of the town's history.
"We appreciate the context of the pub's previous name but cannot and should not ignore the people who told us how they felt at seeing it written on the front of a pub, which is why we have been committed throughout to making this change.
"This is another chapter in the pub's history, with us also investing in the pub's garden in the summer, and we're pleased to continue welcoming the community through the doors."