Do Hyeon Gim was attacked by a gang of teenagers as he walked home in Edinburgh.
He's from Korea, but was called 'China Virus' and kicked and punched while passers-by filmed the violence on their mobile phones.
Police say the number of China-related hate crimes in Scotland has risen by 50% this year – "probably related" to people blaming coronavirus on the country.
One senior officer said cases tended to rise when lockdown restrictions were tightened.
Do said he was abused daily as cases soared at the beginning of the pandemic, leaving him traumatised and scared to go out at night.
"I stood there and they were punching me and kicking me," he told STV News, referring to the attack in February.
"It was a daily thing to be called 'China virus'. Obviously there were a lot of people around that area and it was me who got picked on.
"I was a bit traumatised. Then I was a bit hesitant roaming around when it's dark."
Do reported the assault to police, but his attackers have not yet been traced.
He said: "I only wanted them captured so the teenagers could learn about how serious it could be and they don't repeat the mistake when they're older."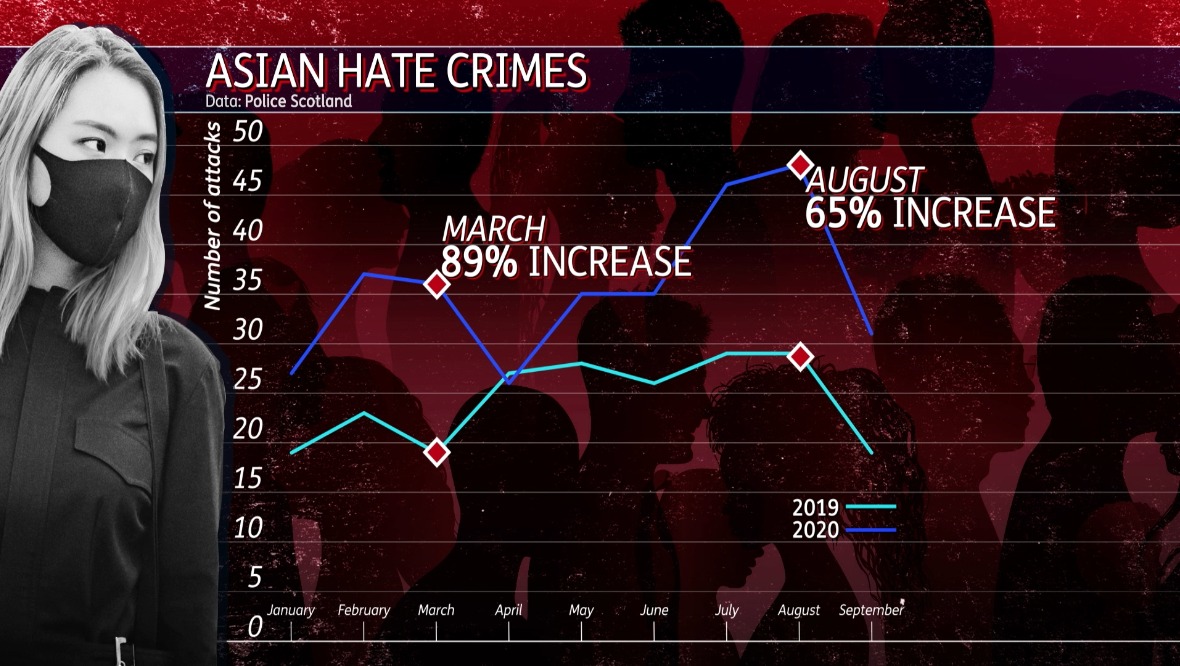 Between January and September, there were 321 Chinese-related hate crimes, Police Scotland said, up from 219 in the same period of 2019.
In March, as the pandemic took hold and the country went into lockdown, there was an 89% rise, while in August there were 48 separate incidents.
Glasgow, with 99, had the most between January-September, followed by 65 in Edinburgh and 29 in Lanarkshire.
Chief superintendent David Duncan, head of safer communities at Police Scotland, said: "We have seen an increase in hate crime right across the board. That's probably related to the Covid-19 situation.
"We've seen fluctuations when lockdown has been eased or put back on. That's probably related to increased tension between people."
Police Scotland said there were now 500 'champions' trained to help officers understand hate crime.
Ch Supt Duncan said: "We've done a lot of work with the Chinese community because concerns were raised to us, not just Police Scotland but across the UK, that this might be a factor due to conjecture in communities about coronavirus and the involvement of China."