Hundreds turned out in Edinburgh on Saturday to participate in a march and rally to highlight overwhelming support from the public to strengthen the current hunting law and to end the practice of snaring.
The For the Foxes march, organised by the League Against Cruel Sports and OneKind with support from Scottish Badgers, came days after the Scottish Parliament voted in support of the principles of the Hunting with Dogs (Scotland) Bill allowing the legislation to proceed to stage two.
On Tuesday, the Scottish Parliament voted in support of the principles of the Hunting with Dogs (Scotland) Bill.
The vote was passed by 110 for and one against. There were no abstentions.
It includes measures to reduce the pack of hounds to just two dogs and includes pre-emptive measures to address the likelihood of trail-hunting becoming established in Scotland.
It will also consider a licensing system which could allow hunts to take out a full pack of hounds in certain circumstances and the proposals will be further scrutinised at stage two where a series of amendments will be voted on.
The march on Saturday began at St Giles Cathedral at 12.30pm and ended in a rally outside the Scottish Parliament, led by presenter, zoologist, conservationist and photographer, Megan McCubbin.
Speakers included directors of all three charities, Colin Smyth, MSP for Scottish Labour and Scottish Green MSP, Ariane Burgess.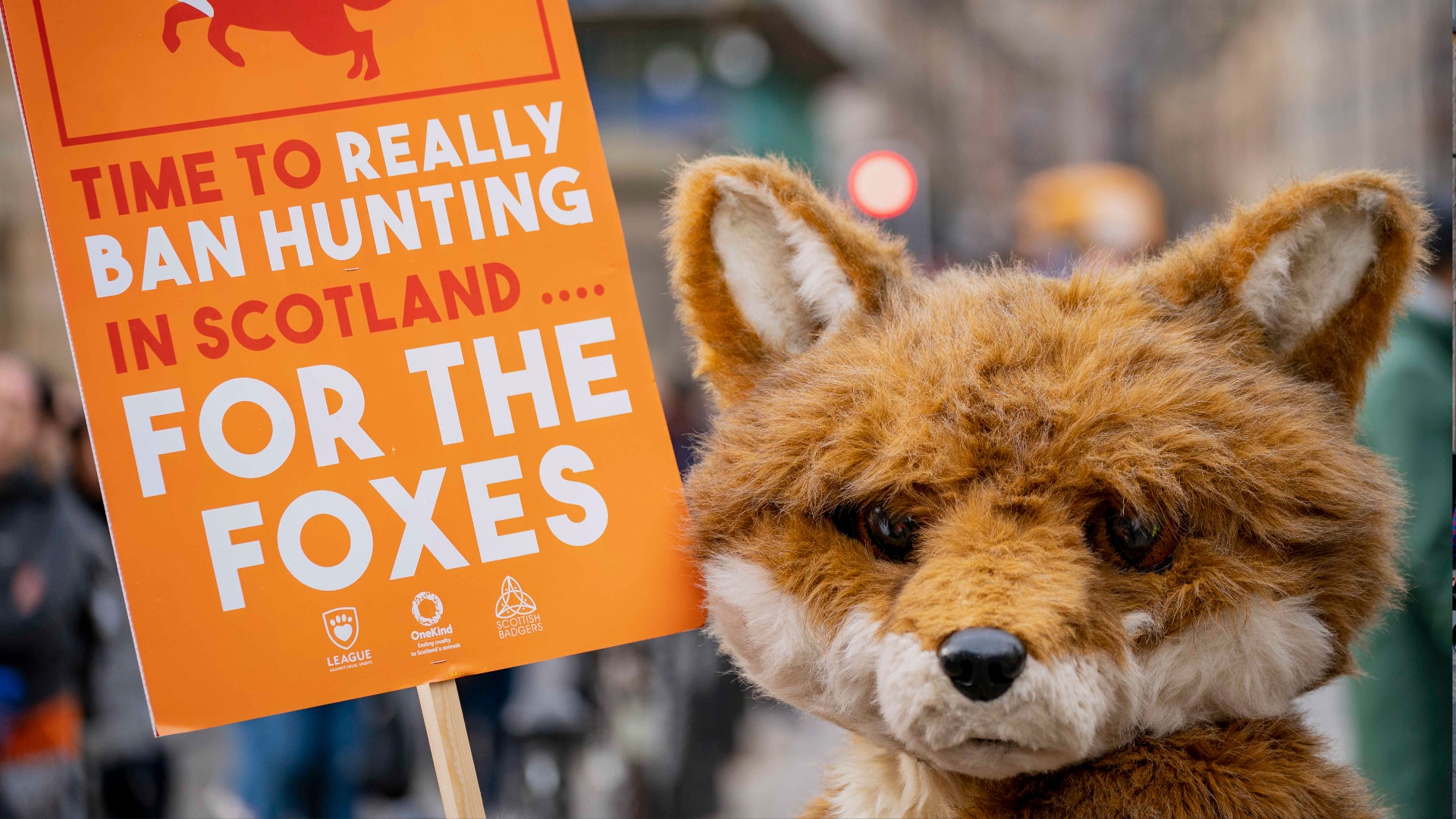 The Minister for Environment and Land Reform, Màiri McAllan and naturalist, nature photographer, television presenter and author, Chris Packham both spoke via video.
Robbie Marsland, director of the League Against Cruel Sports Scotland said: "Public support to end the needless suffering of wild animals is overwhelming, with the vast majority of the public completely opposed to the cruelty caused by fox hunting and snaring.
"As a nation of animal lovers we're expecting a good turnout this weekend of people committed to marching for the foxes. We hope that this will send a clear message to the Scottish Government, and the Scottish Parliament, that it is absolutely critical it gets the Hunting with Dogs Bill right so Scotland has a proper ban on hunting once and for all."
Bob Elliot, director of OneKind added: "Snares are cruel, archaic and indiscriminate traps that ought to have been consigned to the history books a long time ago.
"The Scottish Government is currently reviewing the impacts of snaring and a ban on the manufacture, sale and use of snares in Scotland is a real possibility. This is an opportune time for us to send a strong message that the public expects a full snaring ban."
Scottish Labour animal welfare spokesperson Colin Smyth said that the hunting bill does not go far enough, and closes some loopholes but opens others.
He said: "Hunts have been riding roughshod over both the letter and the spirit of the fox hunting ban for a decade now, but we finally have a chance to right this wrong.
"The SNP are set to create new loopholes as we close the old ones with their unworkable and unnecessary licensing scheme – but you cannot license cruelty.
"The Greens have sold out animal welfare in government, by giving the SNP a free pass to ignore their views.
"I will fight to make this the last tally-ho for hunting by removing this loophole and consigning this archaic 'sport' to the history books once and for all."
Scottish Greens MSP Ariane Burgess added: "87% of the Scottish public support a ban, and I am looking forward to helping deliver the Hunting with Dogs (Scotland) Bill. It is about time we closed these loopholes."
A Scottish Government spokesperson said: "Chasing and killing a mammal with a dog, for sport or otherwise, has no place in modern Scotland, and this legislation aims to close loopholes which have allowed illegal hunting to persist.
"We recognise that foxes can cause significant harm to farm livestock, as well as to species of ground-nesting birds that are the focus of conservation efforts. It is therefore important that land managers have access to humane control measures.
"The proposed licensing system will be available in limited circumstances and where there is no other effective solution. For example, if the local terrain or conditions mean that a limit of two dogs would not allow farmers to protect their livestock adequately."
STV News is now on WhatsApp
Get all the latest news from around the country
Follow STV News
Follow STV News on WhatsApp
Scan the QR code on your mobile device for all the latest news from around the country