The family of a nine-year-old schoolboy, currently battling a rare form of childhood cancer for the third time, have been left in shock after his friends shaved their heads in solidarity with him.
Archie Sinclair, from Markinch in Fife, was first diagnosed with neuroblastoma in 2017 at just three-years-old.
After initially getting the all-clear in 2019, he relapsed in May 2021 and spent another year undergoing treatment.
Despite positive signs, the family were left devastated when they received news of a third relapse in 2023 and Archie began a new round of more invasive treatment in March.
The cause of the condition, which affects just around 100 children in the UK each year, remains unclear with charities pushing for further research into the reasons for relapse.
Mum Joanne, 40, said Archie has "taken it all in his stride", however the new treatments have resulted in hair loss for the first time and his dad Paul, 39, helped him shave his head to avoid discomfort.
In an act of solidarity, his friends, who all live in the same community, decided to shave their heads like Archie, to ensure he did not feel alone through his treatment.
"Archie just thought this was brilliant," Joanne told STV News.
He said: "It was such a lovely welcome for him and made him feel not so different."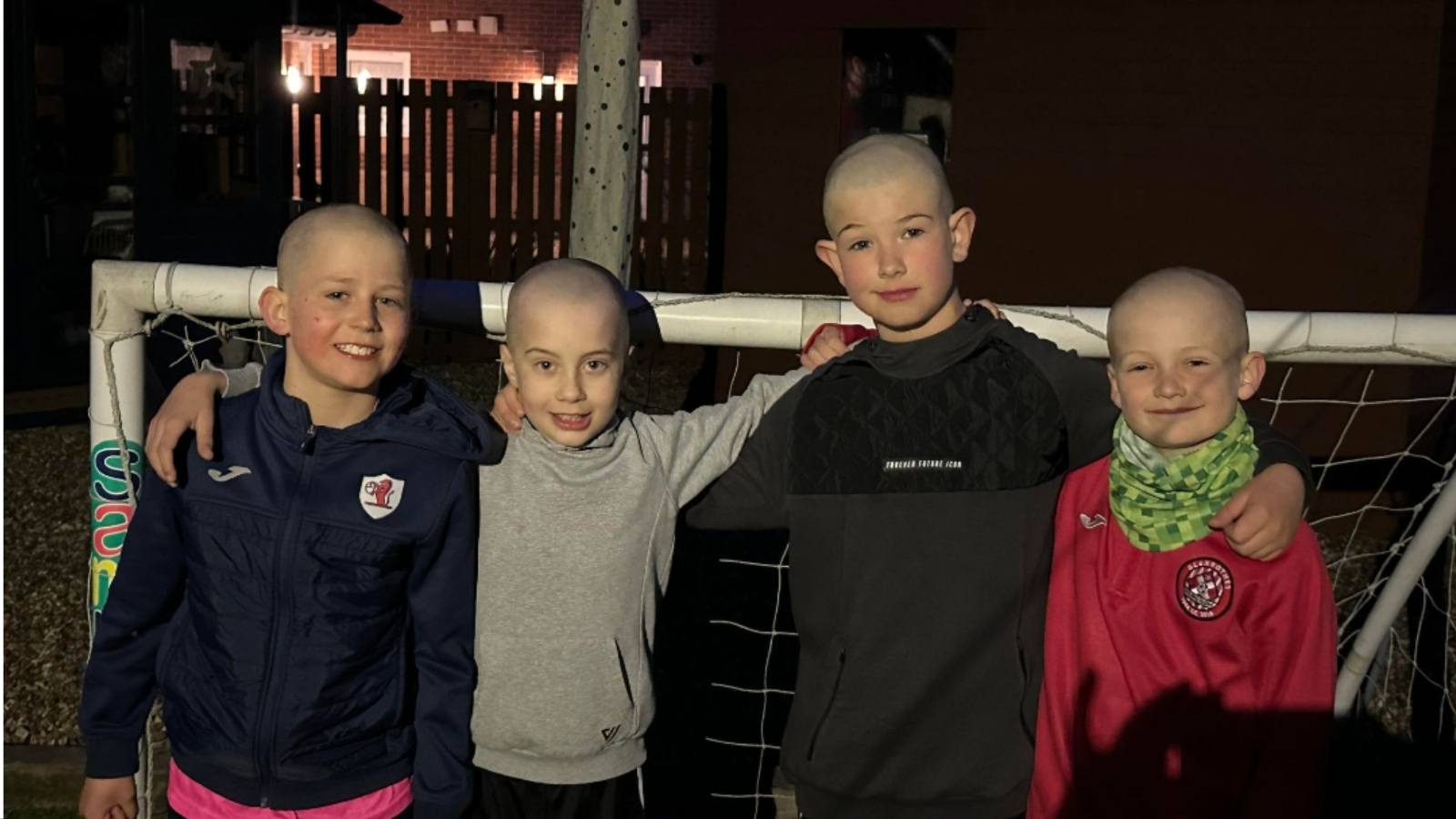 "Although he's dealt with this since he was three, he is obviously older now and more aware of what cancer is.
"It was lovely for him to have all that support from his friends.
"Archie has always been a bit of an old head on young shoulders and he just seems to get on with things, he's so resilient.
"I think he will be thinking that it's really cool, my friends have done this for me."
Around 11 friends, mostly in P5 at Markinch Primary School, have taken part in the trend.
Archie's third relapse came as a shock to the family, who are now hoping this current NHS treatment in Edinburgh will be the most affective.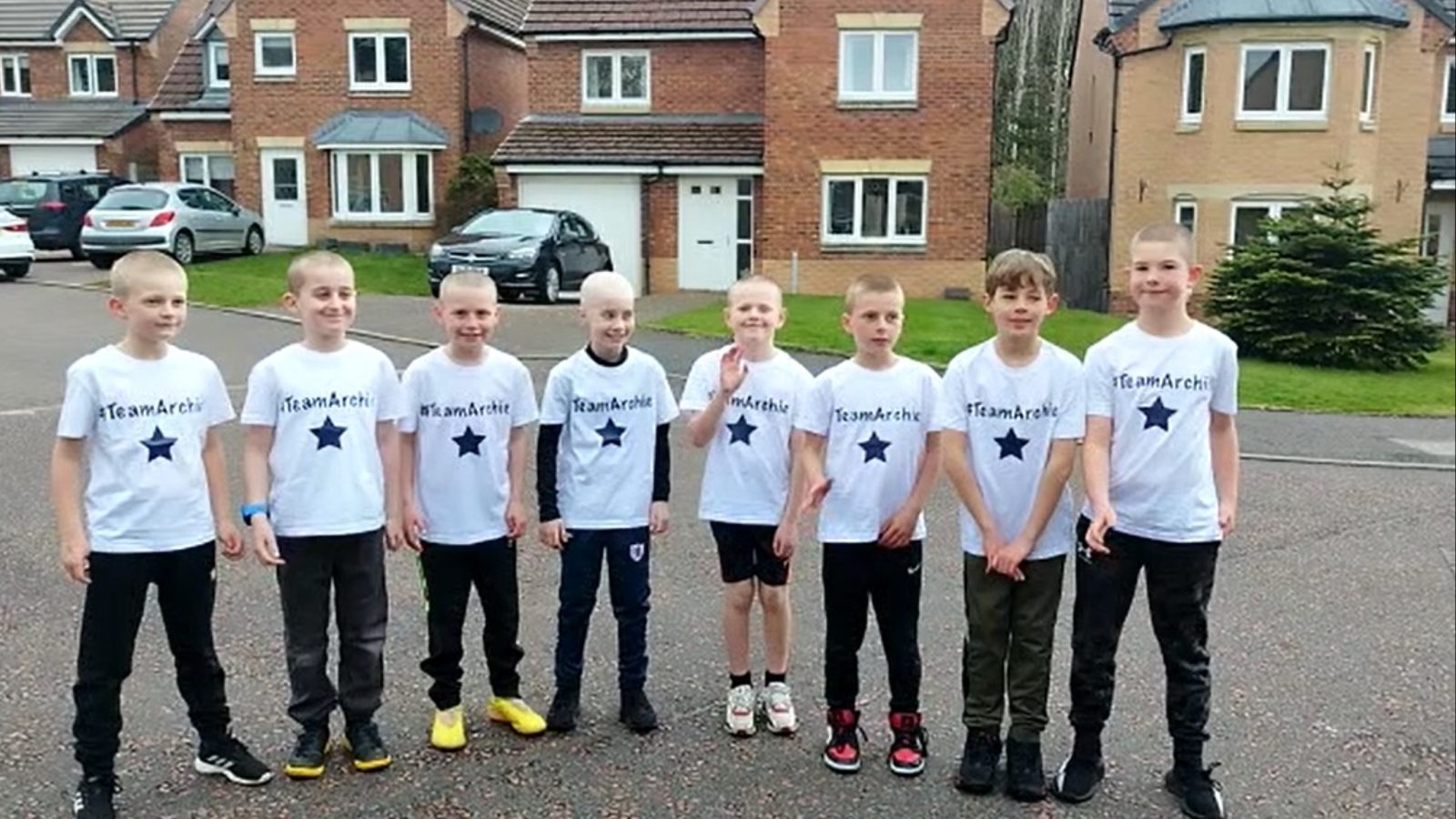 Describing the week they received the news, Joanne said: "He was on routine three monthly scans and was only 10 months off treatment.
"He had been at school and had a busy weekend where he went trampolining. There was nothing to suggest that something wasn't going to be right with this scan so it was a complete and utter shock, we were just all devastated when his consultant phoned us."
She added: "This treatment is a lot more invasive than the second lot of treatment that he had.
"Treatment started March this year. With a relapse there's not really one size fits all but there are options there on the NHS. We hope that this one works and might be the one that gets rid of it for Archie for good.
"Relapsed Neuroblastoma is harder and it gets harder the more you relapse.
"Thankfully we have full faith in his team and they always get him the best that they can possibly find him."
Archie goes into hospital for a full week at a time with both Joanne and Paul.
His big sister Eva, 13, stays with her gran and grandad while the family are in hospital.
As well as shaving their heads, Archie's friends and their families have raised over £6,000 on a Go Fund Me page to support them.
Joanne said: "Money will go towards supporting the day-to-day of living with cancer.
"Paul is self-employed and will have to take days off. It takes off the financial pressure. It's going to be such a help.
"Other friends have said they'll do a cycle to raise money and another has stopped eating crisps for a week, they all have these lovely ideas. It's just such a nice community here and everyone has wrapped their arms around us."
Archie and his friends are supporters of Raith Rovers and they were guests of honour at the club's Scottish Championship match against Arbroath on Saturday.
The Kirkcaldy side tweeted: "What a cheerful, energetic and loyal group of boys – we are so proud to call them Rovers supporters."
Funding of new research into neuroblastoma remains a concern
The cause of neuroblastoma remains unknown and is most common in children under the age of five.
It is estimated that relapse neuroblastoma occurs in around half of children diagnosed, even if they have responded well to original treatments.
Developments in treatment have progressed since Archie's first diagnosis in 2017, with many other options now available on the NHS.
This is down to the fundraising and research of charities including Neuroblastoma UK, who have funded almost £9m for research to develop new and safer treatments.
However, the charity says underfunding of new research remains a concern.
Tony Heddon, the charity's chair of trustees, told STV News: "We were devastated to learn about Archie's recent relapse. Neuroblastoma is very often an aggressive cancer and, as with Archie, is primarily diagnosed in children under the age of five.
"Although there has been some progress with developing treatment, the nature of research means it's been slow, with only one new drug for children receiving front line neuroblastoma therapy developed since the 1980s.
"The UK offers national and international trials and studies or early phase trials for children with relapsed and refractory neuroblastoma, but the process of opening new studies is long and complex.
"Some families choose to travel overseas for treatment at huge personal financial expense. With another charity, Solving Kids Cancer, we have been lobbying government to fund a randomised trial which would allow families to access a neuroblastoma vaccine in the UK, rather than the U.S.
"More significant and dedicated investment is desperately needed to make breakthroughs in the treatment and diagnosis of neuroblastoma to give more children like Archie a future they deserve."
On detecting signs of neuroblastoma in children, the charity said: "Symptoms can vary depending where a child's tumour is. Like Archie, weakness or pain in the leg can happen if a tumour is pressing against the spinal cord.
"Or if the tumour is in the abdomen, you may notice a swelling in the tummy or a child may be constipated. Symptoms are often vague and can include tiredness, a pale complexion, loss of appetite and/or weight loss, or general discomfort which may make your child very unhappy and irritable."