A firefighter has died after being seriously injured while tackling a blaze at a former department store in Edinburgh.
Five emergency responders were rushed to hospital as a result of the operation at the former Jenners building.
Around 50 personnel were tackling the blaze in the category A-listed building at one stage on Monday after the alarm was raised at around 11.30am.
Barry Martin, 38, was taken to the Royal Infirmary of Edinburgh by ambulance, where he died four days later on Friday, January 27.
The Scottish Fire and Rescue Service said it was "deeply saddened" by the news.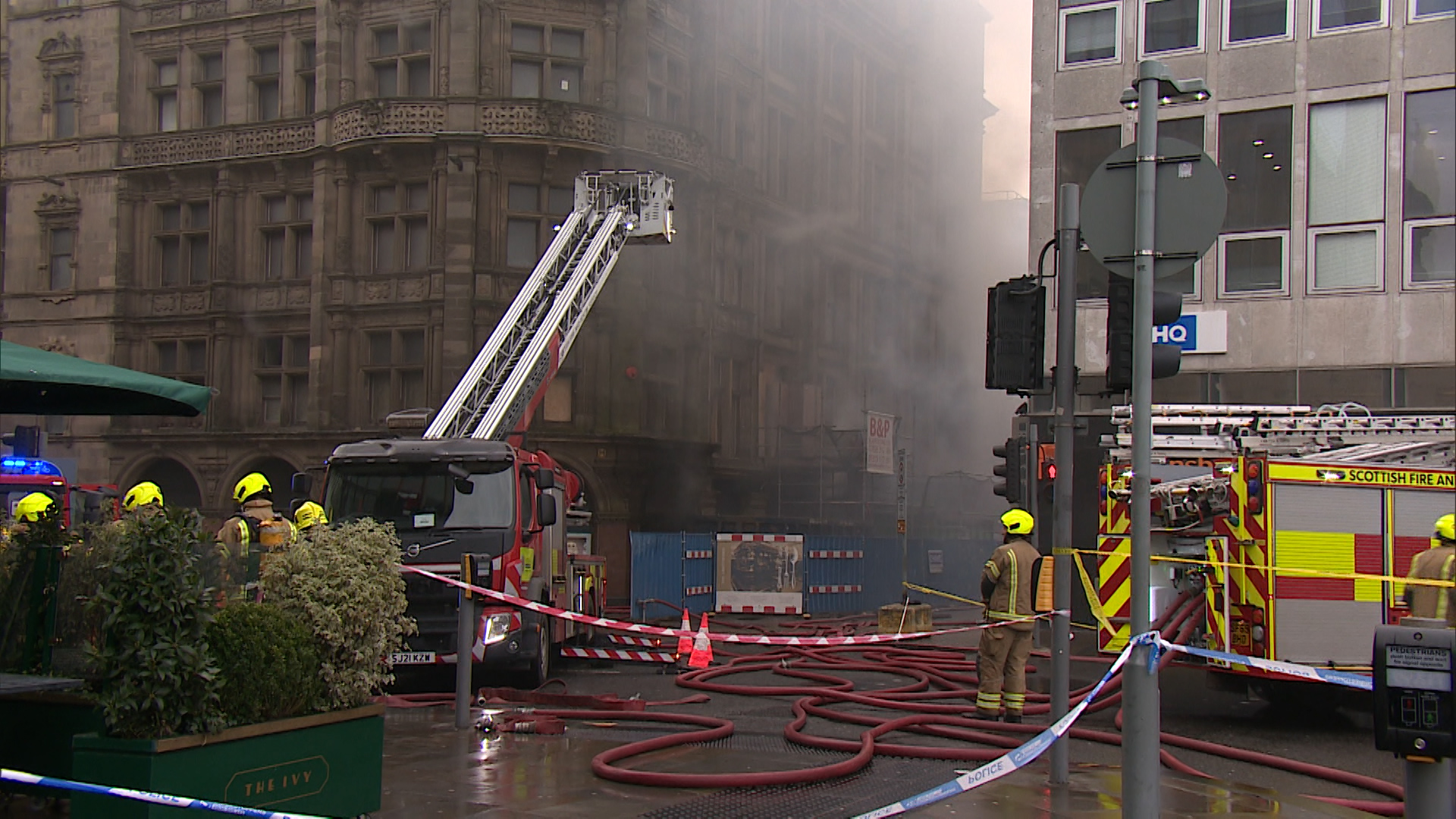 Interim chief officer Ross Haggart said: "It is with profound sadness that I confirm, on behalf of his family, that Barry Martin has passed away this afternoon following the serious injuries he sustained during a large-scale fire at the former Jenners building in Edinburgh.
"Barry, who was being treated at Edinburgh Royal Infirmary, had been in a critical condition since Monday's fire.
"I speak for the entire service when I say that we are all devastated by the loss of Barry and our thoughts remain with his family, friends and colleagues at this deeply distressing time.
"Both Barry's family and the service have been overwhelmed with the messages of support we have received and we thank everyone for the time they have taken to share these.
"Barry's family would also like to thank all the medical staff who have cared for him.
"I would now ask that we all allow Barry's family, friends and colleagues to grieve in private."
Four other firefighters were also taken to the Royal Infirmary of Edinburgh for treatment. Two were treated for smoke inhalation and two for burns and have been subsequently released.
A police officer was also treated for smoke inhalation at hospital and was later released.
Superintendent David Robertson, of Edinburgh Division, said: "Our thoughts are with the family, friends and colleagues of Barry at this very difficult time.
"Our enquiries are ongoing to establish the full circumstances."
The First Minister tweeted her condolences to the family of Barry Martin and described his death in the line of duty as a "terrible tragedy".
Nicola Sturgeon said: "This is dreadfully sad news.
"My deepest condolences go to Barry's family, friends and colleagues.
"This is a terrible tragedy for all who loved him – but also a reminder of the selfless courage our firefighters demonstrate in the line of duty each and every day."
The iconic building – which housed Jenners for over a century before its closure in May 2020 – is undergoing a multi-million pound renovation backed by Danish billionaire Anders Holch Povlsen to turn it into a new hotel and leisure facility.
Plans approved by City of Edinburgh council in June last year will see part of the former department store turned into a 96-bedroom boutique hotel, alongside a bar and restaurant, above overhauled shopping areas.
The department store was among the longest to continuously trade from the same location in the world prior to its closure during the Covid pandemic.