A former Scotland rugby player and his family have lifted the spirits of their neighbours during lockdown – after setting up a daily aerobics class on their street.
Every day Scott Hastings and his wife Jenny, both 55, join their neighbours on their street for a workout to songs by ABBA and the Bay City Rollers.
Their daughter Kerry-Anne, 26, also joins in – along with more than 20 neighbours.
Jenny was inspired to start the daily ritual after an elderly neighbour suggested doing dancing on the street in Warriston, Edinburgh, where they live.
Now, six weeks later, 25 residents join in the aerobics class each day – which runs at 3pm for 20 minutes.
Scott, who played rugby for the Scotland national squad, said his neighbours get great enjoyment from the classes.
The dad-of-two said: "Jenny and my daughter were coming back from a run and one of the neighbours asked what stretching she does.
"There was a comment about dancing in the streets and they thought 'let's just make it happen'.
"That was just two or three days into lockdown and now six weeks on we have grown the class to 25 people.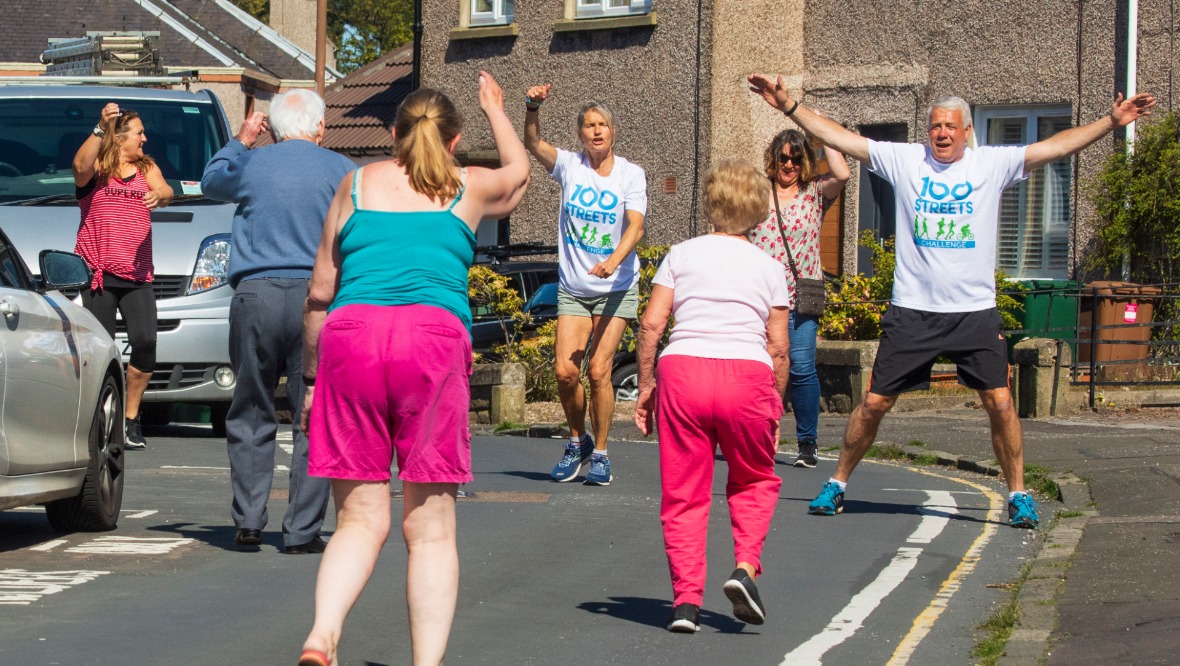 "The elderly residents love it, it gives them focus, and brings people out of their houses.
"When Jenny told me about it I thought 'let's give it a go it will be a bit of fun'.
"I am one of the most uncoordinated people in the world but I genuinely look forward to it everyday as do the neighbours."
The class is held Monday to Saturday, but on Sundays the neighbours still all get out in the gardens to have a cup of tea and a chat – while maintaining social distancing rules.
Scott added: "Everyone gets great enjoyment from the classes and with the weather being so great we have not had to postpone any.
"It allows elderly people to get some social contact and has brought the community together.
"The classes go on for around 20 minutes but everyone stays out for a bit afterwards to have a chat.
"Jenny coordinates the music, whatever we have in the CD collection, some ABBA."
Scott and his neighbours' efforts have even inspired other streets nearby to get involved, with people starting their own classes.
Kerry-Anne added: "I think it brings the community together, we have younger people and older people, and it gets your fitness level up.
"Even from the beginning, you can see the mobility getting so much better for all of us.
"Even I am breathing heavily at the end of it. We can tailor it to everyone's ability. I think it's phenomenal, I just love it."
STV News is now on WhatsApp
Get all the latest news from around the country
Follow STV News
Follow STV News on WhatsApp
Scan the QR code on your mobile device for all the latest news from around the country