A leading human rights expert has told how growing up in Northern Ireland during the Troubles has inspired her work solving conflicts around the world.
Professor Christine Bell heads PeaceRep – a UK Government funded research project based in Edinburgh.
The Belfast-born academic heads a team of over 50 researchers and mediation experts at the University of Edinburgh.
They have documented over 2,000 peace agreements signed since 1990 – making its database the go-to site for rival factions attempting to negotiate an end to conflict.
PeaceRep is currently assisting mediators trying to find peaceful solutions to violence in countries including Ukraine, Afghanistan, Syria, Sudan, Iraq, Yemen, Myanmar and Ethiopia.
Prof. Bell, 56, said her upbringing "motivated" her to pursue her line of work.
She said: "Like most families, mine was touched by the Troubles. I didn't lose any immediate family, but I was present at very violent events that deeply affected me.
"So many people were affected. My two best friends, one of them, her father had been shot dead and the other one, her brother was shot, severely wounded and left with life-changing injuries.
"My story is far from unique for anyone who lived in Northern Ireland during the Troubles.
"That insight into how communities suffer in conflict has most definitely given me the drive to work towards healing division wherever it exists around the world."
On Wednesday, Lord Ahmad, the UK's minister for Middle East, North Africa, South Asia and United Nations, visited PeaceRep at the University of Edinburgh Law School.
PeaceRep – an international consortium of eight organisations led by the University of Edinburgh – received a £19m seven-year funding grant from the Foreign, Commonwealth & Development Office (FCDO) in 2021 to conduct its work.
Cambridge and Harvard educated human rights lawyer Prof. Bell is PeaceRep's Executive Director and Principal Investigator.
She recently met both Bill and Hillary Clinton at an event in Belfast celebrating the 25th anniversary of the Belfast (Good Friday) Agreement.
She first met the Clintons through her work as chairperson of Belfast-based human rights group, the Committee on the Administration of Justice and member of the inaugural Northern Ireland Human Rights Commission, established by the 1998 peace deal.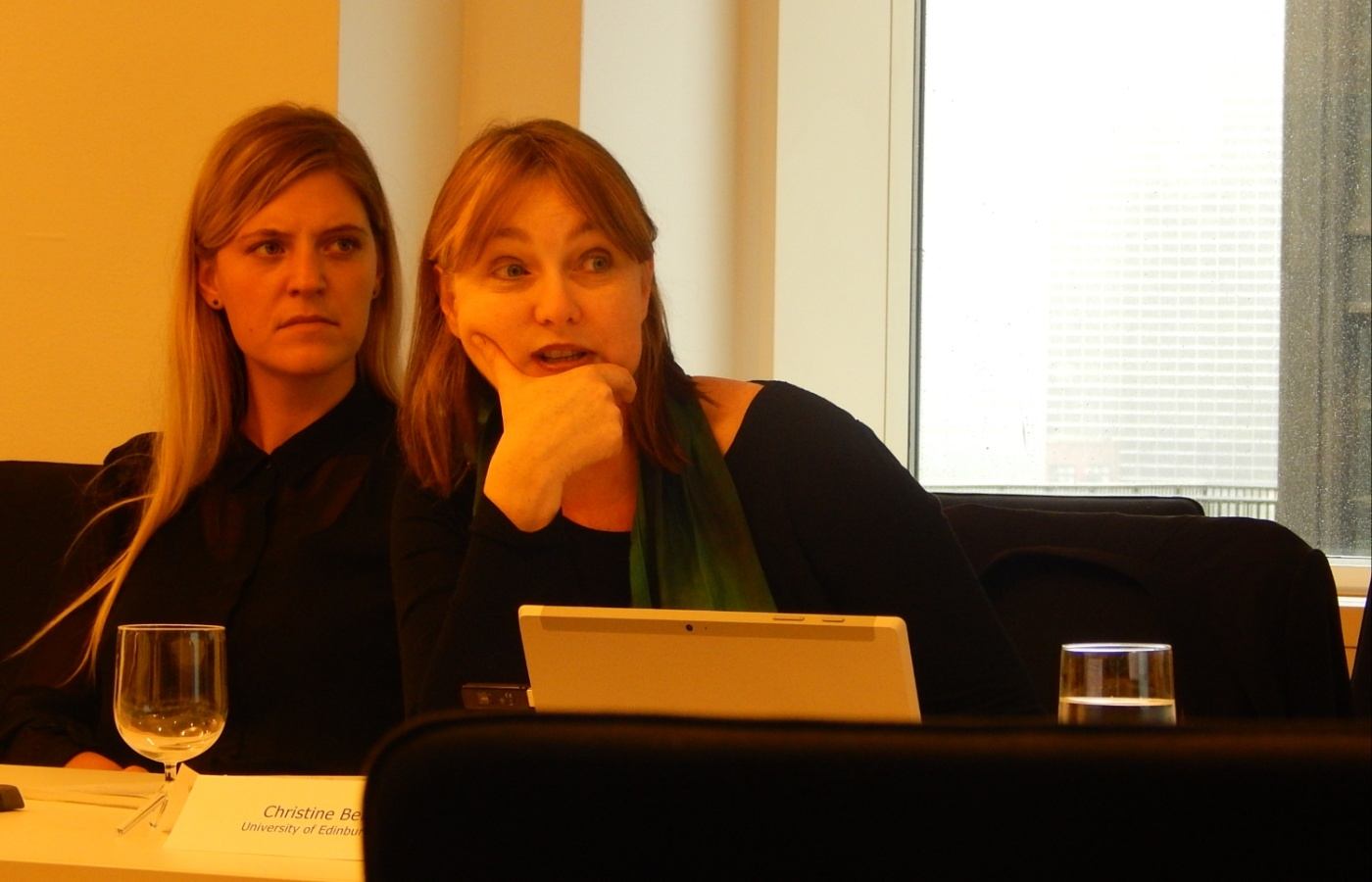 Prof. Bell, who is also a mum-of-six, said: "Globally, I think the Belfast Good Friday Agreement is viewed successfully and considered a blueprint for peace.
"Of course, things are complicated because of disappointment over the current breakdown of power sharing, but the 25th anniversary was a reminder of how far Northern Ireland has come.
"Northern Ireland is a totally different place to 25 years ago when every day was marred by tit-for-tat violence. My eldest child is 28 and is part of a new generation whose lives have not been blighted by daily conflict and the misery that brings.
"I met with Bill Clinton and you got a sense he was really enjoying himself and Northern Ireland is one of the things he's most proud of. I also chatted with Hillary and found it really inspirational that Northern Ireland is still of such global interest."
She added: "We can build on all of the lessons learned from the Belfast Good Friday Agreement to help end violence elsewhere."
PeaceRep's world-leading research on conflict resolution uses big data analytics to track peace and political processes agreed worldwide – offering a framework for others engaged in peace processes to use to end war.
"At the end of WWI, apparently a young soldier was tasked with drafting the Armistice Agreement simply because he was good at using languages," said Prof. Bell.
"I once saw an interview with his grandchildren talking about how the first thing he did was he went out and found old examples of peace deals because he'd never done anything like that before.
"And I was thinking 'That's exactly what our database provides'. We are pulling together high-quality research and data to learn lessons from the past and bring peace by supporting negotiations to be better.
"Ultimately, peace agreements need to be written down in legal language that everyone agrees to abide with. We're giving mediators and negotiators a chance to analyse how other people have achieved something rather than having to work totally from scratch.
"We feed all of this learning back into ongoing attempts to end conflicts by working with FCDO country teams, UN mediators and local representatives to help find the path needed to implement it and deal with bumps on the road to peace."
Prof. Bell added: "Borrowing from the famous Ronald Reagan quote 'There is no limit to the amount of good you can do if you don't care who gets the credit', it's hard to cite examples of our direct successes in a public way.
"This is because there are often sensitivities which mean any hint of foreign influence can have a negative impact on negotiations. We offer a resource that gives country-based peacemakers the ball and allows them to run with it.
"So rather than making big boasts we are just happy to have helped nudge things along in the right direction.
"I can say that PeaceRep was publicly referenced in the negotiations leading up to the Colombian Government's historic peace deal with the FARC."
Prof. Bell says her Northern Ireland background is an advantage in her role, which has seen her travelling to many of the world's most hazardous trouble spots, including Bosnia, Lebanon, Gaza and Papua New Guinea.
She said: "I work with conflicts that are even more difficult and deadly than Northern Ireland, so I don't want to exaggerate how my background helps with my work.
"But I do find that people engaged in trying to find solutions to conflict, clock my accent and recognise that I have insight of the Troubles and the peace deal to bring to the conversation.
"I have found that sometimes when a meeting has been very fraught, I have jettisoned the academic talk and used my personal experience to stop a whole meeting from falling apart. It does make a human connection with people if they see that you understand something of their experience."
Asked about her most dangerous assignments, Prof. Bell said: "When I'm asked when I've been scared, it's hard because I think I look at things a bit differently having grown up in Northern Ireland through a conflict.
"I've been to many countries at the height of their conflict, or just after it, from 1990 onwards.
"Sometimes you are scared but you are not seriously at risk. For example, I remember sitting once in a hotel in Beirut and I could hear gunshots. When I asked what was happening, I was told it was either fighting in the hills or people celebrating a marriage.
"For most people in the UK, you'd be anxious to know which, but their everyday experience knew that even if it was fighting, it wasn't likely to put us at risk."
And she added: "Ultimately, I always feel like the scary moments for me are so much less than what the people actually living there permanently are having to deal with.
"And seeing how peace has transformed lives in Northern Ireland means that I know that PeaceRep's work really matters."
FCDO Minister Lord Ahmad said: "PeaceRep is producing world-leading research and playing an extraordinary role in delivering peace and security across the world.
"The UK Government is proud to be supporting the team based at the University of Edinburgh and I was fascinated to learn how they are using big data analytics to help peacemakers learn lessons from previously negotiated peace deals, not least the Belfast Good Friday Agreement.
"PeaceRep's database is now the go-to site for mediators embarking on the difficult process of opening dialogue to stop violence and plot a path to peace.
"It is a wonderful example of Scottish-based academic institutions leading and collaborating within an international consortium to offer people caught up in conflict a better and brighter future."