Patients lying on "urine soaked sheets" and "bloodstained pillows" for several hours have been highlighted in a report raising serious safety concerns at the Royal Infirmary of Edinburgh
Inspectors observed "distressed" patients on trolleys without blankets to cover them and discovered a number of fire safety risks as a result of "overcrowding" in the hospital's emergency department – which was found to have been operating at up to 300% over capacity..
The findings of two unannounced inspections by Healthcare Improvement Scotland (HIS), the first of which was carried out between February 20 to 22 this year, were published on Thursday.
NHS Lothian has "sincerely apologised" to patients and says it accepts the findings of the report, which highlighted 13 areas for improvement.
An action plan has been put in place by the health board to address the concerns.
Giving examples of patient safety failures, the report describes "a patient observed in a corridor area on urine-soaked sheets, with another patient on a blood stained pillow for several hours before this was changed".
The report continues: "Another example was a very visibly distressed patient who had removed their outer clothes leaving only their underwear in place whilst being cared for on a trolley beside the nursing station. Other patients witnessing this also appeared distressed.
"When we highlighted the situation to nursing staff they explained they were already aware of the patient and that the patient had received pain relief.
"However, no further action was taken to support patient dignity."
In other areas, inspectors reported finding "medicines on the floor under several patients' beds".
Staff also reported incidents of "violence and aggression" towards them from patients and, inspectors noted that the safety concerns highlighted in the report were shared by staff.
Concerns about overcrowding also resulted in staff having no space to move "in any direction" in both corridors and nursing stations, according to the report.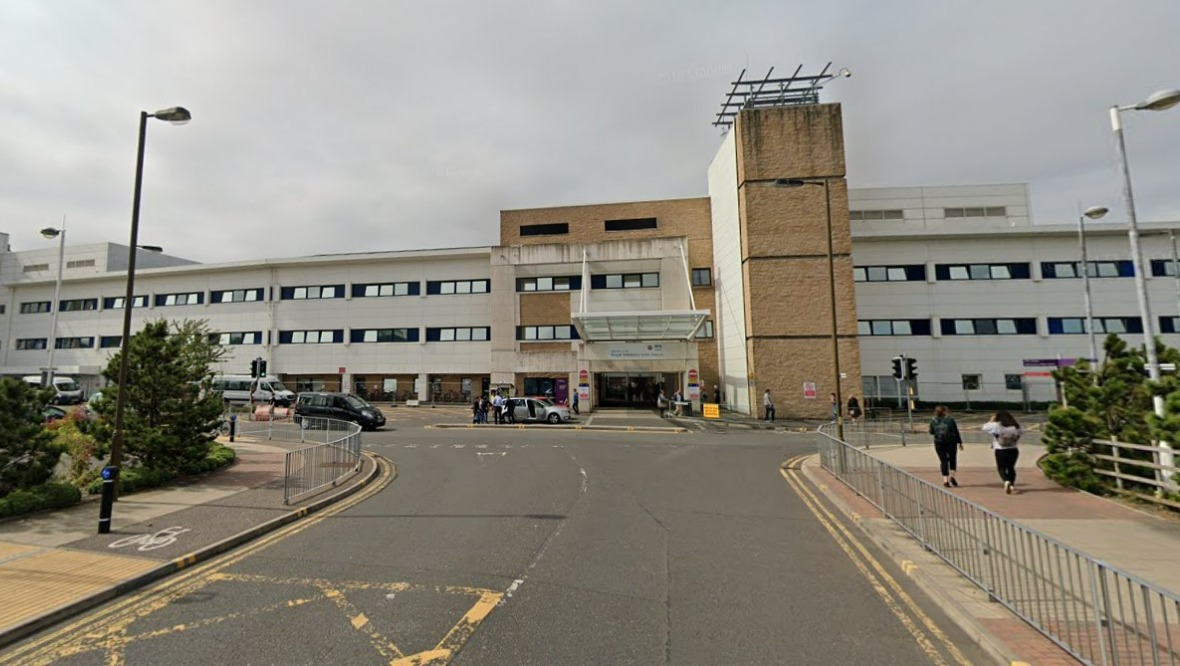 A fire safety inspection carried out in October 2022 as a result of concerns of overcrowding indicated that the number of patients must be reviewed to keep corridors free.
However, senior managers confirmed to inspectors that twice yearly fire evacuations which had been outlined in the fire evacuation plan "had not taken place due to the department being so busy".
The report also stated that the patient safety concerns raised by inspectors had also been raised by staff.
Incidents reported by staff included: "reports of violence and aggression towards staff; medication errors including patients receiving the wrong medication, experiencing delays in receiving their medication or not having regular medication prescribed; and delays in care and diagnosis."
The report added: "There were also several incidents where patients had fallen, some of these from the trolley where they were being cared for."
The hospital's waiting periods were also significantly below the national average with 315 patients found to be waiting over 12 hours during the week of the first onsite inspection.
Across NHS Scotland, for the week ending February 26, 2023, 64.5% of patients were seen within the four-hour target with 1,275 patients waiting over 12 hours. In the Royal Infirmary of Edinburgh 41.4% patients met the four-hour target with 315 patients waiting over 12 hours.
Scottish Government targets state that 95% of patients should wait no longer than four hours from the point of arrival at A&E.
The report also stated that pressures on the hospital's emergency department were found to be compounded by GP referred patients being sent to A&E.
Concerns for staff wellbeing were also highlighted as a serious concern.
The report highlighted evidence reported by staff of incidents of "violence and aggression".
In his escalation letter to the health board, Mr Pearson noted that staff were "openly critical of senior leaders in their communications with inspectors" as a result of safety concerns they had previously highlighted "not being addressed".
Nursing staff also told inspectors they felt "overwhelmed" while many were described by management as "less experienced or newly qualified".
However, the report also stated that both patients and relatives described "kind and compassionate care" to inspectors.
It said: "In the majority of areas inspectors observed respectful and caring interactions between staff and patients, including instances when medical and nursing staff had taken time to provide detailed information to patients about their care."
'Major improvement drive'
Following the inspection HIS chief executive Robbie Pearson also wrote a formal escalation letter NHS Lothian in March 2023 highlighting "serious issues".
The letter, addressed to the health board's chief executive Calum Campbell, said: "Inspectors observed examples of patients being cared for on trolleys overnight and for extended periods of time, despite being noted to have skin damage.
"Inspectors were also unable to ascertain through documentation, or in discussion with staff, if patients with extended stays in the department were receiving their own prescribed medications at the correct intervals or dosage.
"In addition, staff appeared to have difficulties in locating patients due to the frequent movement of people around the department into corridor areas, or the side of the nursing station."
HIS sought assurances from the health board that action would be taken to address the issues raised in the escalation letter prior to the publication of the inspection report.
An action plan has been put in place for improvements at the hospital, signed by both Mr Campbell and NHS board chair Professor John Connaghan CBE on May 9.
The health board also said improvement works began in February and a "major improvement drive" is underway following one of the busiest winters on record.
Responding to the report, Alison Macdonald, nurse director, NHS Lothian, said: "We accept and acknowledge the findings of the HIS report and we sincerely apologise to patients for longer than usual waiting times in the ED and a poorer experience of care.
"We had already begun our own improvement work when the inspectors carried out their first visit. When they returned for their follow up, it was clear to see that improvements had already been made, but more was required.
"It's important to bear in mind that the inspection covered 13 wards, intensive care and the Emergency Department, and inspectors highlighted a number of areas of good practice relating to compassionate care, visible and supportive leadership, and a strong focus on patient care needs which we were encouraged to read."
The statement added: "We recognise too that there is much work to be done. Safety and wellbeing of patients and staff are our main priorities, and I want to reassure them that we are doing everything possible to improve.
"We value and respect all of our teams and the hard work and dedication they bring. We are introducing new ways of working and reforming services to help better support our staff in their roles delivering patient care every day.
"There has been unprecedented pressure on our healthcare systems, which has been relentless in recent times, as the inspection team was able to experience first-hand.
"Occupancy of the hospital was over 100% when the inspection team visited, which has been a common experience in recent months. We are now focussed on our improvement and safety action plans."