Hundreds of families visit Kilduff Farm every year for their sold-out pumpkin patch festival.
Lucy Calder runs the farm with her husband Russell.
Last year as the pair were preparing for the Halloween season, their daughter Louisa was taken into hospital to have her appendix removed.
After seeing all the children who were missing out on Halloween, Louisa decided she wanted to help the other kids in the hospital get into the spirit of the season.
Lucy said: "We were in hospital with Louisa just about two or three weeks before the pumpkin festival last year was about to kick off.
"She had appendicitis, so she was in for an operation for about five days and the hospital were incredible, the hub was incredible and they filled in during a pretty tricky time.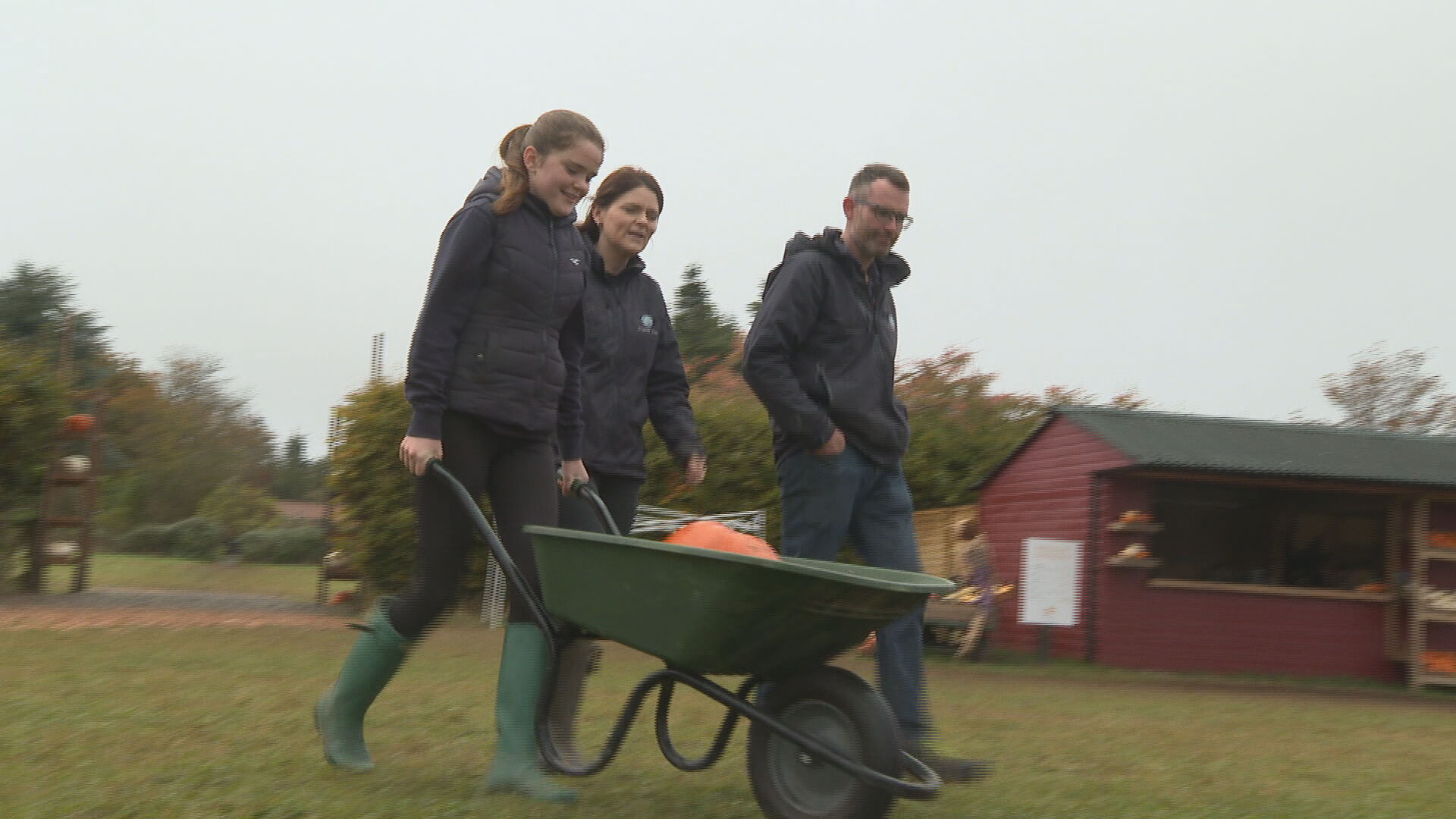 "It was actually really Louisa's idea (to donate the pumpkins), she felt sad that other children couldn't go."
Louisa, 11, said: "I thought it would be nice to give them opportunities that they might not usually get because we get all these lovely opportunities but unfortunately they can't get some.
"Even though it's just a small thing, it can make them happy and feel more included."
Now the Edinburgh Children's Hospital Charity hub has been transformed into a miniature pumpkin patch to allow the children to pick and decorate their very own pumpkin within the hospital.
Samantha Laidlaw, the charity's hub coordinator, said the donations have brought a huge smile to lots of children's faces.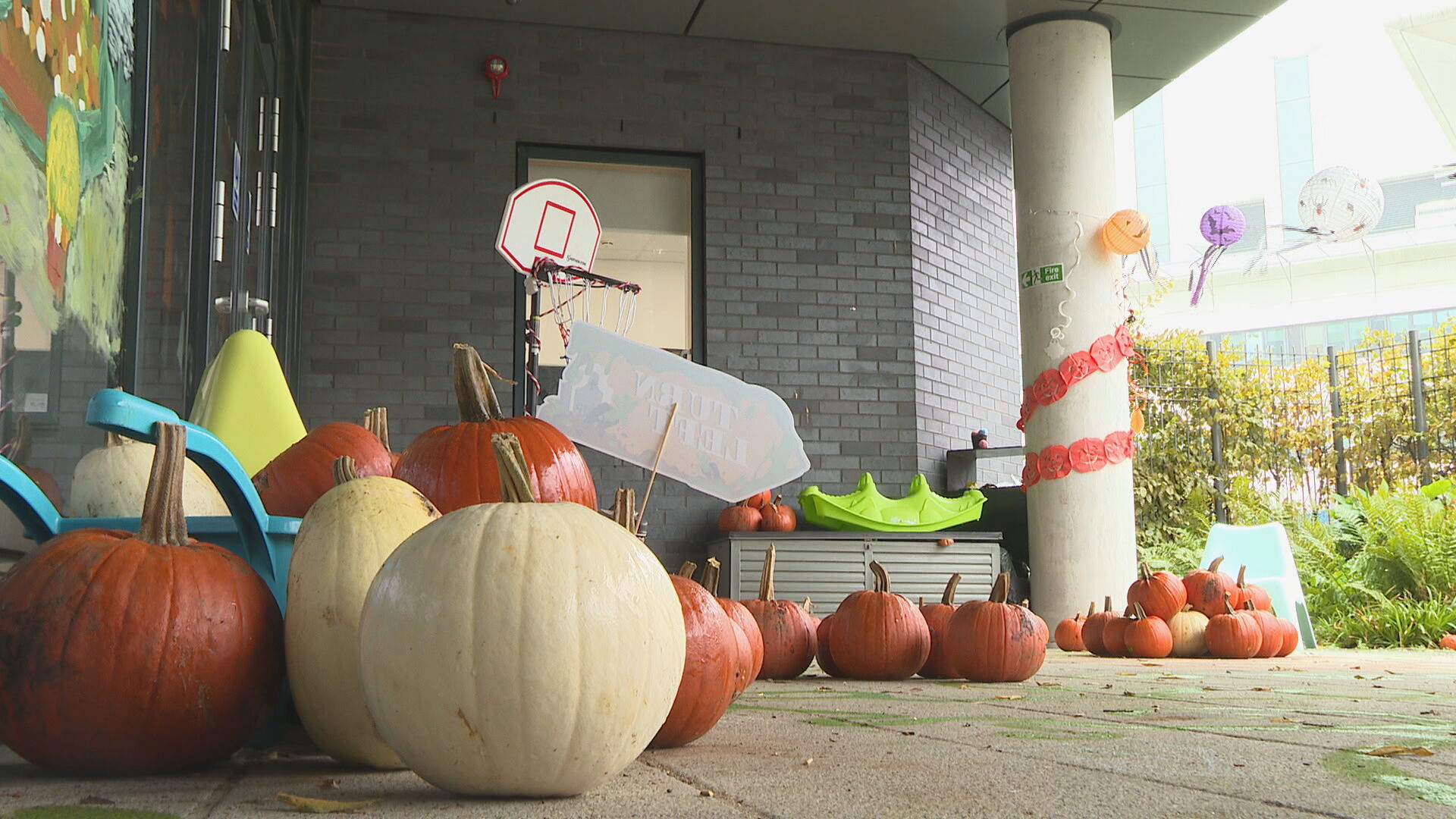 She said: "When you are in hospital you are maybe feeling isolated, you're in your room, you can't really do anything.
So having a pumpkin patch where the young person is feeling motivated to get out of bed, to make that effort to come down here, I think that is so important.
"When they do come here, they can choose their own pumpkin and we can take it inside and paint it. Most importantly mum or dad can sit, relax and have a cup of coffee or just someone to chat to because it's very isolating for the parent as much as the child."
Hannah Palmer, 13, has spent a lot of time in the sick kids this year and loves getting dressed up for Halloween.
But that doesn't mean she's had to miss out on the fun activities this time of year brings.
"It gives you a sense of relief that if children who are in hospital for Halloween, if it's their favourite time of the year, they can still celebrate Halloween whilst being in hospital – so it kind of makes me happy," Hannah said.
"It's a safe space, because when you're in a ward all you can hear is beeping and beeping or nurses talking about medical stuff but then when you come to the hub, there's peace and quiet."
Hannah's mum, Lorna, added: "She's in a wheelchair now, so it's a bit more difficult to push a wheelchair around the pumpkin patch so she can do it all here as well. She loves it."
STV News is now on WhatsApp
Get all the latest news from around the country
Follow STV News
Follow STV News on WhatsApp
Scan the QR code on your mobile device for all the latest news from around the country