The Duchess of Cambridge kept her promise to wear a pink dress as she met a young girl living with cancer for tea at the Palace of Holyroodhouse.
Mila Sneddon, from Falkirk, has leukaemia and has been going through chemotherapy, leaving her with a weakened immune system.
Her dad Scott had to keep working despite the pandemic and made the decision to move out of the family home to protect his then-four-year-old daughter from the virus.
The pair were forced to speak through the kitchen window and would give each other air-hugs to stay connected.
A photograph of Mila communicating with her father through the window was one of the stand out images in Hold Still, a photography competition run by the Duchess which featured striking images of life during the pandemic.
On Thursday, the Duchess of Cambridge told the youngster she wanted to give her a "big squeezy cuddle" as they met for tea.
In a phone call with the Duchess earlier this year, Mila said her favourite colour was pink and Kate promised to wear a pink dress when they finally met.
The five-year year-old was joined by her father and mother, Scott and Lynda Sneddon, and big sister Jodi when meeting the Duchess.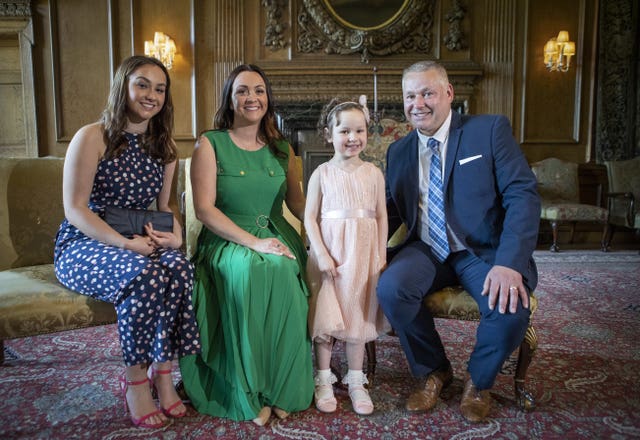 Kate praised the little girl who was dressed head-to-toe in pink with matching headband, dress and shoes.
She said: "I love your dress, can you do a little twirl – and your shoes."
Mila was eventually reunited with her father after Scott was placed on the government furlough scheme, which allowed him to go into a period of isolation before being given the all clear to move back home in May last year.
Scott surprised his daughter who thought her dad was just coming to the garden for a catch-up as normal.
In footage of the special moment, Scott tells Mila as he stands outside the house: "I'm going to come home today."
As soon as Scott walked through the door, Mila's face lit up and the pair shared a tearful, long-awaited hug.