Storm Arwen has been given the Met Office's highest warning level and "has the potential to bring the most damaging winds we've seen for years".
Motorists have been warned to "not travel under any circumstances" while the red warning is in place in eastern Scotland from 3pm on Friday until 2am on Saturday.
Forecasters warned winds as fast as 90mph could damage buildings, bring down power lines and disrupt travel from Friday afternoon.
Since the warning was issued, roads, bridges and railway lines have been closed, with delays to buses, trains, ferry services and flights.
SSE has reported more than 150 unplanned power outages across Scotland and the Met Office has warned that mobile phone service could be disrupted.
There is a particular threat to sea front homes and businesses, with large waves and debris being thrown on to coastal roads.
The red warning for the first named storm this winter is in place along the eastern coastline and also covers parts of northern England.
Superintendent Simon Bradshaw, from Police Scotland's road policing unit, said: "The high winds being experienced have led to red weather warnings coming into effect and as such, any motorist within these affected regions should not travel under any circumstances.
"If you are currently within more in-land areas of these regions, then amber and yellow warnings are also in place and we are asking that you do not journey out unless for essential purposes and if you are doing so, to be mindful of the challenging conditions you will face.
"A number of local road closures and bridge restrictions may also be implemented during this period of adverse weather and we would advise the public to consult the Transport Scotland and Met Office websites for continuous and updated information."
There is a particular threat to sea front homes and businesses with large waves and debris being thrown on to coastal roads.
STV meteorologist Sean Batty warned that Arwen "has the potential to bring the most damaging winds we've seen for years".
He added: "That's especially since the strongest gusts will affect the more built up areas of the east coast, rather than the Hebrides and Northern Isles where we do see winds of this strength from time to time in the winter months.
"Red warnings are the highest level of warnings that we have, and are therefore extremely rare. The last red warning that was issued in Scotland was back in February 2018 for snow, but the last time we had a red warning for strong winds was in 2016 for Orkney and Shetland."
A yellow weather warning has been issued across the rest of the country, where power cuts, road closures and damage to trees and structures are all possible.
Much of the Highlands has been warned to expect snow and high winds, with a chance that some could be stranded if caught up in blizzards.
The Met Office said it is possible that some communities might become cut off in the latter half of the day, with every school in Orkney closing for the day at 1pm.
BEAR Scotland, which looks after the trunk roads in the north-west, north-east and south-east of Scotland, said it was primed to tackle whatever weather conditions Storm Arwen brings.
Restrictions may be required on bridges such as Skye Bridge, Kessock Bridge, Dornoch Bridge, Cromarty Bridge, Friarton Bridge and the Forth Road Bridge.
The A1 has been closed to high sided vehicles after winds speeds of up to 52mph were recorded near Torness.
Vehicles including motorbikes, caravans and cars with trailers and roof boxes will be diverted via the A68.
Eddie Ross, BEAR Scotland's operating company representative for the north-west, said: "We are fully prepped and are closely monitoring conditions and will act quickly when required.
"We remind members of the public to check before travelling. Traffic Scotland is a great source of the latest journey information and advice. Drivers of high sided and wind-susceptible vehicles such as caravans and trailers should take particular care and check for restrictions."
Network Rail said the storm turned out to be "worse than forecasted", adding there had been several incidents of trains striking trees and branches.
Many travellers were left stranded after routes abruptly stopped due to the weather conditions, with some forced to travel hundreds of miles by taxi after alternative transport was unavailable.
On Friday evening, ScotRail said there would be no trains running on the following routes:
Edinburgh – Dunbar/North Berwick
Edinburgh – Dundee/Perth
Edinburgh – Fife
Perth – Inverness
Dundee – Aberdeen
Inverness – Aberdeen
Inverness – Wick/Kyle
Dumbarton Ctl – Balloch
Trains travelling in and out of Glasgow Queen Street station were also disrupted after a fallen tree was discovered resting on power lines in Bishopbriggs.
Speed restrictions were put in place earlier in the day on services between Edinburgh and Aberdeen, Aberdeen and Inverness and the Far North line.
The East Coast Mainline and North Berwick branch lines were closed from 5pm until end of service on Friday.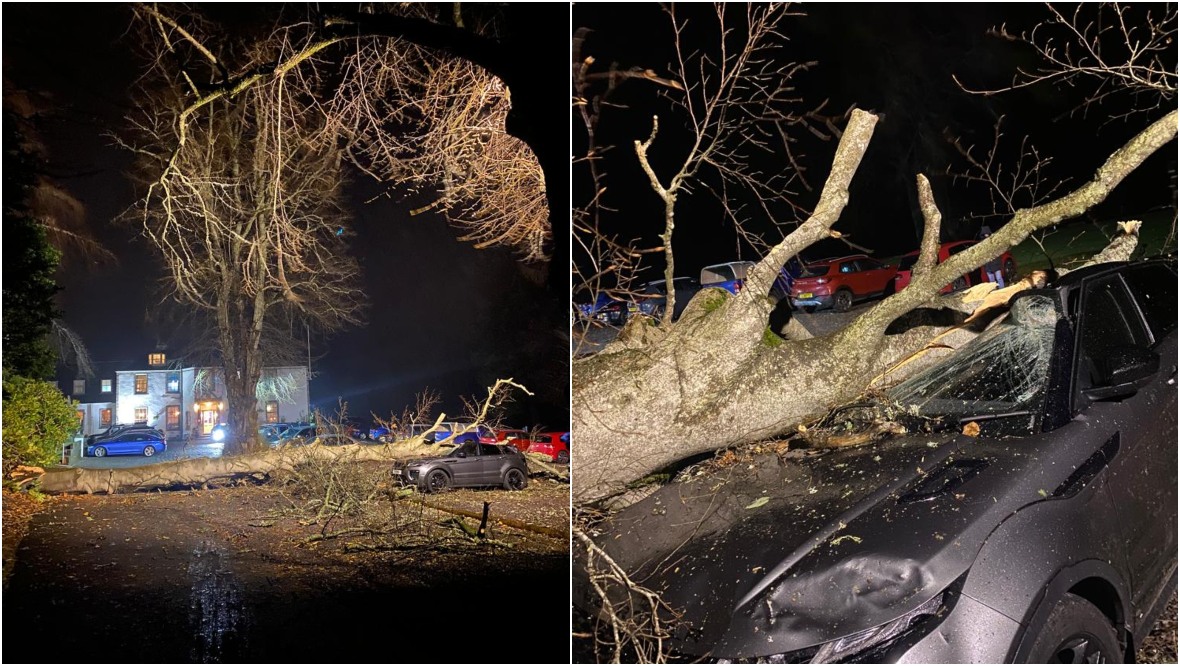 In Aberdeenshire, a number of cars were crushed by falling trees and branches at Banchory Lodge Hotel.
The Scottish Fire and Rescue Service have urged the public not to contact them over fallen trees and debris on roads after being inundated with calls.
A SFRS spokesperson said: "Our Operations Control rooms across the country are receiving a higher number of calls than usual this evening, Friday, November 26 due to the severe weather as a result of Storm Arwen.
"We ask the public for their co-operation at this time and remind them that all non-emergency calls relating to trees and other road debris should be made to the local authority for the area."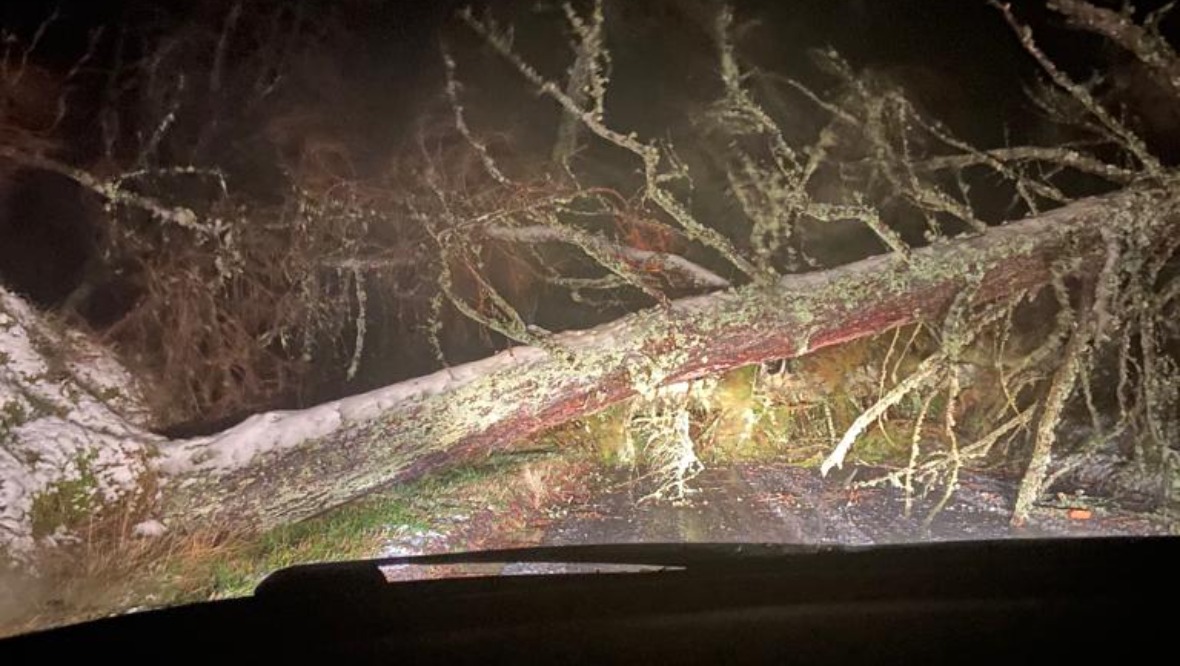 Meanwhile events were cancelled following warnings not to travel, with Disney on Ice at the P&J Live in Aberdeen forced to abandon Friday's show.
The venue said ticket holders will be issued with a full refund.
The warnings in full:
A red weather warning for wind is in place along Scotland's eastern coast from 3pm on Friday until 2am on Saturday
A yellow weather warning for wind is in place across most of the country from 9am on Friday until 6pm on Saturday
An amber warning for Storm Arwen is in place across the east coast from 3pm on Friday until 9am on Saturday
A yellow warning for snow is in place across much of the Highlands from 2pm on Friday until midnight
Transport minister Graeme Dey said: "The first storm of the winter period, Storm Arwen, is set to impact Scotland on Friday and Saturday.
"The whole country is going to see blustery conditions, but the Met Office is telling us that eastern parts of Scotland in particular are going to see some difficult weather."
"I would urge motorists to check the Met Office and Traffic Scotland websites and social media before setting out on their journey, particularly in those areas most affected by the predicted adverse weather."