The summer holidays should be a happy, carefree time for children to enjoy a break from school and quality time with family and friends.
But for many parents and carers, those weeks are among the most stressful of the year.
For those who rely on free school meals, there's the worry of spending extra money on food.
And then there's the pressure of keeping the children occupied, and giving them experiences they can talk about with their classmates in the new term.
The Wee Haven Youth project, based in the Wester Hailes area of Edinburgh, has a packed summer timetable to help support families through this time.
Teenagers have been getting the chance to go on daytrips to attractions such as the Time Capsule waterpark in Coatbridge and indoor rock-climbing centre Alien Rock in Newhaven, Edinburgh.
For 14-year-old Billileigh Sutherland and 13-year-old Logan Ramsay, the activities have been a great way of punctuating a long summer, but they're conscious of how much these things can cost.
Billilleigh said: "Now I'm a teenager, I like to go out and do loads of things, and my dad, because he's a single parent, doesn't like giving me money all the time."
She's already thinking about getting a part-time job "to learn the ways of having to earn your own money".
Logan, who is one of four children, is thinking about that too. He says the youth group – otherwise known as WHY – "is the best project about".
WHY is also organising family day trips this summer, to areas including Burntisland and North Berwick.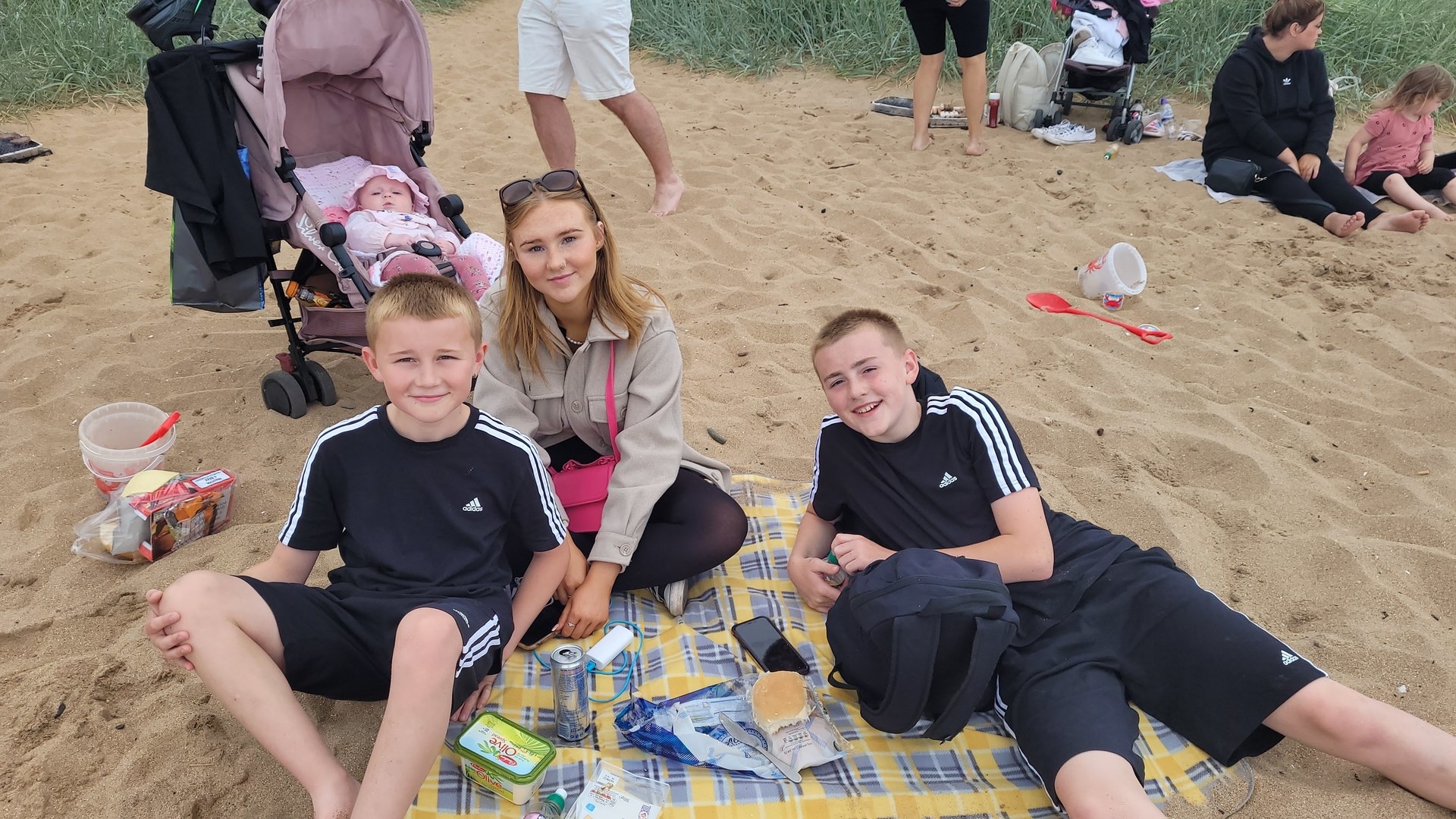 Kevin Brown, who co-founded WHY four years ago, told STV News he wants the youth project to be a "home away from home".
He said: "We're really trying to remove the financial barriers for local families in Wester Hailes. We do our best to make sure we can support the home as much as we can, but that comes from us mostly signposting parents on to further support."
That's where other services such as the Edinburgh School Uniform Bank (ESUB) come in. It has steadily grown since it started 2015, and recently moved into a bigger premises due to demand.
In the past 12 months, ESUB has given specially selected bundles of new clothes to more than 2000 children in the city.
Trustee Margaret Civval said: "I think that there's an assumption that families are coming to us because they're spending money 'stupidly'… That's not what it is – there just isn't enough money to go around."
The service is discreet – it takes referrals from social workers and charities working directly with families.
Jackie Law works for charity The Circle. She's based in two primary schools in the north-east of Edinburgh, supporting families "from all different walks of life".
"For me it's really important for both the schools and children to be wearing uniforms, because then they're the same as everybody else, they're part of the community feeling of the school," she said.
ESUB operations assistant Clare Fallas tries to get the best value on clothes – but she's recently noticed a worrying trend in some shops.
She said: "The staff [in one retailer] were down on their hands and knees, tearing off perforated prices on labels, and putting new price stickers on them. Leggings, which we buy all the time, were £2.80 – they've now got a £4 sticker on them."
ESUB is running its Sponsor A Child scheme again this summer, where supporters are invited to buy a set of uniform for a child and hand it in.
Other individuals and businesses have donated money to the charity to help support its work.
But with the cost-of-living crisis showing no sign of abating, the team is anticipating a tough winter.
The rising cost of living will be examined all week on the STV News website and the STV News at Six.
STV News is now on WhatsApp
Get all the latest news from around the country
Follow STV News
Follow STV News on WhatsApp
Scan the QR code on your mobile device for all the latest news from around the country