Climate activists have shattered the glass casing holding William Wallace's sword at the Wallace Monument in Stirling.
The campaigners, from the environmental group This is Rigged, used two rocks to bash in the enclosure before spray painting it at around 11.30am on Thursday.
Activists said they were demanding the Scottish Government opposes all new fossil fuel projects in the North Sea and creates a transition plan for oil workers.
One smashed the glass with a rock with writing on it that read: "Whits fur ye, will no go by ye."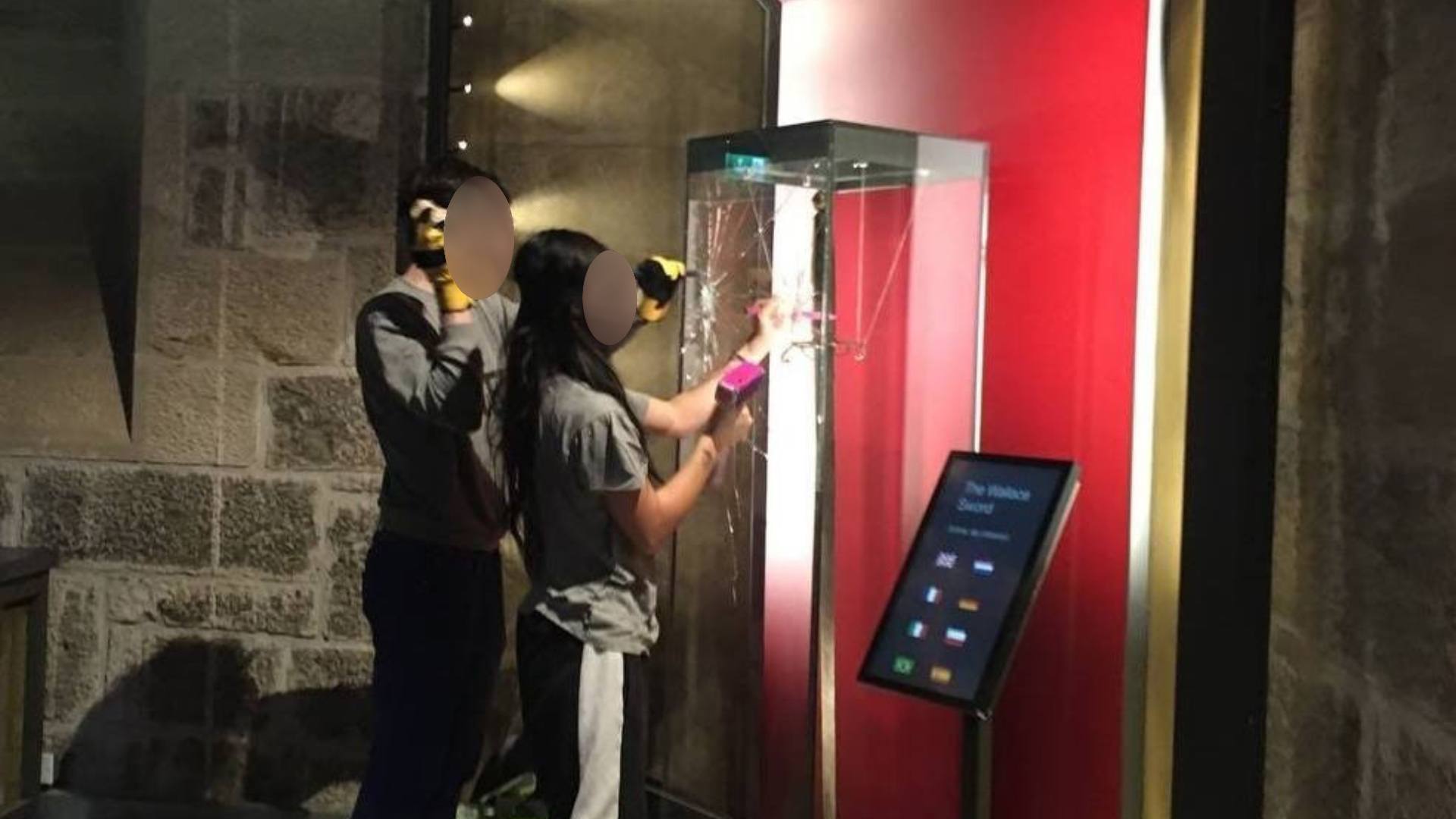 The other's stone read: "Your liberties were won by the sword, your rights were won by the suffragettes, we must once again fight for what is right, no new fossil fuels and a fair transition now."
This is a reference to the 1912 action by suffragette Ethel Moorhead.
In a statement released by the group, one member said: "111 years ago the suffragettes stood in this very spot to stand up for their rights and freedom, 600 years before that William Wallace defended our freedom with this very sword. Now it is time for us to stand up for our rights too." ​​​​​​
Another, from Glasgow, said: "I have no interest in destroying anything, but if our Government won't listen we need to make them listen.
"Holyrood continues to line their pockets with gold by not condemning the funding and licensi​​​​​​​ng of new oil and gas projects. This is Rigged but it doesn't have to be."
The National Wallace Monument is a 67 metre tower on the shoulder of the Abbey Craig, a hilltop overlooking Stirling.
It commemorates the Scots hero William Wallace and is where the two-handed sword claimed to have belonged to him is kept.
Thursday's incident took place prior to a climate protester disrupting First Minister's Questions at Holyrood, frustrating Tory leader Douglas Ross who could be heard swearing.
A Police Scotland spokesperson said: "We received a report of damage to a glass case at the Wallace Monument, Hillfoots Road, Stirling, around noon on Thursday, March 2, 2023.
"Officers attended and a man and a woman have been arrested in connection and enquiries are ongoing."
Stirling Council, which manages the site, has been contacted for comment.