A new children's hospital has finally welcomed its first patients after numerous problems caused the opening to be constantly delayed.
Clinical teams delivering paediatric outpatient services have moved into the Royal Hospital for Children and Young People in Edinburgh.
The new building will initially support the provision of a number of outpatient services, including fracture clinics, physiotherapy services and follow up appointments for patients who have recently had surgery.
The new £150m hospital, first planned in 2005, was initially due to open in 2017. But the completion date was pushed back numerous times, while staffing and maintenance costs have also soared.
Last summer, the hospital was just days away from opening. However, concerns over ventilation led to further delays.
In March, former NHS Lothian chairman Brian Houston accused Health Secretary Jeane Freeman of lying over circumstances surrounding the last-minute delay.
Ms Freeman said she fundamentally disagreed with Mr Houston's "reported assertions and accusations".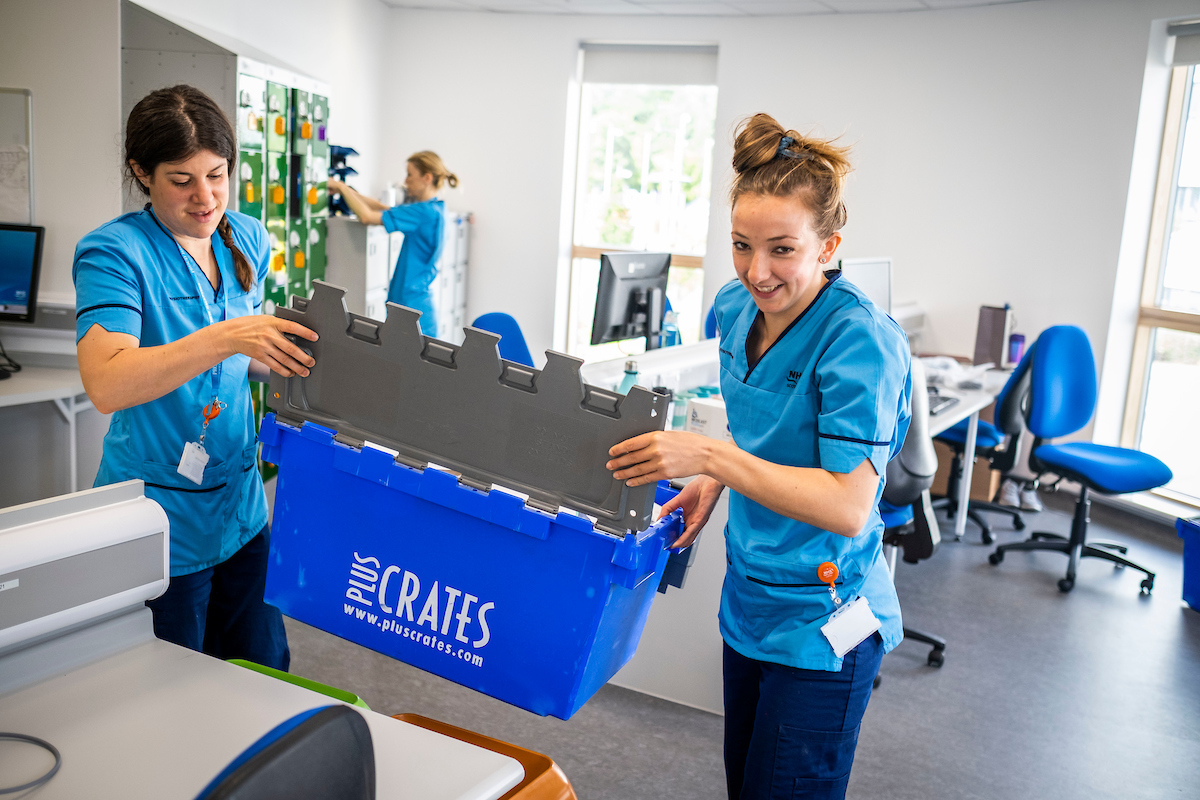 Dr Edward Doyle, associate divisional medical director for women's and children's services at NHS Lothian, described the new hospital as a "fantastic facility for patients, their families and our staff".
He said: "I know how much this move means to my colleagues, so it is wonderful to see the first clinical teams unpacking and settling in to their new home ahead of welcoming their first patients."
NHS Lothian says the hospital will deliver paediatric clinics in a way that fully adheres to and supports social distancing, while freeing up space at the existing Royal Hospital for Sick Children site.
Susan Goldsmith, finance director and executive lead for the project at NHS Lothian said: "Seeing the first teams unpack and settle into their new home with such enthusiasm and excitement is really fantastic.
"I know that across Edinburgh and the Lothians lots of people have a connection to the Royal Hospital for Sick Children, and for many the site will always hold a special place in their hearts.
"As we open the doors to the new Royal Hospital for Children and Young People and welcome our first outpatients, I hope however, that it will be evident just how great this new facility is, and how much of an impact it will have for future generations.
Timeline of delays and disruption that held up the hospital's opening:
September 2010: A nine-month delay is caused by disagreements over a land deal with Scottish Enterprise concerning a new car park.
November 2010: A financial roadblock as the Scottish Government insists the project will have to be funded by the Scottish Futures Trust.
May 2012: Health chiefs consider scrapping plans for the new building altogether after further delays because of issues over land.
February 2015: Construction begins.
August 2016: Two of the companies working on the new site enter liquidation, forcing the official opening date to be pushed from autumn 2017 to spring 2018.
December 2017: Further liquidation of a sub-contractor, poor weather and issues surrounding piling works cause another delay, expected to be around six months.
June 2018: Burst pipes leads to flooding at the new site causing significant damage.
November 2018: Independent assessors declare the hospital has failed to meet specifications including problems with the drainage system and a need for more fire alarms.
July 2019: Health secretary Jeane Freeman calls off the move from the Sciennes Road site to Little France five days before the official opening day due to issues with the ventilation system in the critical care unit.
August 2019: Ms Freeman is unable to confirm whether parts of the £150m building will have to be torn down due to issues with drainage.
September 2019: It's revealed the hospital won't open until the following autumn at the earliest.