A mother whose daughter has complex needs says she fears they'll become homeless as a result of an extortionate rise in their energy costs.
Carolynne Hunter from Clackmannanshire says monthly bills at her home in Tillicoultry are due to go up in April by more than £550.
With daughter Freya requiring numerous pieces of equipment to keep her comfortable, Carolynne says she faces an annual energy bill of £10,000.
She fears the high cost will mean the family will have to leave their home and Freya forced to live elsewhere.
"I've fought for twelve years of Freya's life to give her a comfortable life and you know, make sure she survives and she's happy," Carolynne told STV News.
"And now I'm thinking, I'm going to lose her. And then we probably will have to move out of this house and we'll be homeless because I can't afford to pay £855 a month."
Carolynne is calling for more support for vulnerable people who are struggling to make ends meet.
While energy company Scottish Power was sympathetic with Carolynne's situation, in a statement a spokesperson said the price hike in her bills was due to Ofgem's recent price cap increase and her energy usage.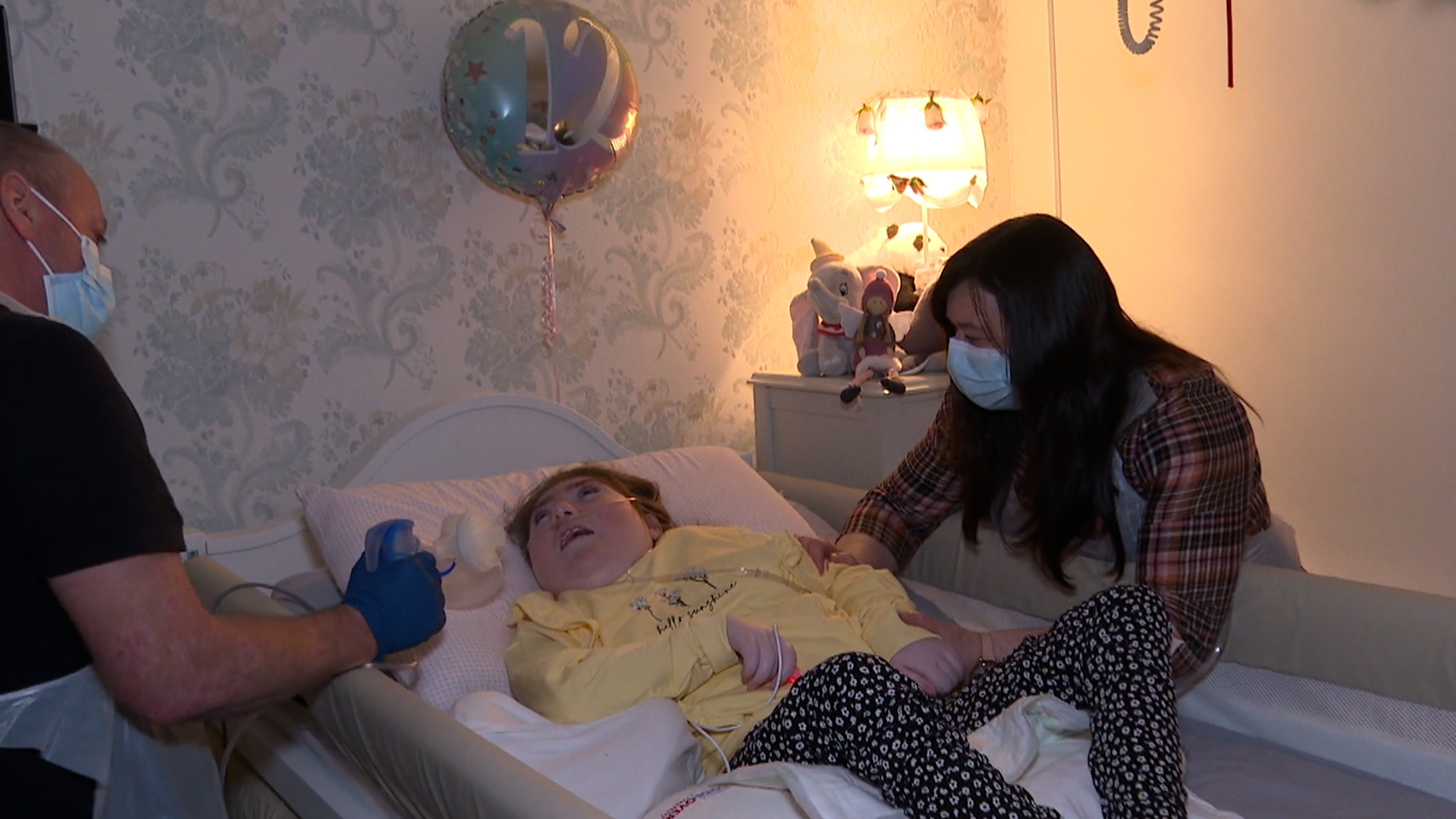 The spokesperson said: "Supporting customers in vulnerable circumstances is one of our priorities and we've been working closely with Ms Hunter over the last four years to support her and her family.
"This includes ensuring she was on the lowest available tariff for her energy use and also clearing a significant share of a previous outstanding balance via the ScottishPower Hardship Fund.
"As she is on the standard variable tariff, we've notified her of the changes to her billing due to Ofgem's price cap increase and her energy usage, which is high due to the size and style of her property.
'We fully appreciate her concerns about the changes in her billing; however, this reflects the volatility in the wholesale energy market and the unprecedented costs of buying energy at this time."
In February, Ofgem announced a 54% price hike for gas and electricity bills, amid warnings that millions unable to heat or power their homes could be thrown into fuel poverty.
The UK and Scottish Governments announced a series of measures to tackle the price increase, including council tax rebates and a £200 loan.
A Scottish Government spokesperson said: "Given the sharp rise in wholesale energy costs in recent months, we are acutely aware that households across Scotland – indeed right across the UK – are facing a hugely challenging increase in energy bills.
"Powers relating to the energy markets remain reserved and Scottish ministers have repeatedly called for the UK Government to urgently take further, tangible actions to support households – including a reduction in VAT, targeted support for those on low incomes and four-nations discussions to develop an effective response to the energy bill increases.
"We would urge those worried about or struggling to heat their homes to seek advice and support. Our free and impartial Home Energy Scotland service stands ready to offer this service.
"The Scottish Government is using all powers and resources available to us to support people in Scotland from the cost of living crisis. Just last month, the Finance Secretary announced a further £290m in financial support to help address the rising cost of living."
A spokesperson for the UK Government's Department for Business, Energy and Industrial Strategy said: "We understand the difficulties that Carolynne and families like hers will be facing which is why we are taking decisive action on energy bills, including the £200 reduction this autumn.
"On top of this the energy price cap continues to insulate millions of customers from volatile global gas prices."