Handstitched kilts which can sell for nearly £1000 as far away as Florida are now considered an endangered craft.
Amanda Moffet, 48, and her husband, Rodger, 58, run family business ScotClans in Leith, Edinburgh, and hope to continue the tradition before it dies out.
They sell kilts mostly made from family tartan, bought from mills around Scotland, to keep people in touch with their heritage, particularly for weddings.
Rodger started the business 25 years ago originally by selling CD-ROMs with information on Scottish clans.
He met Amanda, who helped to expand the business to other aspects of family heritage.
Mum-of-two Amanda trained in kiltmaking after their previous craftsperson left the business.
She said the kilts, which can take three days to make, often move people to tears.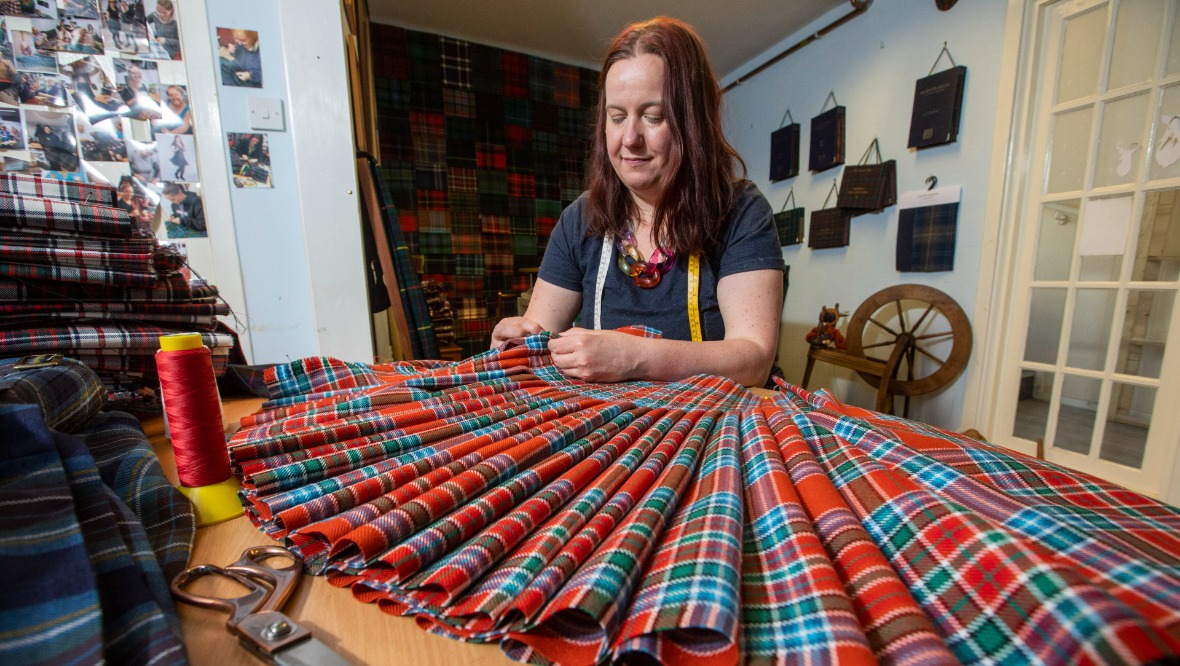 She said: "When we got together, Rodger got me involved and we expanded it from CD-ROMs to selling people their family tartan.
"We employed my sister-in-law, who was a manager, and her best friend was a kiltmaker, so we started selling kilts.
"It grew from there, and before we knew it, we were taking wheelbarrows of kilts to the Post Office to ship them off.
"The kiltmaker ended up moving away, and there were only six traditional kiltmakers left in Scotland.
"As we frantically looked for a replacement, we came across a kiltmaking course, so I went on the course myself around five years ago.
"I fell in love with it instantly and struck up a friendship with the teacher.
"She came to work with us, and ScotClans grew massively."
ScotClans sells on average about 60 kilts per month, which is a lot – considering it takes two to three days to make one kilt.
Amanda said: "We get the materials from mills around Scotland.
"That's where the tartan gets woven, boiled, and treated.
"Then we buy material and craft the kilt.
"It takes two to three full days to make a kilt, and about 16 to 25 hours to hand stitch it.
"About 99% is usually someone's family tartan, but we also do military-style pleats.
"The cost of a kilt can go from £399 up to £900, it really all depends on the tartan and the price at the mill.
"We had an order of 220 kilts from Florida once, so it can really depend on how busy we are."
Traditional kiltmaking recently got moved to the endangered crafts list in Scotland, and Amanda hopes that teaching others can continue the craft.
She added: "People don't understand that although there are many places you can get a kilt in Scotland, the craft of traditional hand-stitching kilts is dying out.
"This is when it's all hand-stitched and you don't use a machine.
"Once things become invisible, it's gone unless someone passes the knowledge on.
"If we lose this craft it takes the specialness from this item of clothing.
"I've had people crying when they see the tartan, as it's got their heritage attached to it.
"I love that it's cherished, you're making it for someone's wedding or for someone to see their heritage."