The brother of the late Captain David Seath who died running the London Marathon in 2016, has smashed an epic 60km endurance run to raise money in his memory.
Gary Seath, from Dunfermline, took part in the endurance event on Saturday along with his friend Ben Waite.
The run involved 12 Parkrun routes across central Scotland and coincided with Armed Forces Day.
Starting in Cramond at 4.25am, the team arrived at the different locations throughout the day finishing in their hometown of Dunfermline around 8pm.
It follows a 50km fundraising event in 2019 which raised over £1,500 in support of the Captain David Seath Memorial Fund.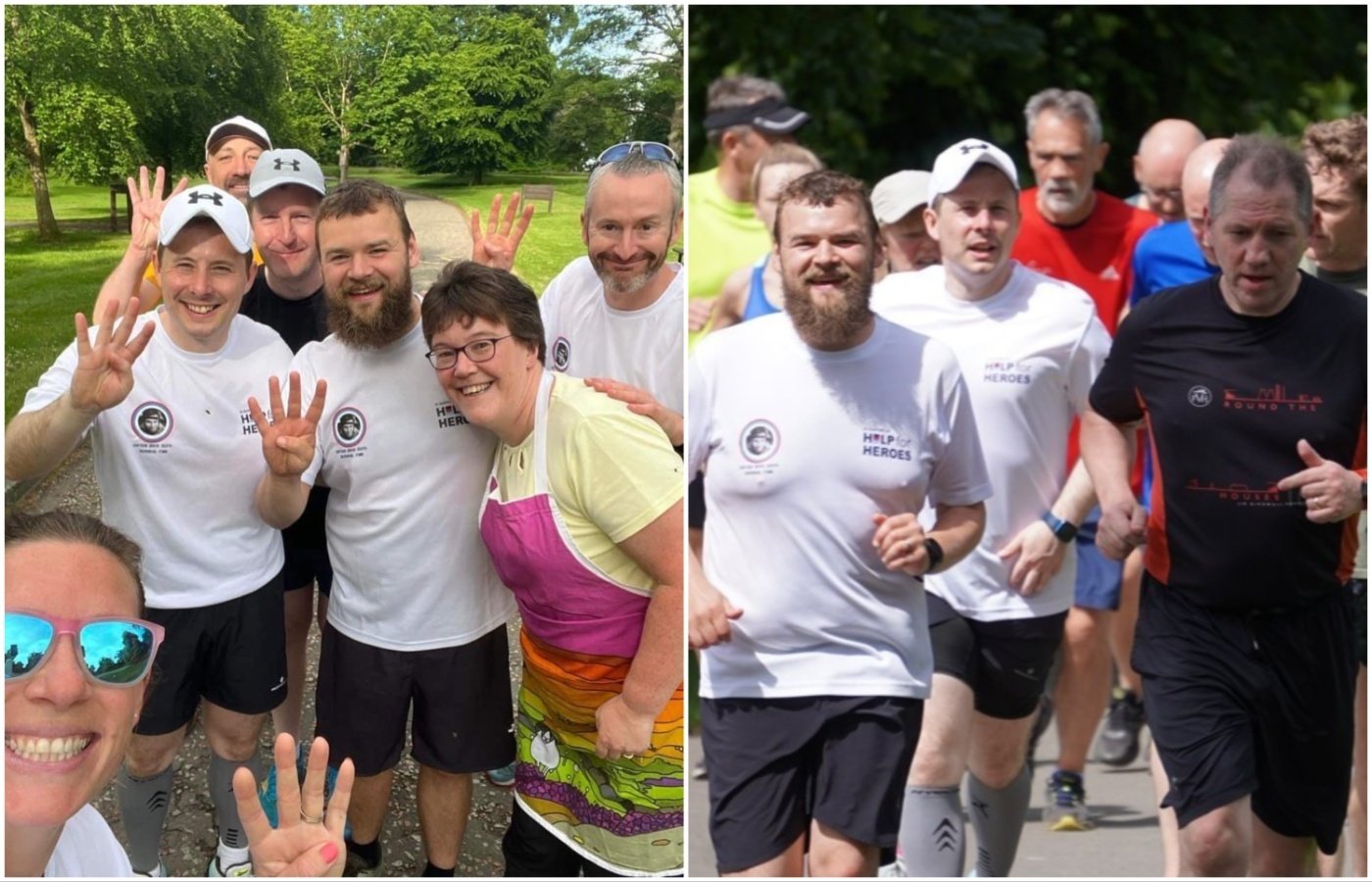 Funds raised will support veterans and their families, through Help for Heroes, the charity Captain Seath was raising funds for when he died running the 2016 London Marathon.
The 31-year-old had a cardiac arrest three miles short of the finish, near the 23-mile mark, close to Southwark Bridge.
He received urgent medical attention and was taken to St Thomas' Hospital but later died.
The fund has raised over £350,000 to date which funds vital mental health services, comradeship activities, as well as supporting veterans to develop employability skills and much more.
In memory of his brother, Gary Seath, 40, said: "David was a very popular person, whose many personal qualities left a lasting impression on so many people.
"David had a lot of charisma, presence and charm; a cheeky, lovable rogue in some cases too, who achieved much more in thirty-two years than most do in a lifetime.
"He was academically gifted and a talented, highly-competitive sportsman; he was a sprinter for many years at Pitreavie Athletics, and later played football, rugby and lacrosse too."
Of Saturday's challenge he said: "I have always enjoyed running; I used to run half-marathons, however, as I get older, I tend to run a couple of 10KMs a week. Training for an event like the 60K in a day challenge is quite different to a conventional running challenge in the sense that, although we stop to move between various Parkrun locations, it's still quite a test of endurance."
He added: "It was tough. You cannot escape the reason why we were attempting this challenge, it was a 36 mile run so ultimately, I was aware of the degree of risk, and my parents were obviously anxious.
"It was a huge mental effort, but this is what training prepares you for and it gave us that real commando-style mentality."
Last month, Gary was named winner of the prestigious Reservist of the Year Award at the Scottish Ex-Forces in Business Awards.
He received the award in recognition of his charitable work with the Captain David Seath Memorial Fund, Help for Heroes, and Forces Children Scotland, whilst also being an active member of 105th Regiment (The Scottish and Ulster Gunners) Royal Artillery.
Ben Waite was part of the 2019 '50k in a Day' challenge team and has played an instrumental role in coordinating the twelve Parkrun locations for this year's endurance event.
He said: "I'm in awe of all that has been achieved in David's memory through the fund and can't wait to take part in the 60k in a Day challenge," said Ben.
"The 50K event in 2019 was such a special day and the support, both through donations and turn out meant so much to us and here's hoping we can attract similar support this year."
Dean Williams, area fundraising manager for Scotland at Help for Heroes, said: "Dedication like this is priceless. Our charity is reliant on public donations for more than 90%of our income so we and our veterans are extremely fortunate to have Gary and Ben behind us. We honestly can't thank them enough."