A blind father has to carry his son up and down stairs several times a day while waiting for a suitable house.
Joe Moan, whose son Jack has muscle-wasting condition Duchenne muscular dystrophy, has been on a council waiting list for a wheelchair-accessible property for more than three years.
Their current home, in Polmont, near Falkirk, is unsuitable because the bathroom and bedrooms are on different floors.
Joe, 42, said "every day is a worry" and that the family had been "living in limbo".
He has already injured his back after falling over while carrying seven-year-old Jack.
"The bedrooms are up the stairs and the bathroom is downstairs," Joe told STV News.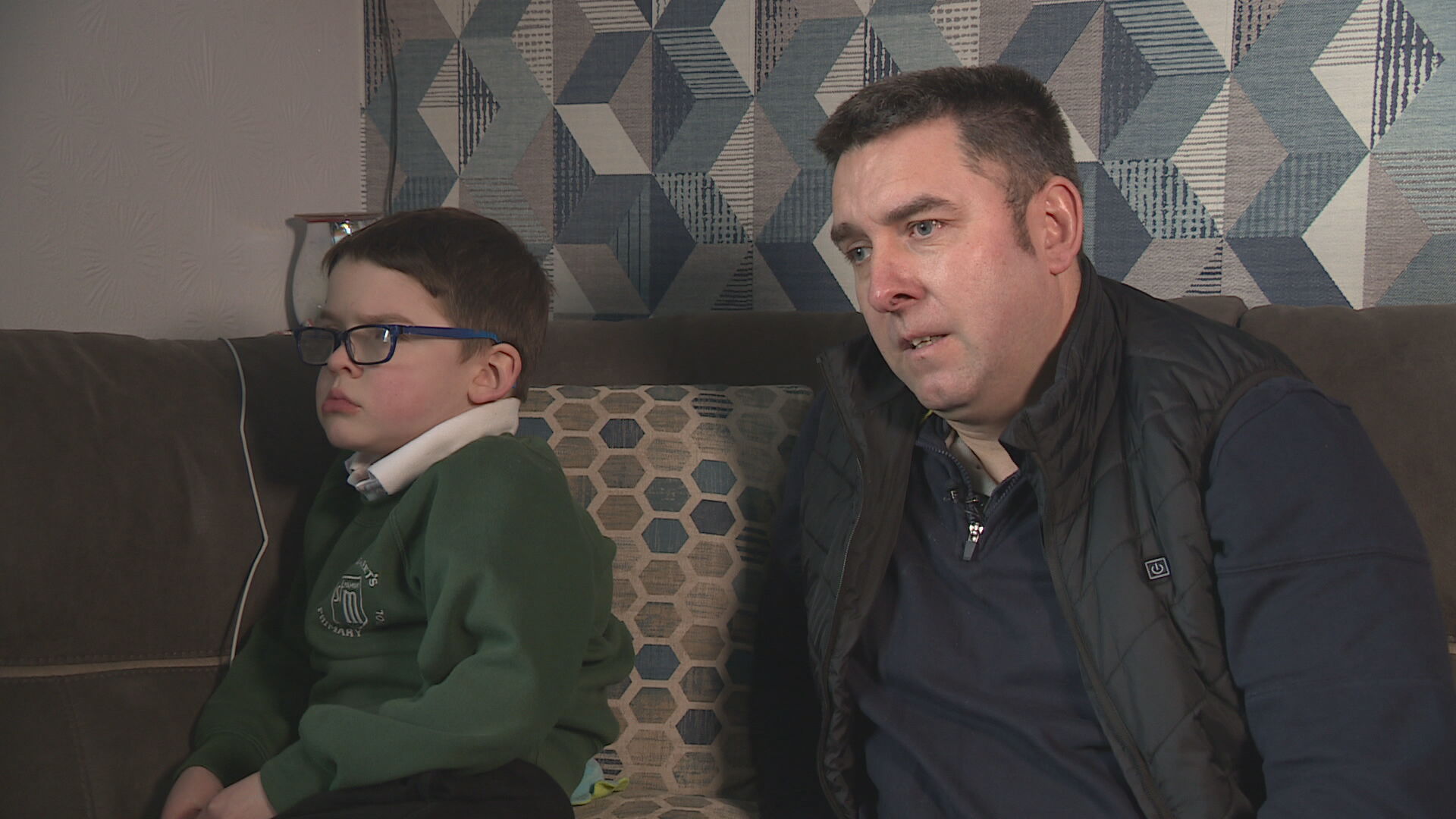 "It's a health and safety hazard. I've already fallen once – luckily Jack was okay, but every day is a worry."
Joe phones Falkirk Council every Wednesday morning for an update, and each week he's told there's nothing for them.
"It's the emotions, just knowing that we're stuck in limbo," he said.
"There just doesn't seem to be any sort of light at the end of the tunnel. We're not the only people in this situation – there's thousands of people waiting."
A freedom of information request by the Scottish Conservatives found that at least 24,000 families were waiting for an accessible house in Scotland.
The figure has risen from 10,000 – an increase of almost 150 per cent – in five years.
Further research by the charity Inclusion Scotland showed that 86,000 households in Scotland were waiting for an adaptation.
Policy manager Susie Fitton said: "Disabled people are four times more likely to be unemployed if they live in an inaccessible home.
"It creates an intolerable strain on families and carers, and creates mental health problems.
"We know of disabled children being washed at the local leisure centre or school because they can't access their bathroom at home.
"These are really serious problems for disabled people, but because they take place behind closed doors, they're invisible."
Falkirk Council said it would work with the family to find a suitable property.
A spokesperson said: "We are fully aware of the situation and sympathise with the family's circumstances.
"We carried out a feasibility study to look into extending the property to meet Jack's needs. Unfortunately, this is not possible due to the significant amount of work required.
"We will continue to work with the family to find a suitable three-bedroom adapted property that could be further adapted to meet the family's needs in the Polmont area.
"However, we are trying to encourage them to widen their areas as this could help find a suitable property sooner."
The Scottish Government said it had issued guidance to councils for delivering more wheelchair-accessible homes.
A spokesperson said: "We are sorry that Mr Moan and Jack have yet to be offered an accessible home.
"We want disabled people in Scotland to have choice, dignity and freedom to access suitable homes, built or adapted so they can participate as full and equal citizens.
"We have issued guidance for local authorities to deliver more wheelchair-accessible housing, and councils will soon have to report annually on targets for delivering wheelchair-accessible homes."