A bin man-turned drag queen has been adding extra sparkle to the streets of Edinburgh ahead of thier Fringe show.
Joe Leather swapped steel-toed boots for stilettos after working as a bin man during the Covid lockdown and has now created a drag performance about the experience.
The show Wasteman, telling the tale of "a binman who dreams of being a drag queen and the trials and tribulations they face along the way" is now set to perform at Assembly's George Square Studios at this year's festival.
The show has been described as "a love letter to hard-working Northerners and gender euphoria, based on writer Joe's real-life experiences working as a refuse loader through lockdown".
Ahead of the opening show, Joe, from Cheshire, met City of Edinburgh Council leader Cammy Day along with cleansing staff for a lively performance.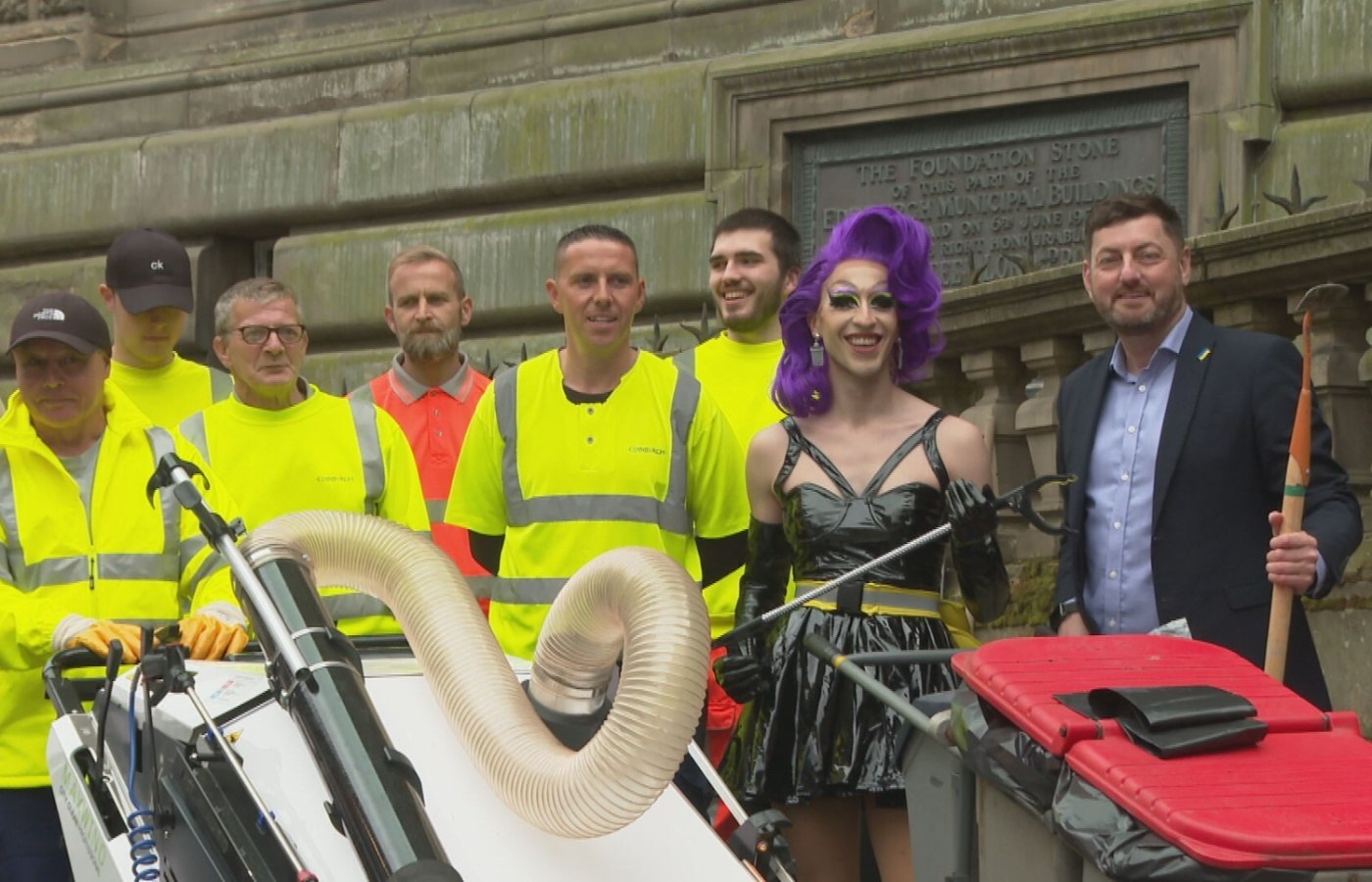 The event marked the council's deployment of additional waste and cleansing resources throughout the month of August.
Speaking to STV News, Joe said: "I thought I had to do my bit and it was my job during lockdown.
"My show Wasteman is about a binman who dreams of being a drag queen and the trials and tribulations they face along the way.
"They do such an amazing job and it's such an important thing. I think refuse collectors deserve a bigger round of applause than performers. We all have to play out part in keeping the city clean.
"It's such a beautiful city, why would you want to ruin it by throwing a coffee up in it."
He said he "loves" the Fringe and is preparing to perform at the festival for the fourth time.
Speaking of the bin strikes which started this time last year, he added: "I was just starting out with the first version of this show and I thought if only I was there to help out."
Refuse workers walked out on strike across the local authority in August 2022 in a dispute over pay and conditions.
The industrial action led to mass amounts of rubbish going uncollected from venues and creating "eyesores" at famous landmarks.
This year, the council have provided an additional team of 15 cleansing staff, targeting the busiest streets in the city centre.
The 350 litter bins across the city centre will be emptied overnight and there will also be a dedicated vehicle with cleansing crew emptying litter bins during the day.
Councillor Day said: "It was great to meet Joe and get a sneak preview of one of the acts which will bring colour and culture to the streets of the capital in the coming weeks as the festival season gets into full swing.
"This is our first restriction-free summer festival season since the Covid pandemic and there's already a fantastic buzz building across Edinburgh. We're also hosting a leg of the UCI World Championships road race and with all this activity it will be great to see residents and visitors out and about, soaking up the sights and sounds, and maybe some sun."
He added: "That's why we're deploying extra waste and cleansing staff and I'd like to thank them as well as those from the Fringe, Out of Hand and other partners who will be working tirelessly in the background day and night to make sure Edinburgh continues to look its best.
"It's important to recognise that we all have a part to play in keeping Edinburgh clean and I would ask you all to take pride in your city by binning your litter or taking it home.
"If you've larger items always remember to use our special uplift service or book an appointment at one of our Household Waste Recycling Centres to dispose of your waste responsibly. And if the weather improves and you're out enjoying the sunshine and having a barbecue, please remember to protect the grass in our parks and other open spaces."
Tickets to Wasteman can be found here.