Campaigners are hoping to name a new Edinburgh primary school after trailblazing race-relations pioneer Saroj Lal.
They are urging parents and locals to "be brave" in their choices as a survey is sent out asking them to pick a name.
The consultation will ask recipients to rank three proposed names for the new school on Morningside's Canaan Lane in order of preference – Canaan Lane, North Morningside and Saroj Lal.
Saroj's son Vineet told STV News that naming the school after his mum would be a fitting tribute to the teacher who helped to open the doors of education to women of colour.
She lived and brought up her family in Morningside, teaching at South Morningside Primary during the 1970s, and died last year aged 82.
Vineet said: "She was a pioneer in every sense of the word. She was an amazing woman, she was such an inspiration, she was one of the earliest BAME primary teachers in Edinburgh.
"This part of the city is very closely associated with Saroj and with our family, it's our natural home."
After leaving teaching, Saroj was at the forefront of race relations in the capital, becoming the director of Lothian Racial Equality Council in the 1980s.
Vineet said: "[Naming the school after her] is a marvellous opportunity to take my mother's life and legacy and leave a lasting tribute both to her and to equality and diversity in the city.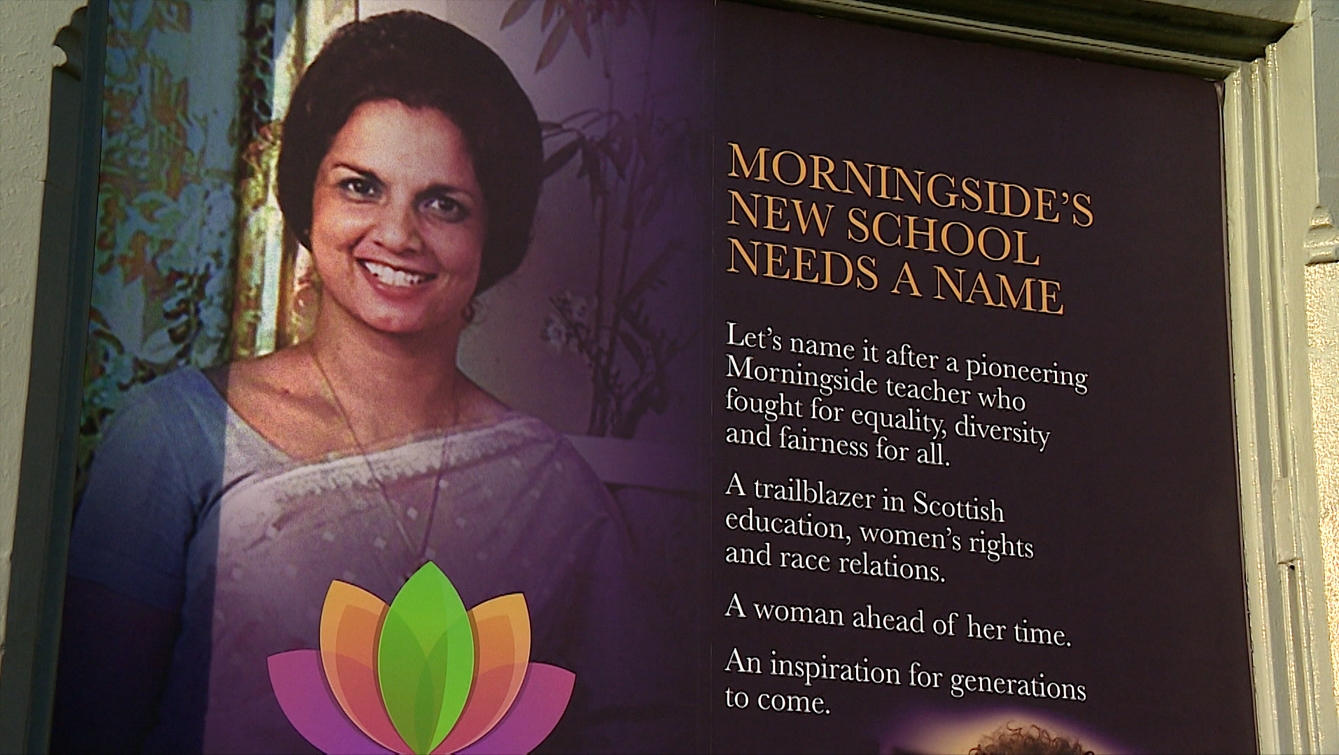 "This would be a great way of inspiring future generations about the fact you can succeed, you can make a difference in terms of equality, diversity and fighting for fairness for all.
"I think it would send a great statement about the city, about Scotland and what we stand for in the 21st century, that when we talk about diversity and women, we mean what we say."
The idea to name the school after Saroj has been spearheaded by local councillor Mandy Watt.
"Not many people knew we were even getting a new school," she said. "There's a school in Edinburgh called Flora Stevenson, named after a woman of her time, so I took that as the inspiration for calling the new primary after Saroj Lal. She really was a remarkable woman.
"It's something for the children at the school to aspire to. There's a history, a story, a big personality that they can take as inspiration for what they want to do in life."
The new school is due to open to nursery and primary one pupils in August 2022 and it's hoped it will be named by the end of this year.
Edinburgh education convener Councillor Ian Perry said: "It's a fairly extensive consultation and it's quite a difficult task, however I'm confident we'll get our report to the November council meeting and take a decision then.
"If we don't, we've still got another month in December to do so. It's best not to rush it."