Around 1000 pupils are still without a school after a secondary was destroyed in a fire.
Woodmill High School in Dunfermline has been closed following the major blaze.
More than 80 firefighters were called to bring the flames under control on Sunday and Monday.
Around 1000 youngsters in S1 to S4 haven't been issued a replacement school yet.
Pupils in S5 and S6 are to be taught in other secondary schools and community facilities from Monday.
The council also said they have identified a "possible opportunity" to house pupils with additional needs from Monday, September 9.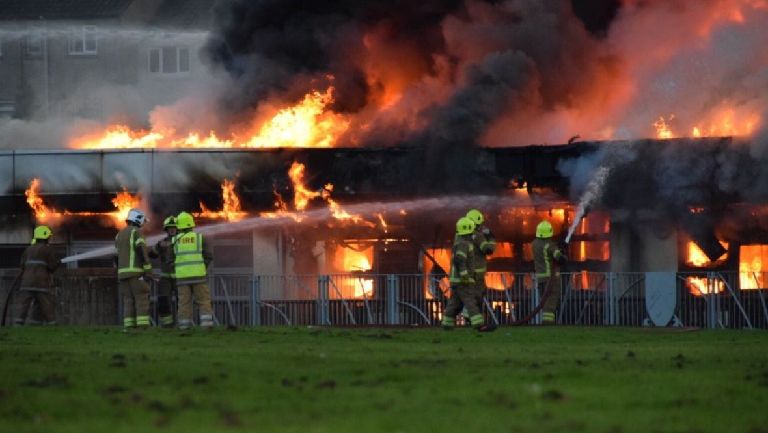 Headteacher Sandy McIntosh said: "We have identified solutions that will allow S5 and S6 pupils to return to their learning from this coming Monday.
"We know they're anxious to pick up their certificate courses and we're inviting parents and pupils to sessions tomorrow evening, to talk about how arrangements will work.
"We've identified a possible opportunity to accommodate our DAS pupils in a single facility from Monday, September 9.
"We need to discuss these proposals with a number of groups before we can talk about more detail publicly, but we'll be speaking to our DAS families directly and hope to meet many of them on Friday.
"Officers from across the council are still securing accommodation and transport for our 1000 S1 to S4 students – this is a large and complex task.
"We're working on solutions that would keep whole year groups together and bring them all back into a school as soon as possible, which might be on a phased basis over the next week.
"To do that, we will have to use space within other secondary schools and community facilities in Fife, and there are still a lot of practical issues to work through.
"We will communicate with all the school communities that are likely to be affected as plans develop."
A teenager, who can't be named for legal reasons, appeared at Dunfermline Sheriff Court on Tuesday accused of wilful fireraising to danger of life.
Mr McIntosh added: "I'll set up information sessions for Woodmill parents and pupils in each year group as soon as we finalise workable arrangements for them. And I'll be keeping in regular contact with the whole school community.
"Wherever our pupils and staff are hosted in the short-term, I'm keen to stress that we will still be maintaining our identity as Woodmill High, which will include wearing our uniforms. We're all sad to have lost our school building, but the building itself doesn't make a school – we are Woodmill.
"Lastly, I'd like to reiterate my thanks to everyone in the community for their support and, particularly, to thank our parents, pupils and staff for their patience during this difficult period."