A community has been rallying round to offer support after a high school went up in flames.
Free childcare, lunches for pupils and counselling services have been offered to those affected by the blaze in Fife on Sunday.
A crowdfunding page has also been set up, with £6000 raised so far to replace damaged equipment.
The fire broke out at Woodmill High School in Dunfermline shortly after 5pm.
More than 80 firefighters remained at the scene on Monday morning after working through the night in a bid to bring the blaze under control.
There were no reported injuries.
A 14-year-old boy has been charged in connection with the incident.
The teenager appeared at Dunfermline Sheriff Court on Tuesday to face a charge of wilful fireraising to danger of life.
He made no plea and was granted bail.
The case has been committed for further examination.
More than 1400 pupils have been displaced following the fire.
They have yet to learn when the school will reopen as council chiefs revealed no part of the building had been left untouched by the blaze.
Fife Council said there were no classroom facilities that would enable the building to be used "in the short to medium-term".
Carrie Lindsay, executive director of education and children's services, said: "We're working flat out to investigate the feasibility of a range of options for our pupils.
"There are lots of things to take into account, such as pupil numbers, available spaces, timetabling across year groups and transport.
"We've had lots of offers of help, all of which we're grateful for, and all of which are being explored to find the best possible solutions.
"I hope to be able to give parents and our young people some more information about short-term arrangements tomorrow."
Ms Lindsay said staff are meeting at nearby St Columba's High School each day and putting together homework packages which pupils can access on the school's website.
Some practical sessions are being arranged in community facilities for senior pupils.
Ms Lindsay said: "No part of the building is left untouched by the fire.
"The wing containing the assembly hall, sports halls and the technical block is the least damaged, but there are no classroom facilities that will enable us to re-open the school in the short to medium-term."
Fay Sinclair, convener of Fife Council's education and children's services committee, told STV News: "There isn't, you know, a really simple, obvious solution.
"A number of neighbouring local authorities have offered some support.
"There are practical solutions being worked through at the moment and obviously the council's teams are working hard to try and find a solution that's going to be the best possible – sort of medium to longer-term – option for everyone involved."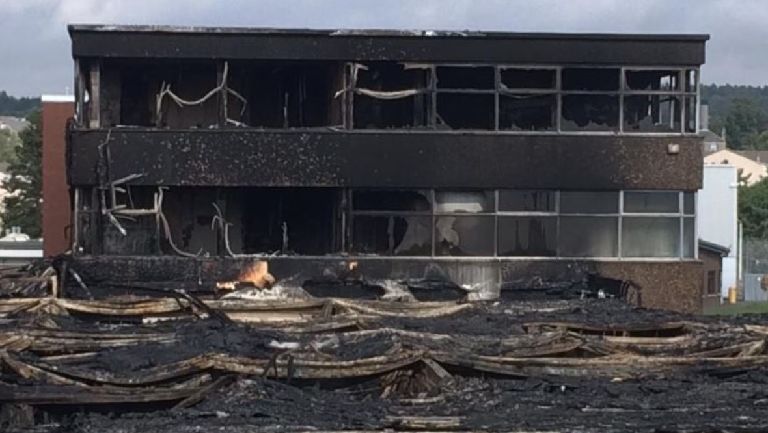 A JustGiving page has been set up – with donations to replace damaged equipment at the £6000 mark.
Local childminder Tracy Ormiston has offered free childcare.
She said: "I have clients who have older siblings who are at the school, so I've offered services.
"It's not easy being a working mum having to find alternative childcare at such short notice and just the additional cost of extra childcare maybe parents hadn't accounted for, so I just thought 'pop it out there and see if anyone needed help' and then off the back of that lots of other childminders in the area just popped on and said 'we can help, we can help', so it was really nice to see the community all coming together offering their support."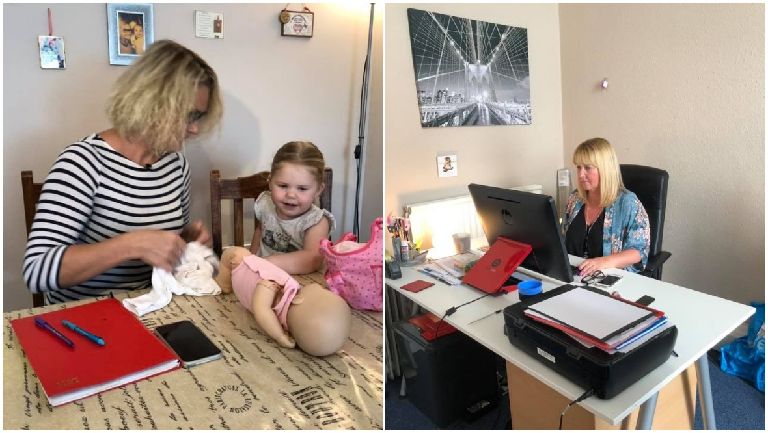 Wellbeing Academy counsellor Rachel Eastop said those "emotionally affected" about losing their school could get one-to-one counselling or attend a critical incident debrief.
She is offering free sessions to those referred through their GP.
Ms Eastop, who has worked at the school, said: "There's a lot of loss that will be around for them.
"For some children there's been anxiety about going up from a small primary to a large secondary school and they've built themselves up and they've worked towards it, they've been back to school for a few days and now what?
"That may bring about even more anxiety for them, so anxiety will be a huge thing.
"If they can come along and talk to us and offload and just speak about their anxieties and speak about the shock of what they have seen – because it is a critical incident that's happened.
"Lots of people have been involved, many people have seen things, to see a fire of that magnitude, I haven't seen anything as devastating as this in my life – they'll need to talk about that and so we're here."
Free lunches will also be served up to school pupils across the week at a number of venues in the town, while Fife Sports and Leisure Trust is also offering swimming and racket activities for £1.
Abbeyview Community Council has appealed for the loan of musical instruments ahead of the school band's planned performance at Outwith Festival next month.
The community council said it is "not yet known" how badly the music department has been affected by the fire, so was looking for a double bass, flute, clarinet and cello so as the young people involved could "perform as planned".